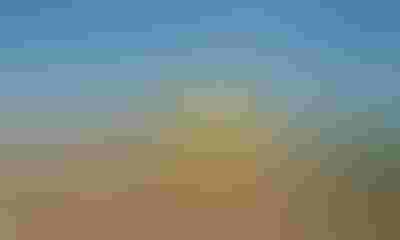 Tom McKinney gets excited when he sees tile he's installed in a field working. He also gets happy, and that makes his wife very happy!
"He came in all excited one day and told me to jump in the car," his wife, Karen, quips. "He wanted me to see how well a tile was working in a field where water always stood before he tiled it. I went along. Tiling a field makes him happy, and that makes me happy!"
Corn Illustrated 3/28 - See just how bad corn plants want to grow and reproduce

TILE PAYS: Roger and Nick Wenning install tile in Rush County in this photo. Tom McKinney does most of his own tiling work, using a tile plow for laterals and an older wheel machine for bigger tile.
While they can kid about it, McKinney is serious about tiling, especially after 2015. Farming near Kempton in Tipton County, he saw a big difference in fields which were tiled vs. fields which weren't. He has his own tile plow, and tiled as much as he could each year, even before the excessive rains in his area made it super obvious a year ago.
McKinney laid down the yield map shown below in front of me. It tells its own story. "We went from zero yield to over 200 bushels per acre in that field last year," he says. "The part that yielded zero is very good ground, it just wasn't tiled."
What's evident in the map is the blue area in the center which represents little to no yield. "Then look at the green areas where yield was very good," he adds. "Those are spots where old tile lines installed decades ago were still working. Notice the difference in yield between where there was working tile and where there wasn't working tile."
Corn Illustrated 3/21 - 4 ways you know it's going to be a bad day
In December 2015 McKinney used the yield map and information gained by locating existing tile, and determining what was working and what was plugged, and laid out how to install pattern tile in the field. The laterals are installed, and he still has some mains to install.
The next time the field is in corn, he's banking on seeing no blues on that yield map. We will let you know.
AVOIDING BLUE: In this yield map blue is not good news, and also shows where non-tiled spots robbed yields in this field.
Subscribe to receive top agriculture news
Be informed daily with these free e-newsletters
You May Also Like
---