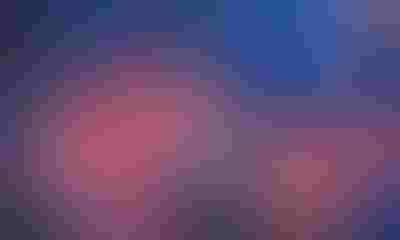 by David Tweed
The U.K. could find itself hard pressed to replicate access to Asia's lucrative markets -- from New Zealand to India -- should voters in the world's fifth-biggest economy opt to leave the European Union.
Related: What's the latest on Brexit?
With Asia accounting for two-thirds of global growth, the U.K.'s trade ties with the region are crucial for it. While some politicians such as Boris Johnson have said the country could use independence from the EU to negotiate better arrangements, governments in Asia would probably take advantage of its need for new trade pacts.

Voters in the United Kingdom vote Thursday on whether or not to stay in the European Union. (Photo: Fredex8/Thinkstock)
Having joined the European Economic Community -- the precursor to the EU - more than four decades ago, the U.K. lacks seasoned negotiators to broker deals.
"The U.K. will be in a very weak bargaining position because everyone will know it is desperate to negotiate new agreements," said Mark Melatos, who focuses on international trade theory as an associate professor at Sydney University. "All potential trading partners will take advantage of that weakness."
The U.K. holds the referendum Thursday and the result is too close to call, according to opinion polls. Companies from Standard Chartered Plc to Jaguar Land Rover, which are already benefiting from EU-negotiated trade deals in Asia, may have to prepare for new arrangements.
Right now, the U.K. needs Asia more than Asia needs it: The region took 16.3 percent of British exports last year, according to the Office for National Statistics. But the U.K. doesn't rank in the top 10 in two-way trade with any major Asian nation.
China, which bought road vehicles, pharmaceuticals and power-generating machinery, was the U.K.'s sixth-largest export destination, representing 4.5 percent. The country was the source of 9.2 percent of British imports.
President Xi Jinping told Prime Minister David Cameron during a state visit to London in October that China "hopes Britain, as an important member of the EU, can play an even more positive and constructive role in promoting the deepening development of China-EU ties."
Those special ties may not endure after a Brexit. "In one scenario, Britain's economic dependence on China grows and it gives China more preferential terms in trade negotiations," said  Zhang Xiaojin, director of the department of political science at Tsinghua University.
British access to international markets is now governed according to World Trade Organization preferential access arrangements negotiated on its behalf by the EU, unless the EU has another agreement in place.
Even with the leverage of the EU behind him, some U.K. lawmakers have voiced concern about the extent of Cameron's efforts to court China, with thousands of British steelworkers at risk of losing their jobs in a market flooded by cheap Chinese imports.
In Asia, the EU has an FTA with South Korea, one with Singapore that is not yet ratified and the negotiating text for an FTA with Vietnam completed earlier this year. It is in trade talks with dozens of countries, including Japan. The EU and China are discussing an investment agreement. An FTA between them would depend on whether the EU recognizes China as a market economy under WTO rules later this year.
"In the event of a British exit, all of these relationships would need to be re-established to maintain the same preferential access the U.K. currently enjoys via the EU," WTO Director General Roberto Azevedo said in a speech in London this month. "This would probably entail negotiations," he said. "Conducting multiple negotiations simultaneously would bring a further level of complexity."
Related: Farmers lean to EU remain
Trade Ministers
Japan's priority is negotiating deals with Europe rather than individual European states, Prime Minister Shinzo Abe said during a visit to London in May. The Japan-EU talks have been underway since March 2013.
For now, many in Asia are cautious about predicting how trade ties may be affected. "We will certainly be doing an analysis to understand the impact of Britain going out of the European Union," said India's commerce minister Nirmala Sitharaman. Malaysia's trade minister  Mustapa Mohamed said he'd "decide after the date on what needs to be done."
One advantage for the U.K. could be that pacts may get wrapped up faster because there wouldn't be a need to consult 28 different countries, according to Allie Renison, head of Europe and trade policy at the Institute of Directors in London.
Diplomatic Capacity
A disadvantage would be the U.K's size. Its population is 64 million, while the EU's post-Brexit population would be about 440 million.
"If you look at what counts in trade deals, it is about consumer-market size, not the size of your GDP," Renison said. "It is really about how many people you have that determines what your negotiating leverage is."
Finding negotiators to do the job may be a hurdle too. "Logistically it is difficult to imagine that the U.K has the internal diplomatic and civil-service capacity to negotiate more than one or two agreements at a time, let alone sixty or seventy," Michael Dougan, a professor of European law at the University of Liverpool, said in a lecture broadcast this month.
Goods, Services
A priority for the U.K. in the event of Brexit may be South Korea. U.K. exports there more than doubled between 2011 and 2014 to more than $6 billion, according to the U.K.'s Asia minister, Hugo Swire.
Seoul is already looking at a bilateral pact, according to two ministry officials who asked not to be named because they aren't authorized to speak to the media.
While trade pacts are important, Renison, of the Institute of Directors, said the most important thing is demand for goods and services. Germany's two-way trade with China last year was more than twice that of the U.K.
"You don't need a trade deal in place to trade," she said. "It is what you have and what people want that determines why people buy and sell."
Related: Farmers reliant on EU subsidy may want Brexit anyway
---With assistance from Jiyeun Lee, Ting Shi, Manirajan Ramasamy, Isabel Reynolds, Harumi Ichikura, Vrishti Beniwal, Matthew Brockett, Michael Heath, Ben Sills and Jonathan Stearns.
To contact the reporter on this story: David Tweed in Hong Kong at [email protected]
To contact the editors responsible for this story: Rosalind Mathieson at [email protected]
Brendan Scott
© 2016 Bloomberg L.P
Subscribe to receive top agriculture news
Be informed daily with these free e-newsletters
You May Also Like
---