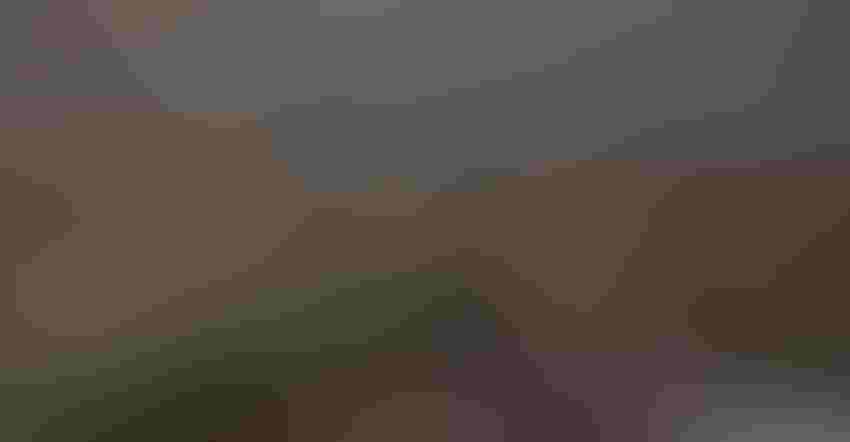 The Mississippi River flows past the steps at Artillery Park in New Orleans, Louisiana on July 11, 2019, as tropical storm Barry approaches. Barry is predicted to become a Category 1 hurricane before making landfall Saturday.
SETH-HERALD-AFP-Getty-Images
As tropical storm Barry spins its way toward the mouth of the Mississippi River, it is forecasted to become a Category 1 hurricane before making landfall sometime Saturday morning, July 13. The Saffir-Simpson Hurricane Wind Scale rates Category 1 hurricanes as having winds 74 to 94 mph.
Farmers, especially those south of I-10, are preparing for the worst. Farm Press spoke with Dr. Dan Fromme, professor, state specialist, cotton, corn, and grain sorghum, Dean Lee Research and Extension Center, in Alexandria, La., earlier today. "Most of the cotton and corn in our state is located in central Louisiana, and on up north," says Fromme. "Our current forecast is calling for from 4 to 6 inches of rain and an updated forecast shows winds could reach over 40 mph."
Fromme said many of the areas he covers could actually use a 2- to 4-inch rain, but with high winds forecasted, his biggest concern at this point is corn being blown over. "It's those agricultural areas south of I-10 where sugarcane, rice, and soybeans are being produced that could be in for bigger damage," says Fromme. "Sugarcane is a pretty durable crop, but soybeans could take a hit, especially if Barry makes landfall farther west than the weather models are predicting."
Commissioner of Agriculture and Forestry, Mike Strain, D.V.M., issued a news release urging livestock farmers to move their herds to higher ground — flooding is expected. "Because of the high winds that will proceed this major storm, the state fire marshal has issued a statewide burn ban for all private burning.
It is anticipated that Barry will move toward the Lower Mississippi Valley after it makes landfall and then begin to weaken. It is a slow-moving system which is not good for low-lying areas and fields with crops. "We have some areas next to the Mississippi River that were flooded and water had only recently started to drain from those fields," says Tim White, a farmer and consultant from Catahoula Parish, La. "It depends on how much rain we get, but if we get more than 5 to 6 inches, that levee will act like a big bowl and hold that water on those fields all along the levee system."
Many rice farmers in the Bayou State are lowering rice field water levels in case of heavy rains. "I've put up all of our farm equipment and tied down what I could on the farm and around our house," says Michael Fruge, district field representative, Horizon Ag.
Storm surge is estimated to peak late tonight through mid-day Saturday.
Subscribe to receive top agriculture news
Be informed daily with these free e-newsletters
You May Also Like
---