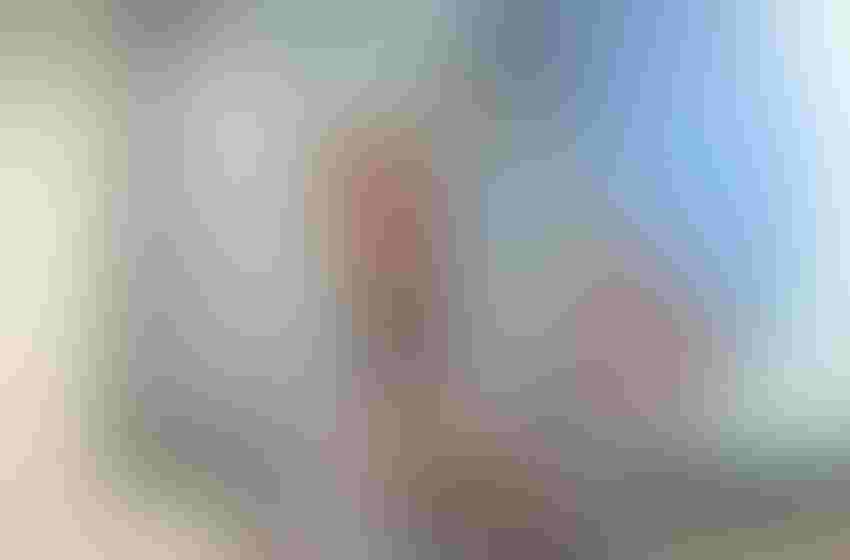 Daniel Sumner, who leads the University of California's Agricultural Issues Center in Davis, gives a presentation in Willows last summer.
A leading agricultural economist cautions growers and others not to get too worked up about Census of Agriculture figures that suggest a sharp decline in farms but an increase in the number of farmers.
Daniel Sumner, director of the University of California's Agricultural Issues Center in Davis, says some of the data points in the just-released 2017 census "deserve interpretation," such as an apparent increase in female producers from 969,672 to more than 1.2 million nationwide.
"One of the really interesting changes is who reports as a farmer," Sumner tells Western Farm Press. While for many years respondents would simply list the principal operator, the latest census gave farms a chance to list as many as four operators, up from three in 2012.
"In most farms I know, the principal operator is the granddad," Sumner says. "So you may have Louise, his 39-year-old daughter, run the place, but he's the one who's listed. Then somebody says, 'Look how old farmers are.'"
If there were more than three relatives operating a given farm in 2012, the family might have simply listed the patriarch, he says. "That's just the way families do things," he says.
QUESTIONS CHANGED
"The non-agricultural reporters are going to say, 'Oh, look at all the new female farmers,' but they won't notice that the question is different," he says. "I think that's important. One thing that guys like me can do is say we can dig into this stuff a little further because we know where the questions have been changed."
Conducted by the USDA's National Agricultural Statistics Service, the new census unveiled April 11 spans some 6.4 million new points of information about America's farms and ranches and those who operate them, including new data about on-farm decision-making, agency officials say.
For the 2017 census, NASS changed the demographic questions to better represent the roles of all the people involved in a farm's decision-making, the agency explains in a news release.
As a result, for 2017 the number of U.S. producers was up by nearly 7 percent to 3.4 million, because more farms reported multiple producers. Most of these newly identified producers were women, agency officials say.
While the number of men fell 1.7 percent to 2.17 million from 2012 to 2017, the number of women rose by nearly 27 percent to 1.23 million, according to the report.
'UPS AND DOWNS'
"The census shows new data that can be compared to previous censuses for insights into agricultural trends and changes down to the county level," NASS Administrator Hubert Hamer says. "While the current picture shows a consistent trend in the structure of U.S. agriculture, there are some ups and downs since the last census as well as first-time data on topics such as military status and on-farm decision-making."
To make it easier to delve into the data, NASS is providing many online formats for this census including a new data query interface as well as the traditional tables found in past reports, Hamer says.
The changes come amid a census that showed that America's top producer, California, lost more than 1 million acres of farmland and over 7,000 farms from 2012-2017. The state has lost over 10,000 farms in the last decade, from the 81,033 in existence in the 2007 survey to 70,251 operating two years ago.
However, the census may not tell the whole story there, either, Sumner warns. For one thing, a farm is still defined as an entity that could have sold $1,000 or more in produce or other crops, and nowadays some residential backyard gardens and fruit trees would qualify, he says. Meanwhile, a much larger operation wouldn't be counted if it didn't complete the forms, he says.
"It's such a silly number that Congress imposes on us," Sumner says. "There's been no accounting for inflation since we started, so nobody uses it."
FIGURES MISLEADING
Even total acreage figures could be a little misleading, Sumner says. He instead points to harvested cropland, which only declined by about 150,000 acres in California during the five-year period. However, exact acreage for things like pasture are "incredibly hard to get a hold of," he says.
"The census doesn't include land that's rented by animal unit-month, and that could be another 5 or 10 million acres," he says.
Census takers tweaked the demographics questions after the 2007 census showed a spike in female operators but that number declined in 2012. The discrepancy led some to speculate that widows had taken over their farms but later passed them on to their children.
More tweaking could be on the way. Sumner says he was recently on a commission that helped NASS plan information-gathering on large, complex farming operations for the 2022 census.
In the meantime, the Agricultural Issues Center will be producing analyses of the latest census in the coming weeks, he says.
"Each of these numbers has a little story behind it that I think is interesting," he says.
Subscribe to receive top agriculture news
Be informed daily with these free e-newsletters
You May Also Like
---