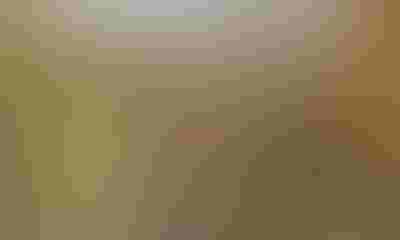 So you've got some land that's valuable for hunting. Leasing it could add good income, and a hunting lease could help you maintain control over who, when, and where hunters are – and could help reduce trespassing by unwanted neighbors.
Sounds like a win-win-win, right? It might just be! But first, here are nine significant questions landowners should settle before signing a hunting lease.
1. Access?
How much access are you willing to allow the hunter? Will they be allowed to hunt one species or will you allow them to hunt all legal game? More access equals more value, and therefore a higher fee.
2. How many hunters?

BLIND CONSIDERATIONS: Many hunters use a stand or blind, however, it needs to be stated in the lease that they are not permanent. (Photo: Szabolcs Takacs/iStock/Thinkstock
This is something that you should control. It's recommended that anyone who might be hunting be named on the lease. Even if they're observing and not hunting, if they are going to be on your property, you should know. Of course, the size to the tract will have a great deal of impact on how many hunters are allowed.
3. Stop trespassers?
This is one of the most common complaints from leasing hunters. The best way is to have the property posted "NO HUNTING" prior to the lease. After it's leased, post signs that say, "Property has Hunting Lease." Contact the local game warden if trespassing occurs.
4. Stands and blinds?
Many hunters will be using some form of these, however, it needs to be stated in the lease that they are not permanent. A $500 tree can be made worthless by someone nailing a stand into it, or driving in spikes for steps. Portable tree stands exist, and you can also find a variety of ground blinds that provide camouflage for the hunter.
5. What's allowed?
Will the hunters stay overnight on the property, either in your structure or in a camper? If so, will they prepare meals or drink alcohol? Can they cut down trees? Can they use ATVs? If so, just during hunting season, or can they bring them out during the summer? Again, more access equals more value, but it adds up to more potential conflicts and requires more conversation up front.
Hunters need to understand that this is a commercial farm and they can't damage crops. Does the hunter want to buy some of the crop to be left in the field? Or are there areas that a food plot can be planted? Who will plant it? If your land is leased to a farmer, he or she needs to know hunters have access.
6. Got insurance?
To protect you both, you should require hunters to have a liability policy that includes their hunting activities on your land, and have you named as an additional insured. 
7. Picking hunters?
This can be challenging and it depends on how involved you want to be in the selection. Will you ask for and check references? What do you expect from them?
8. Put it in writing?
A written lease is strongly recommended, to establish understanding of both parties. I recommend a one-year lease for the initial agreement. That allows both parties to see how things are going to work. You'll need to specify when rent is due, and what is allowed to be hunted and during what seasons.
9. How much?
This may be the most challenging part of the process. However, like most things in real estate, location often determines value. Typically, land that's closer to the hunter's home is more valuable, and proximity to population base also adds value. Game availability adds value, too. In Southern Illinois, which is primarily a deer/turkey area, rates can run from $10-$30/gross acre. Waterfowl leases can run much higher, depending on location and demand.
Websites like the Hunting Lease Network have cropped up lately, bringing landowners and hunters together to lease attractive recreational property in an auction format.
- Cude is a farm manager and certified crop adviser with Farmers National Co., Nashville. He is a member of the Illinois Society of Professional Farm Managers and Rural Appraisers, whose members regularly contribute to Land Values. Have a farm management question or topic you'd like addressed? Email Carroll Merry at [email protected].
Subscribe to receive top agriculture news
Be informed daily with these free e-newsletters
You May Also Like
---