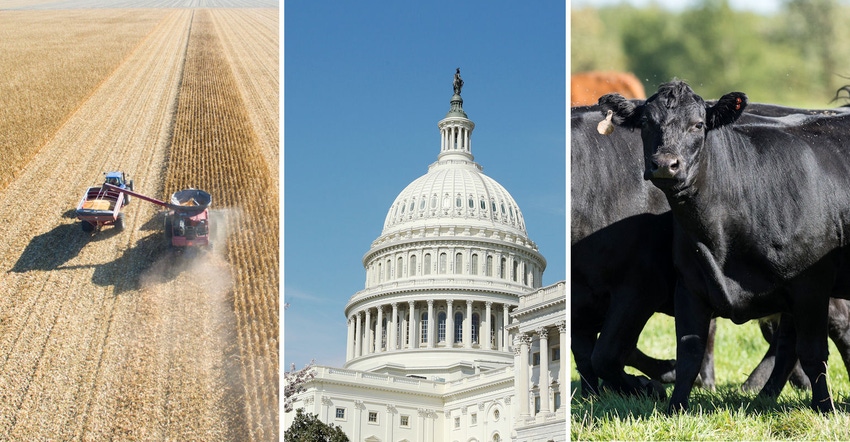 NolanBerg11/flySnow/SteveOehlenschlager/ThinkstockPhotos
Need to catch up on the news of the week? Here's seven stories you might have missed.
1. Bayer has been blocked from selling its dicamba-based weedkiller in the United States after an appeals court rejected a federal regulator's permit for the product. Environmental groups, which filed a lawsuit in 2018, wanted the court to force the EPA to cancel its approval of Monsanto's dicamba-based XtendiMax product, arguing it not only harms nearby crops and plants but wildlife as well. - St. Louis Post-Dispatch
2. In April, it looked like the May Class III price would be about $11, according to Bob Cropp, University of Wisconsin-Madison dairy economist. The May Class III milk price is now projected to be near $12.35. – Wisconsin Agriculturalist
3. A bipartisan group of senators introduced the Growing Climate Solutions Act to help the agriculture sector gain access to revenue from greenhouse gas offset credit markets. Landowners and farmers can generate credits and earn money for activities ranging from reforestation to sequestering carbon in soil to capturing methane from livestock. – Reuters
4. Jayson Penn, Pilgrim's Pride president and CEO, was indicted on a price-fixing charge along with three other current and former executives at companies that supply chicken too groceries and restaurants across the United States. – The New York Times
5. The Purdue University-CME Group Ag Economy Barometer rose 7 points in May from April, but was virtually unchanged from May 2019, when the index reached its lowest reading of 2019. The uptick is the first increase in two months as farmer sentiment fell in both March and April. – Farm Futures
6. Columbus, N.D., farmer Greg Busch is on a mission to restore his farmland to its virgin prairie condition. First, he added no-till. Next, he increased the number of crops in the no-till system. Later, he added cover crops. Most recently, he began intercropping. The soil organic matter is starting to approach 4%, up from about 1%.  – Dakota Farmer
7. The Michigan 4-H Foundation is putting the Kettunen Center up for sale. The center will permanently close July 1. The Kettunen Center opened in 1961 and was the first 4-H volunteer and youth training center in the nation.  It sits on 153 wooded acres encompassing Center Lake. It was used for 4-H training and programming, as well as by other youth-serving organizations, state agencies, church groups, school groups and families. – Michigan Farmer
And your bonus.
The cost to repair traditional timber-frame barns depends on the condition of the structure, changes sought, and the qualifications and integrity of the person doing the work. The longer repairs are delayed, the more expensive they become. Neglect routine maintenance, and a structure that might have been given a new life is lost. Every barn is different. Each must be examined for layers of old roofing, and beneath that, the condition of the decking or framing. Both affect replacement cost, as does owners' preferences in new materials.  – Michigan Farmer
About the Author(s)
Subscribe to receive top agriculture news
Be informed daily with these free e-newsletters
You May Also Like
---