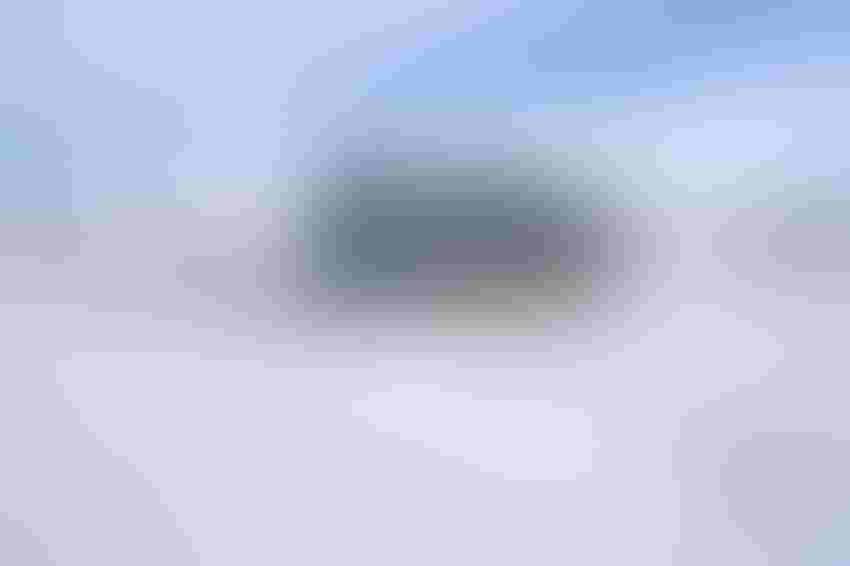 TOP TIPS: South Dakota State University Extension says that one of the cardinal rules for grain storage is to make sure grain is stored at the desired moisture content.
James_Gabbert/Getty Images
After a heavy first snow already, producers across the Northern Plains could be dealing with high-moisture grain left to store.
Normally, grain dries down slowly in fields during cooler ambient temperatures. This year, there may be some different decisions needed to dry and store grain effectively this winter.
Most issues that producers face during grain drying include:
inadequate monitoring and failure to take immediate action

automatic temperature control system failure
South Dakota State University Extension experts share the following tips for growers in the region to protect grain quality this winter:
Dry it down. Grain harvested with a moisture content above 22% should be dried down within a few days after harvest. In the Dakotas, natural air-drying in the field can be inefficient due to low fall temperatures. This leads many to use high-temperature systems to dry grain rapidly.
The higher the temperature used, the faster the grain dries down. However, it is not recommended to increase the kernel temperature higher than 140 degrees F. The moisture content must be determined based off of the type of storage, such as short or long term. 
Extension notes that if corn will be sold as No. 2 grain in spring, it can be stored at 15.5% moisture. If corn will be kept for longer periods, the moisture content should be adjusted. Corn stored for six to 12 months should be stored at 14% moisture content, and if stored for a year or longer, it should be reduced to 13%.
Store it right. Before grain is stored for the season, bins should be cleaned with any pest problems controlled. Most producers in the Dakotas store grain in bins, bags or piles, when the temperature is between 20 and 50 degrees. Each type of storage system has its pros and cons.
For bins, especially in Northern climates, the cooling process begins from the edge of bins. This cooling pattern can cause water migration within the grain. Maintain grain within 15 to 20 degrees of the average fall temperature.
Bags are becoming a popular method of grain storage; however, this method is susceptible to mold issues and insects. A moisture content above 25% can cause ensiling if the temperatures are above 32 degrees. With bag temperatures mirroring outdoor temperatures, Extension advises against storing high-moisture grain in bags. To avoid mold issues, grain should be properly dried before spring comes, and temperatures should be monitored regularly.
While not an ideal storage method, piles may be used in emergencies. To keep piled grain quality, water flow should be made to run away from the pile. Starting the pile on a plastic sheet can also keep water from migrating into the grain from the ground. Aeration to piled grain should be provided, and storing piles in a machine shed is another option.
Monitor to maintain quality. Moisture and temperature have a direct impact on grain storage, so check your grain. Even with electronic monitoring systems in place, Extension recommends checking stored grain weekly. Temperature issues can be handled through aeration to either cool following harvest or to regulate temps in the spring.
Things such as wet or slimy grain, crusting, or condensation can be indicators of an issue in storage. If the surface of the grain seals, you could be looking at serious spoilage. Immediately caring for any issues will minimize damages, where waiting can give the problem time to worsen.
Stay safe in grain bins with these pointers from South Dakota State University Extension:
Avoid possible dangerous situations by asking yourself, "Would I let my child do this?"

Do not enter a grain bin when it is being unloaded.

Make sure automatic unloading equipment is off before entering a grain bin.

Use a safety harness when entering a bin if you are not directly on the floor.

Let someone know or, preferably, have someone nearby if you are entering a bin.

Be careful when stepping on surface crusts; a void underneath could cause a person to sink and be buried.

Wear a respirator to protect yourself from mold and grain dust.
For questions or concerns about grain storage, contact your local Extension office.
Subscribe to receive top agriculture news
Be informed daily with these free e-newsletters
You May Also Like
---