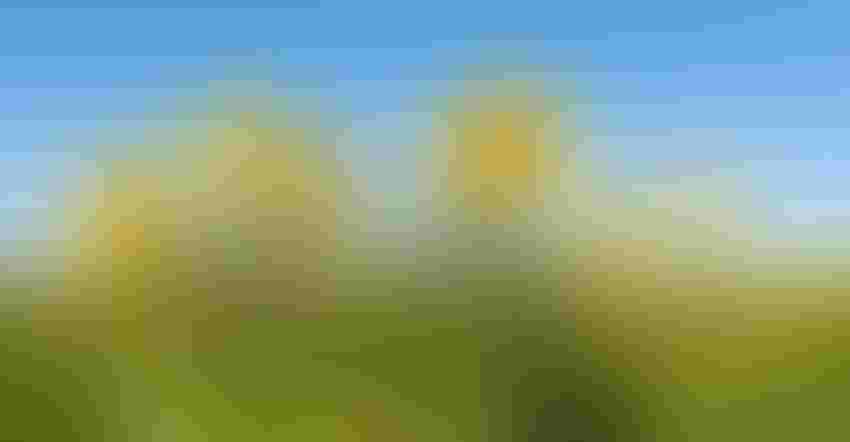 PRICES BLOOMING: Fresh highs for sunflower prices have been arriving each week, after previous records were broken this spring.
Mike Powles/Getty Images
The war in Ukraine pushed sunflower prices to record highs this spring. Previous market highs of $38.80 for old crop and $30.50 for new crop were surpassed in late April at the crush plants.
The rally has continued setting fresh highs each week, as the lack of global sunflower seed availability and strong oil demand have encouraged crushers to pay more for the available crop. Sunflower oil exporters are reportedly fielding unprecedented call volumes from new customers seeking to replace Black Sea sunflower oil. The high prices have encouraged farmers to sell off most remaining seed stocks in the past few months.
More farmers gave sunflowers a second look this year. The past two years have provided growers with excellent returns, and improved genetics are helping make the crop more resistant to diseases and pests.
Using trend-line yields, the initial estimate of 2022 U.S. sunflower production is pegged at 2.4 billion pounds, which would represent an increase of 22% from last year's drought-reduced production. The higher production is based on an increase in planted area from 1.28 million to 1.42 million acres and a return to average yields. A decrease in seed stocks from a year ago, coupled with record-high new-crop prices, encouraged planting this year.
The production increase will allow for market share gains for sunflower products. Initial estimates have domestic sunflower crush increasing by 12% in the 2022-23 marketing year to 1.1 billion pounds. Exports of sunflower oil are predicted to increase to 100 million pounds.
Domestic sunflower oil consumption will continue to rise and reach 650 million pounds in 2022-23. Exports of confection in-shell seed and kernel are expected to increase by 35% from 55 million to 80 million pounds, reversing the decline of the past two years. Bird food demand is also projected to increase slightly from the 2021-22 marketing year.
Uncertain season
For 2022-23, global sunflower seed production is going to be a moving target depending on what actually gets planted in Ukraine this year. The war in Ukraine has left much uncertainty of what seed availability will be like this year and potentially in 2023 as well.
Ukraine is a major producer and exporter of sunflower oil, accounting for 50% of the global sunflower oil trade. The events in Ukraine escalated an already tight vegetable oil market. Global vegetable oil prices skyrocketed in the past few months to record levels. The conflict between Ukraine and Russia bears watching, as it has significantly increased the uncertainty of the agricultural supply-and-demand conditions in the region and globally.
Now that the South American oilseed harvest is finished, the attention of the oilseed market will shift to U.S. crop conditions and production prospects in the months ahead. New-crop sunflower seed prices are unlikely to see much price pressure as long as Ukraine's sunflower production prospects remain uncertain.
Sandbakken is executive director of the National Sunflower Association. To keep up with market news and prices, visit sunflowernsa.com. Follow it on Twitter @NatlSunflower.
Subscribe to receive top agriculture news
Be informed daily with these free e-newsletters
You May Also Like
---