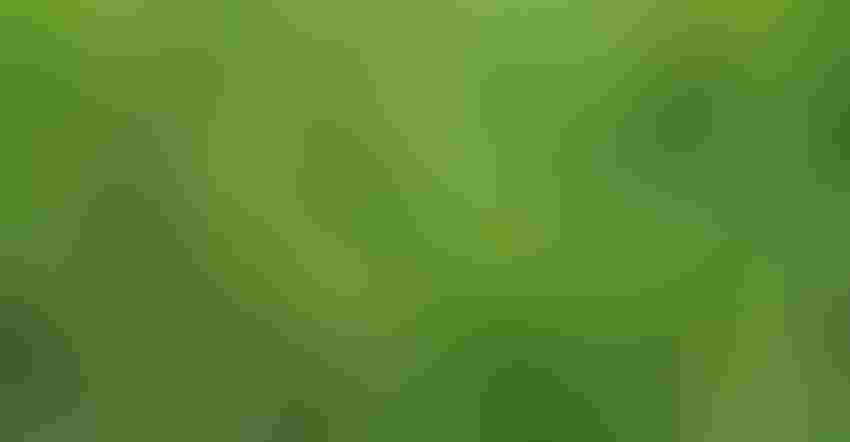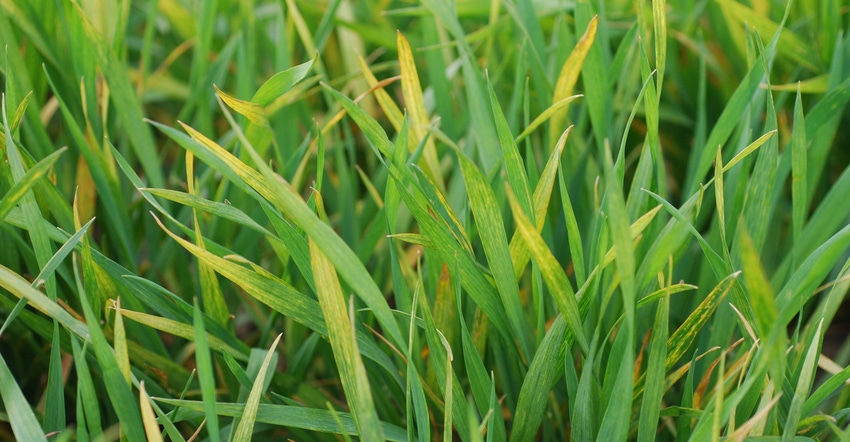 WHEAT STREAK MOSAIC: Some Kansas farmers are seeing spring-emerged volunteer wheat in their fields and are understandably concerned that it might act as a green bridge for the wheat curl mite. Kansas State University Research and Extension experts discuss the risks and rewards of spring-emerged volunteer wheat.
Courtesy of K-State Research and Extension
Concerned about spring-emerged volunteer wheat in your fields? You aren't alone.
According to the April 7 Kansas State University Research and Extension Agronomy eUpdate, experts are getting reports from around the state that some farmers are seeing volunteer wheat emerging this spring. Considering the role volunteer wheat plays as a "green bridge" for wheat streak mosaic virus, farmers are understandably concerned.
Green bridge
In the past five years Kansas farmers have been cautioned against leaving volunteer wheat unchecked in the summer after harvest — until fall planting and the new winter wheat crop's emergence. Green wheat attracts the wheat curl mite, which is a vector for wheat streak mosaic virus.
"At harvesttime, wheat curl mites are abandoning mature wheat in search of green tissue to survive on," according to the report. "If there is volunteer wheat around and that wheat is not terminated, the curl mites can hitch a ride on that wheat until the crop emerges after planting in the fall. In the fall, those mites will migrate from volunteer and other weedy hosts to the new wheat crop." And thus, the green bridge.
But, there's a bit of good news for farmers seeing volunteer wheat emerging in the spring: Because the winter wheat that was planted last fall, which is already green and growing, is a sufficient host for the curl mites. That makes spring-emerged volunteer wheat not as risky if WSMV isn't a concern in your area.
"It essentially acts as a [much smaller] neighboring wheat crop," the report says.
However, if your farm is in an area where WSMV is a concern, it's a good practice to terminate this volunteer crop to nip the mite reproduction cycle in the bud, the experts say.
"Volunteer from fields with high WSMV levels in 2020 would be of highest concern," the report says.
Agronomic risks and rewards
Of course, every farmer has to weigh the agronomic risks and rewards for leaving or terminating spring-emerged volunteer wheat.
On the one hand, if you have enough volunteer wheat, it can provide potential grazing, or it can be a cover crop until you're ready to plant a summer crop like cereal rye or spring oats.
On the other hand, farmers risk complicating their weed management program, and that volunteer wheat may use water that could be saved for the next crop.
If termination is your choice, K-State recommends glyphosate as an effective option that will have little to no impact on the following summer crop. If that's not available, other herbicides that control volunteer winter wheat include:
Group 1 herbicides. These include Assure II (fluazifop) or Select (clethodim). Just remember the rotation restrictions if planting corn or grain sorghum.

Residual herbicides. These include atrazine, Canopy (chlorimuron + metribuzin) or Sharpen (saflufenacil), but they have rotation restrictions as well.
If you have questions, or you're concerned you might have WSMV in your fields, be sure to contact your local K-State Extension Office. You can also reach out to the K-State Plant Disease Diagnostic Lab on the Manhattan campus at 785-532-1383 or [email protected].
Kansas State Department of Agronomy contributed to this article.
Subscribe to receive top agriculture news
Be informed daily with these free e-newsletters
You May Also Like
---