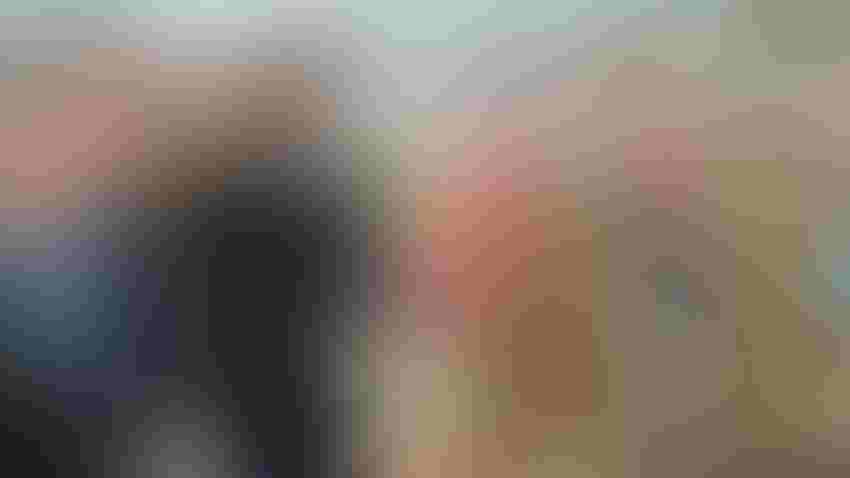 House Ag Committee Chairman GT Thompson, R-PA, speaks on opening day of the World Ag Expo in Tulare, Calif. Thompson chaired a Farm Bill listening session during the event. He is flanked here by House Speaker Kevin McCarthy, Rep. John Rose, R-TN, Rep. John Duarte, R-CA, and Rep. David Rouzer, R-NC.
Todd Fitchette
A rare Farm Bill listening session in the West gave producers of specialty crops and others an opportunity to explain their needs to a handful of House Agriculture Committee members, including the delegation from California.
A bipartisan representation of committee members from California, North Carolina and Tennessee participated, as did House Ag Committee Chairman GT Thompson, R-PA, and House Speaker Kevin McCarthy, whose district includes parts of the southern San Joaquin Valley.
The gathering, held on the opening day of the World Ag Expo in Tulare, Calif., drew about 200 agriculture and business leaders.
House Ag Committee members attending the Tulare meeting included: Jimmy Panetta, D-CA, Jim Costa, D-CA, David Rouzer, R-NC, David Valadao, R-CA, Doug LaMalfa, R-CA, Salud Carbajal, D-CA, John Rose, R-TN, and John Duarte, R-CA.
Ag leaders from across the state shared their need for better market access program funding and adjustments to crop insurance programs to help U.S. farmers and food processors compete in a global marketplace and address catastrophic weather events.
"This Farm Bill should prioritize development of new crop insurance tools for uncovered producers," said Jamie Johansson, a northern California farmer of olives and citrus, and the president of the California Farm Bureau Federation.
Market Access Program funding was consistently addressed by those who testified before the committee. Richard Matoian, president of the American Pistachio Growers, said MAP funding should be at least doubled to $400 million to keep pace with inflation and help growers export pistachios. About 70% of the U.S. pistachio crop is exported, Matoian said.
Alicia Rockwell, chief government affairs officer with Blue Diamond Growers, a large almond cooperative based in California, reiterated the need for additional MAP funds to benefit the almond industry.
"Blue Diamond exports to over 100 countries as a brand and an ingredient," she said. "We need more tools to help us with market access," which she said is oversubscribed as U.S. trade policy continues to be "stalled."
"We compete with Australia, who also grows almonds, and they have successfully secured two free trade agreements with our two major markets – India and China," Rockwell continued.
"As a branded cooperative participating in this, we are well suited to be able to give you the ROI because we can track our sales when we go into a new market," she continued.
Subscribe to receive top agriculture news
Be informed daily with these free e-newsletters
You May Also Like
---