Report: California farmland values may slide more in '17
Report: California farmland values may slide more in '17
<ul><li>A drop in tree nut prices seems to have pulled land values with it</li><li>Agricultural land values could fall to 2013/2014 levels before possibly rebounding</li><li>Mandarins&nbsp;rank with almonds in profitability, according to report</li></ul>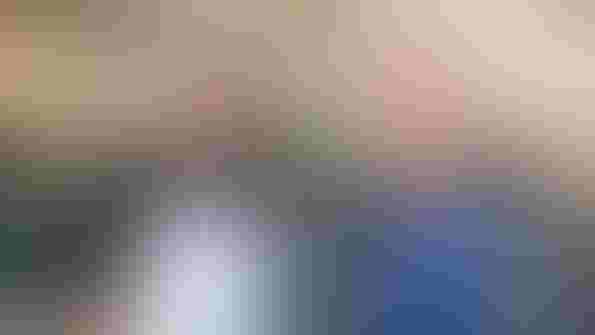 <p>Roland Fumasi, left, and Vernon Crowder authored a Rabobank report that tracks agricultural land values in California. The report projects a continued slide in land values through 2017 before possibly rebounding. File photo.</p>
It's no secret that the profitability of tree nuts is not what it was one or two years ago. With the decline came a softening of agricultural land values across California, according to a Rabobank report.
As these land values decline, Roland Fumasi, lead author for the report titled "California Agricultural Land Values Outlook 2016," remains optimistic about the overall long-term trends in agricultural land throughout the state.
According to the report, agricultural land values in California's Central Valley peaked in 2015 before falling off significantly. Indications suggest that by the end of 2017 prices could fall back to 2013/2014 levels before possibly rising again.
The Rabobank report uses data from the American Society of Farm Managers and Rural Appraisers (ASFMRA) to chart land values going back to 1999, and estimate values for 2016/2017.
The research reports two different sets of figures for growth rates: figures provided by the U.S. Department of Agriculture, and those from ASFMRA.
Average irrigated land values tracked by the USDA from 1997 through 2016 show average prices up from $5,400 per acre to $12,900 for a compounded annual growth rate (CAGR) of 4.7 percent. The USDA data also shows a CAGR of 5.4 percent between 1999 and 2010, and a 3.1 percent rate in 2010-2015.
The report carries two caveats to these numbers: first, the USDA data are based on surveys, for which figures can be conservatively reported; second, the figures "do not adequately capture the extreme difference in land values between California regions" or the volatility present in recent years.
ASFMRA figures show a 1999-2010 CAGR of 5.8 percent with a more robust 12.1 percent rate from 2010-2015. A caveat in these figures is the averages are not weighted based on acreage of each crop, nor are they weighted on acreages sold at the high or low ends of the ranges reported.
What stood out to Fumasi when compiling information for the report was the run-up in prices for "marginal ground."
"The numbers showed the additional risk folks were willing to take by either paying high lease rates or paying high prices to put permanent crops into marginal-yielding ground," he said. "The point is it wasn't just the best ground that participated in this rise.
Predictions
Fumasi is not entirely bearish as projections suggest a slowdown in the rate of decline among the various regions and in certain crops.
"We're just giving some of our earlier extraordinary gains back," he says.
Of note, Fumasi cautions while the current change could be termed a "correction," it is not a "bubble," or false economic beliefs that have come to roost because of "paper profits."
Land value increases from 2010 to 2015 were "certainly supported by underlying profitability" in various crops, Fumasi says. Nevertheless, the decline in land values at rates similar to what they rose will, in the short term, appear significant.
Fumasi believes that the levels land prices fall to may not dip below 2012 figures, meaning long-term trends in agricultural land value should remain positive in light of recent economic changes.
While tree nut prices should remain profitable, he thinks some changes in planting patterns in permanent crops may take place in the near term as growers evaluate markets and their returns.
Regional focus                                                                                                          
The report segments California into five basic regions: North Coast, Central Coast, Sacramento Valley, San Joaquin Valley, and Southern California. Of the regions, the Sacramento Valley experienced some of the greatest divergence from long-term trends between 2010 and 2015.
Sacramento Valley land values began their steep climb in 2012 peaking in 2015 before sliding back at similar rates seen in their ascension. The average CAGR in the Sacramento Valley rose to 18.2 percent from 2010-2015, according to the report. This compares to a modest 5 percent rise from 1999-2010.
The most significant change was reported in the southern Sacramento Valley counties of Yuba and Sutter, where agricultural land values during the five-year period ending in 2015 rose at a CAGR of 20 percent.
The steepest climbs were reported in walnuts and peaches. Both peaked in 2015 at or near $35,000 per acre on average.
Almond values in the northwest part of the Sacramento Valley likewise peaked at the same time, but had a bit more modest rise. As a result the projected decline in almonds may not be as significant as could be seen in walnuts and peaches.
Rabobank projects Sacramento Valley walnut property values could fall 31 percent this year and another 15 percent in 2017. Land values across the spectrum in the Sacramento Valley could decline by 23 percent during the same timeframe.
Almonds in the northern Sacramento Valley should fare a bit better, but are projected to fall 7 percent in 2016 and 10 percent the following year.
Rice and field crops in the southern end of the Sacramento Valley saw little divergence from their slightly positive trend line during the same period, though land planted in row crops that could possibly support permanent crops did see a more marked improvement in prices from 2010-2015.
Citrus
Tree nuts weren't the only commodity to see positive gains; land planted in mandarins saw similar value improvements. Fumasi says mandarins have generally been as economically lucrative as almonds, which would explain rising mandarin acreage in California.
"We've seen a lot of growth in the demand for easy-peel citrus in the United States over the past five-to-ten years," he said.
Citrus growers have been quick to respond, planting more mandarins as demand continues to increase and the two large mandarin shippers – Sun Pacific and Wonderful Citrus – continue to aggressively market their branded products under their respective trademarks of "Cuties" and "Halos."
"Mandarins have been one of the more profitable crops to grow," Fumasi says. "They're right up there with almonds as far as recent profitability."
Rabobank projects a 5 percent dip in citrus land values in 2016, though it should still favor profitability, particularly in South Valley high-density mandarin plantings. According to Fumasi, data suggest that mandarins are taking market share away from fresh-market Navel oranges.
San Joaquin Valley
Water constraints continue to have a large impact on San Joaquin Valley (SJV) land prices, particularly in regions where access to groundwater is limited or non-existent. Most notable is the Valley's Westside, which is projected to see land values decline 40 percent through 2017 because of water limitations.
In the decade leading up to 2010, the CAGR across the SJV was 6.5 percent. This rose to 15.5 percent from 2010-2015 and has since fallen off at a similar rate.
One bright spot for the SJV could be its table grape plantings. Though projections have land values there declining 2-6 percent over the next two years because of general downward pressure on agricultural land values, strong table grape demand and prices should temper those changes.
"The table grape story is a positive one," Fumasi says.
One reason for that has been the relatively slower pace of growth in table grape plantings than has been seen in tree nuts. Fumasi says table grape growers have been more deliberate in replacing older varieties with varieties that produce well and have higher consumer demand.
The report divides the SJV into three regions: north, central and south. Of the three, the north had a more modest increase in land values from 2000 through 2015 than did its neighbors to the south, which experienced CAGR's near 20 percent over the past five years.
The impact in SJV walnuts and almonds could be significant in 2016-17, as land values there could fall 30 percent for walnuts to 24 percent in almonds and 17 percent in pistachios.
Conversely, land values in the Lodi area could rise 1 percent during the same period because of the region's wine grape production.
Central Coast and Napa
Both regions are said to be "insulated" from the volatility of land value changes elsewhere that continue to be brought on by the popularity of tree nuts.
Fumasi says the Central Coast has seen land values remain more in line with long-term positive trends. It has also benefited greatly from the impacts of highly-profitable crops like lemons and avocados in Ventura County during recent years.
According to the report, Ventura County avocado and lemon grove values appreciated at CAGRs of 13 percent and 11 percent, respectively, over the past five years.
Napa and Sonoma counties continue to be "a world unto their own" when it comes to land valuations. The report says that the North Coast vineyard market experienced above-average growth in value over the five-year period ending in 2015.
CAGR's as high as 10 percent were reported in Napa and Sonoma regions. These rates of climb could fall to between zero and 4 percent in positive growth over the next two years as the current global economic slowdown could impact premium California wine sales, Fumasi says.
While growers tend to see land as "legacy assets" and hold onto it rather than trade their land for other opportunities, Fumasi believes some investors might be encouraged to take their capital losses and move onto other investments, though for many, long-term investment strategies may lead them to keep their agricultural holdings as land prices change in the short term.
Subscribe to receive top agriculture news
Be informed daily with these free e-newsletters
You May Also Like
---