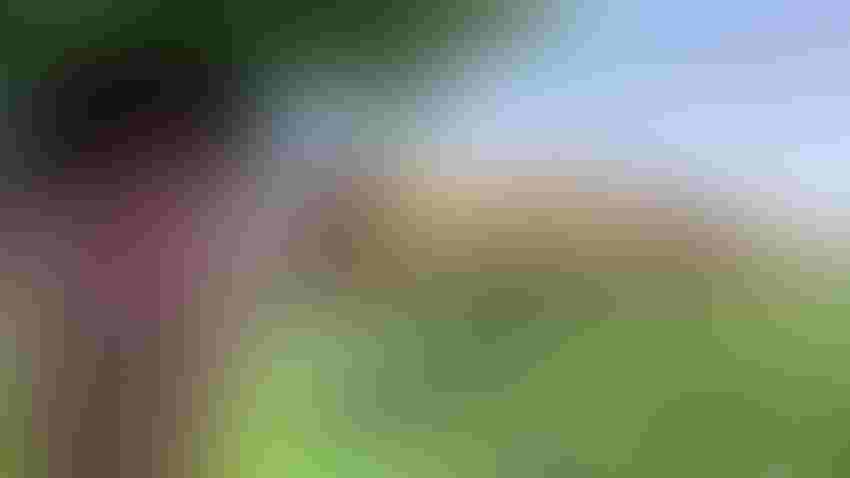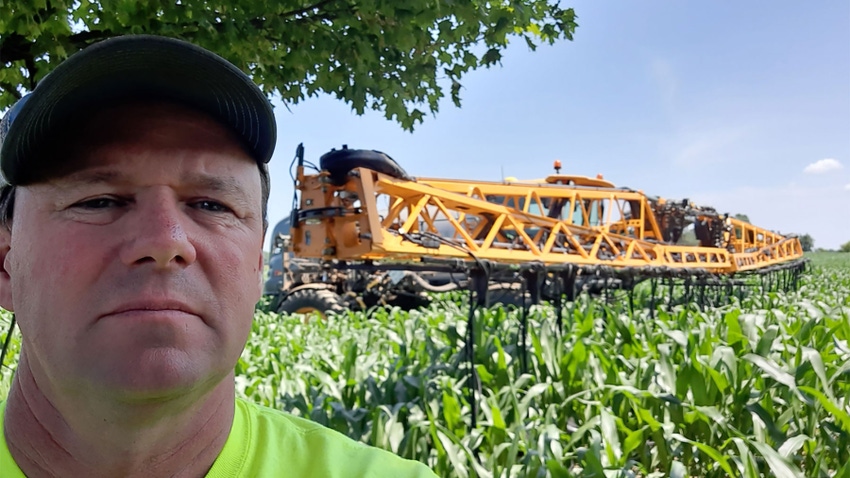 FEEDING NITROGEN: On July 19, Ohio Farmer Nathan Brause was using a Hagie to Y-drop nitrogen into his corn crop. At this point, he says the corn looks outstanding.
Nathan Brause
Editor's note: This is the third story in a series following Ohio farmer Nathan Brause, as he provides updates throughout the season.
Ohio farmer Nathan Brause took a gamble in spraying only half of his wheat crop with a fungicide. It looks like it paid off this year.
Because many of his crops had not seen rain from mid-May to June 11, he saw little disease potential and split his risk.
The first wheat coming off was dry, with high yields of 109 bushels per acre. "But then we had a couple of big fields that either fell short on nitrogen or the timing wasn't right, so while I don't know our exact average yield yet, I'm guessing it's about 90 bpa," Brause says.
That's above the USDA Ohio wheat yield forecast of 76 bushels per acre. Wheat production in the state is anticipated to be 41 million bushels, up 12% from last year on more harvested acres.
Brause's story seems to be ringing true for much of the neighborhood, he reports. "I've heard some who have averaged over 100 bpa, so that is very encouraging for guys that don't normally grow wheat," he says.
Brause farms about 1,500 acres with a three-crop rotation equally divided into corn, soybeans and wheat in Ohio's Crawford County, about 5 miles northeast of Bucyrus and Sulphur Springs. He also does custom planting, harvesting and Y-drop applications of nitrogen.
He works with his oldest son, Alex, 25, and two other employees. Together, they work with two other operations, and between the three, they're farming 3,500 acres.
One issue Brause has not seen in several years was the presence of smut in wheat. "The combine and header turned kind of black and from the black dust on the wheat," says Brause, who attributes it to the moisture that followed the dry spell and hazy, overcast days filled with Canadian wildfire smoke.
The wheat came off with an average 14% moisture the second week of July, which is a little later than normal. Brause is without a grain dryer while his new one is yet to be completed.
The bulk of the wheat, outstanding a couple of contracts, is stored on the farm. "We're using a new system with AGI to try and get that to 13.5% moisture," he says. "This system turns on and off your grain bin fans. It knows the moisture and the temperature with cables in the bin. It's really nice. … It's a piece of mind not having to worry about when the fan needs to run or not. We'll see if it works."
Growers can either buy the AGI system or lease it on a seven-year contract. "I ran the numbers both ways, and it's about a wash either way as to whether to own it or lease it," Brause says.
After wheat harvest, Brause has been busy applying 10-ton to the acre of pen pack manure and incorporating within 24 hours, as required by his enrollment in the H2Ohio program.
Strange soybeans
While it hasn't not been officially linked to the wildfire smoke, Brause says the soybean crop in his area during the past couple of weeks has been showing signs of distress, turning yellow and wilting.
"It's really bad; it's almost like they've been inundated with water, too much rain, but that's not been an issue," he says. "It's just a strange occurrence in soybeans, and nobody really knows what's going on. It's interesting to watch because beans planted where there are field tiles look really good, and in between all the field tiles, they look about dead. They're coming out of it some, but it's interesting because you can see where all the tiles are, and who has tile and who doesn't."
On July 19, he was in a Hagie finishing his first Y-drop nitrogen application on corn, with another application coming in a couple of weeks. He usually finishes about the first week in August and, during the second pass, sometimes adds a fungicide or foliar treatment.
In the past couple of years, he's battled tar spot. "It's a preventative measure on the corn, and it really varies year to year," Brause says. "If it looks like we're going have a lot of really wet weather or dewy mornings, we definitely want to put the fungicide on.
"It really depends. Like when I made the call about putting fungicide on only half our wheat acres. It turns out the acres without a fungicide yielded the best. It just wasn't conducive to using the fungicide at that time, which was the right decision, but you never know. The weather could have changed, and it could have gone the other way."
While applying nitrogen, Brause was also doing some spraying in between the corn, trying to kill thistle patches.
He also started spraying soybeans with a foliar and herbicide pass. "It will be our first pass since burndown in soybeans," he says. "We were waiting on canopy, but it just doesn't seem to want to canopy."
Overall, Brause says his soybean crop looks "pretty decent," and the corn looks "exceptional."
Heavy deer and groundhog pressure reported earlier in the season has somewhat subsided, Brause reports.
Construction of his new grain drying system has been paused with the fieldwork, but he expects to get back at in early August and have it completed by September.
He's upgrading from his 2005 automated, continuous flow dryer to a mixed flow unit. "It's not really a new dryer, but Sukup Manufacturing made a hybrid production flow and a vacuum cool dryer," Brause says. "It's an interesting design, and they are the only ones that make one like that. We hope to gain some efficiencies."
Corn is taking its time
One thing Brause noted was how the crops seems to be lagging behind.
"I think those hazy, smoky and overcast days, combined with cooler weather, has really slowed just about everything," he says. "It also has slowed soybean growth so much that it's like they're half asleep."
Early-planted corn in mid-April is struggling to tassel. "That's unusual for this area," he adds. "Everything should be tasseling by now, but we might not see that until the 10th of August."
Soil moisture is adequate, temperatures are lower than normal, and a lot of overcast days will likely result in crops taking longer to mature and a longer fall, Brause predicts.
"It all depends on the weather, but I think we're going to have a hard time getting black layer on corn in an adequate time frame before frost comes," he says. "We'll see."
Subscribe to receive top agriculture news
Be informed daily with these free e-newsletters
You May Also Like
---