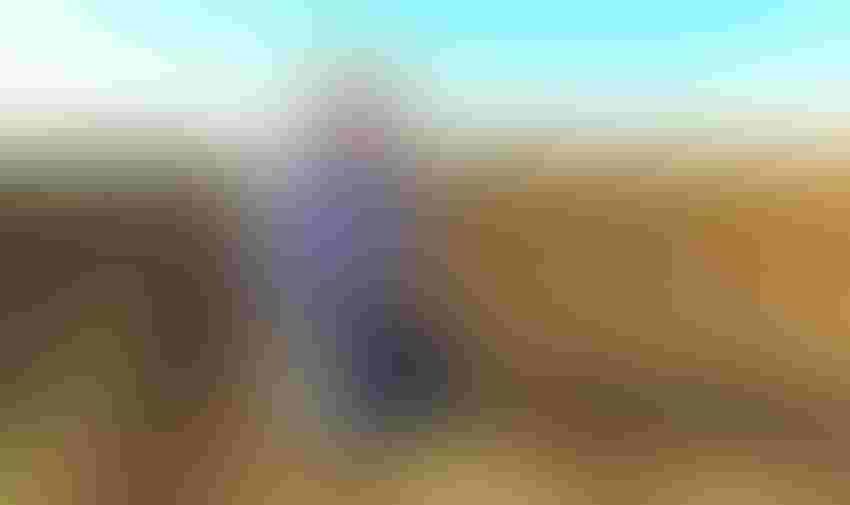 Ed Curry grows various chile varieties in southern Arizona's Cochise County. Curry created a system of planting chile in narrow channels to protect the emerging plants from weather conditions.
Todd Fitchette
New Mexico's famed chile may benefit from soil and growing conditions in Hatch and Deming, yet it's what Ed Curry does a few hours to the west in southern Arizona that makes it all possible.
From his Cochise County farm Curry grows about 300 acres of organic chile that neighboring New Mexico celebrates with its official state question: "Red or Green?" The three-word question is commonly asked at restaurants across the Land of Enchantment to determine whether patrons want red chile or green chile on their cuisine. Each has its own unique flavor profile and can be found on food ranging from enchiladas to breakfast platters and even as whole, green chiles on hamburgers at a popular Southwest burger chain.
It's the seed from Curry Seed and Chile Co. that is used to propagate the U.S. industry from West Texas to San Jose, Calif., including New Mexico's trademarked program.
About 80% of Curry's chile production goes for seed creation and 90% of what New Mexico growers buy for that state's certified program comes from Curry Farms near Pearce, Ariz. After seed extraction, curry processes the remaining materials for various food manufacturers who buy his chile for spices and food coloring. It's the red chile he grows that is used to make food coloring for a variety of products.
INNOVATING
Curry credits the late Phil Villa for introducing him to the chile breeding programs that Curry is now known for. It was Curry's father, Noel, who first exposed Ed to growing the crop in 1957.
That crop was a "failure," Curry says. He learned quickly that the plant can be difficult to start in the Arizona climate and was prone to disease.
Years later Curry was introduced to Villa, the late chile pepper genetics expert from California's South Coast who during his career developed the Ortega and Alpha One varieties for the Ortega brand. Villa later teamed up with Curry to develop the Alpha Two and Arizona 20 varieties.
"Phil was amazing," Curry said. "Alpha One and Two were his. Arizona 20 was developed here on the farm."
Since development of the Arizona 20 variety Curry created numerous other varieties and collaborates with Extension programs in New Mexico and Texas on chile pepper genetics. Curry holds the Guinness World Record for the heaviest pepper at approximately 10 inches in length, weighing .063 pounds, or 0.29 kilograms. The record was set in 2009. He also collaborates with Extension programs in New Mexico and Texas on chile pepper genetics.
Today the mainstay chile variety is the 1904, though Curry continues to work with experimental varieties that include green, red and a new yellow chile. A new variety that Curry developed could hit the market soon as trials suggest it could yield about a third more tonnage than the 1904. He also points to the possibility of chile becoming a "super food" because of its nutritional aspects.
He's seen yield averages increase over the years under improved practices and variety types. The Arizona 20 variety helped this greatly, taking average yields from about eight tons per acre to 14 tons.
"That's what really put us on the map," he said of his variety breeding efforts.
Grower yields today can average 18-20 tons, he said.
Breeding new chile varieties is a numbers game for Curry. Different variety types are tried with the idea that many of them won't work for one reason or another. Color could be off; yield could be unacceptable, or the plants could be prone to pest and disease pressure.
"You're trying to win the 1 or 2 percent with this," he said.
Curry's chile is also known for its color extractability – the ability to remove the red color and add the flavorless coloring to various food products.
Ongoing trials with various crosses continue to be studied for their positive attributes. He does this from a small building by hand with small-scale seed extracting equipment. He also maintains a frozen bank of unprocessed chile as part of his studies. From a larger building nearby, he processes chile after extracting seeds that will be washed, dried and packaged for sale to commercial farming operations.
The labor-intensive nature of the business is moving Curry towards mechanical harvest. Two old cotton harvest platforms with three-row heads on them continue to be tweaked to manage harvest of the crop. A small acreage plot is set aside for these trials.
FRUIT OR VEGETABLE?
"That's a good question," Curry says. Chile has been called both, but technically it's a vegetable known for a good variety of macro-, micro-, and phytonutrients.
Starting the crop can be challenging in the climate common to the Cochise Valley where Curry farms. Strong spring winds can damage or kill the tiny plants. To combat this Curry employs four-inch deep channels in the furrows where seeds are planted for start-up. These channels protect the emerging plants from wind and sand blasting. In soils more prone to being affected by the wind Curry plants oats between the rows of chile to further protect the emerging crop. The oats can later be harvested as the chile matures.
Curry Farms will play part-time host to the International Pepper Conference in late 2020 as the event will split activities between a location in Tucson, and at Curry Farms about 100 miles away.
"That's a pretty big accomplishment," he said of having the international event come to his farm.
There are videos online of Curry telling his story and the story of growing chile peppers.
"I love to tell the story of chile," he said.
Subscribe to receive top agriculture news
Be informed daily with these free e-newsletters
You May Also Like
---