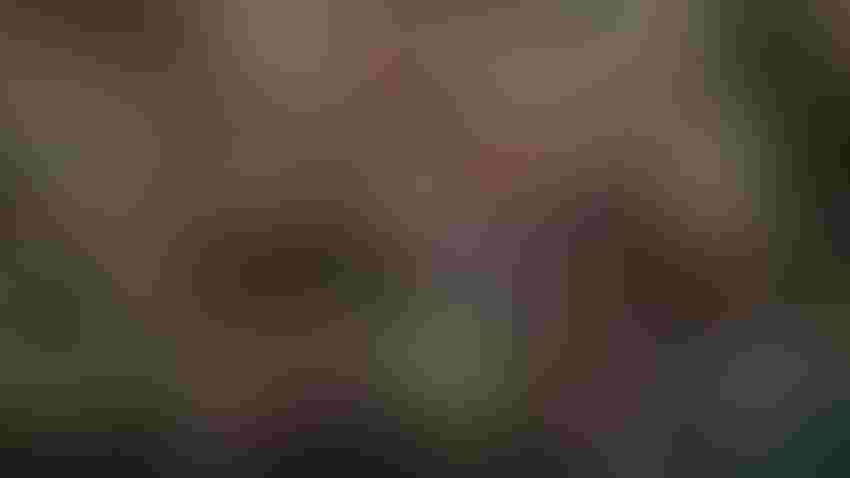 PUT TO THE TEST: Corn seedlings are ready for evaluation after seven days of chilling at 50 degrees F in the 50F Saturated Cold Test and three days at 86 degrees (100 growing degree days).
Courtesy of SoDak Labs Inc.
Risk management is nothing new for American farmers, and Tim Gutormson says that thinking has carried over into producers' seed purchases.
"We're seeing a specific group of farmers going for maximum yield on every acre," he says — and more of these farmers, once they receive their seed corn, they're sampling it and sending it in for laboratory testing."
Gutormson says on the whole, a small percentage of farmers take advantage of services offered by seed testing laboratories such as his firm SoDak Labs Inc. in Brookings, S.D., "but that's something that they're doing to really mitigate risk. … Like trying to decide if we're going to start planting at 40 [degrees] F soils or when the soils are fit — what is the lowest-risk hybrid or seed lot to use?"
Once farmers get results back from the lab, Gutormson suggests they rank their purchased hybrids for risk correlated to planting schedule.
"If you have a very high-yield hybrid that you're told has early-season emergence concerns, you don't want to lose population on a hybrid like that, but at least know what your risk is," he says. "I think that's why folks send in their corn to test. … They're not trying to reject a seed lot. They're just trying to have more information on what kind of environment it could take, versus another lot."
How low can you go?
It is said corn requires a soil temperature of at least 50 degrees, but there are many factors that determine when individual farmers get the planters rolling in the spring. Depending on the current and upcoming weather patterns, decisions may be made to sow seed before ideal conditions are met.
"A lot of farmers have this belief that their earliest-planted corn can be their best-yielding corn, and there's also peer pressure when they see the neighbors out there," he says. "You know farmers — if they have a field that is ready to plant, they say it's 'fit' for planting; that's not really looking at temperature of the soils." In this scenario, "fit" usually means the ground is right for preparing a nice seed bed, and the crop is not being mudded in, "but it might be cold," he says.
With that in mind, Gutormson — who, in addition to being SoDak Labs' CEO, is also a seed physiologist — created the 40F Cold Test. Developed at the lab in 2021, this test challenges seed by planting into 40-42 degree soils in an aerobic soil environment. "It's not anaerobic, so the main stress is the 40-F cold water uptake in that test," he says.
Since the test's introduction, they have performed about 1,000 comparisons with real-world seed lots, with that data available in the publication "Evolution of the Saturated Cold Test" found on the company website. "So, you can look at how it compares to a saturated cold or 50-F cold and decide if it's useful to you," he says. "We're really trying to develop tools. We don't recommend what temperature to plant corn — but if you want to plant corn early and you think you're in that 40-degree range, this test is probably one you should consider."
SoDak Labs focuses mainly on corn and soybeans, with corn being the largest tested seed, but also handles cereals, oilseeds, beans and peas, vegetables, grasses and legumes.
"We're just trying to help the farmers become more successful, because getting the desired corn population is very important," he says, "Precision ag is not very precision if you don't have the right population."
Gutormson says samples are submitted from every level of the supply chain — farmers, seed dealers and seed companies. "We try to help seed companies and people involved in quality assurance better understand quality," he says. "And we as a laboratory, we think we're agronomically tough — and what we're trying to do is continuously improve the seed companies' quality to the farmers — and everybody is happy."
SoDak Labs is not the only seed testing entity available for producers, with many universities and a handful of other private companies in the field, but Gutormson sees his firm as "really good at cold testing, and we really dig into trying to understand it."
He also stresses the importance of farmers watching the weather forecast, "as one of the most important things that you have to know as a corn grower is you want to avoid planting immediately before a soil-saturating rainfall event," qualifying that as rainfall for two or three days, "and your soils are going to get glossy black, you're going to have an anaerobic environment for your corn to emerge in, and that's the highest-stress environment you can put that corn in."
SoDak Labs also offers Seed Academy, online training developed to help individuals understand the importance of seed biology, seed technology and seed identification. More information can be found at the company website, sodaklabs.com. The site offers a chat feature where interested growers can ask questions on submitting samples and testing options.
Subscribe to receive top agriculture news
Be informed daily with these free e-newsletters
You May Also Like
---