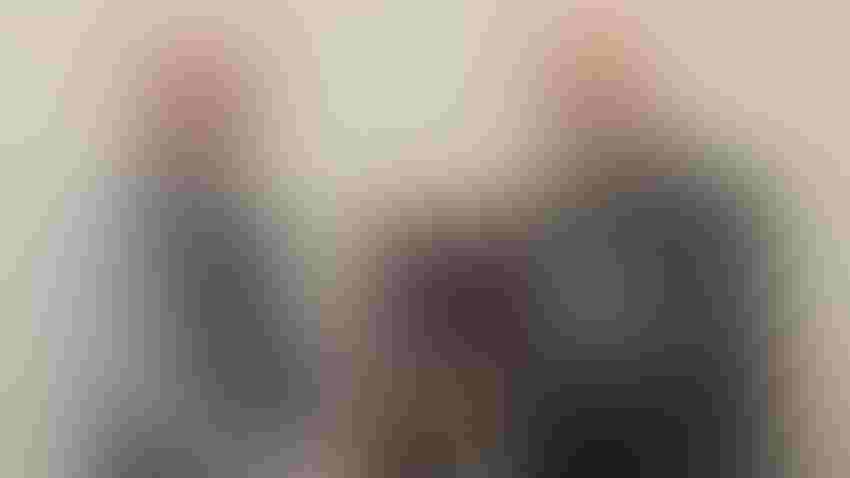 LEGACY ACHIEVEMENT: Paul Kjolhaug (right) was recently honored by the Minnesota Crop Improvement Association with that organization's Achievement in Crop Improvement Award. The award, the highest offered by the MCIA, was presented by Kevin Schulz, editor of The Farmer.
Courtesy of Minnesota Crop Improvement Association
Paul Kjolhaug's interest in the seed industry sprouted as a youth detasseling seed corn for Trojan Seed near Springfield, Minn. That interest really blossomed while a student at the University of Minnesota, working for Kent Crookston in the agronomy department.
"That work in crop production helped me develop an interest in other seed crops," says Kjolhaug, who earned an agronomy degree with an emphasis in soils. Between his 1979 graduation from U-M to today, Kjolhaug has forged a lengthy career — mostly in the seed business.
He took a brief hiatus from the seed industry when he worked with his brother in a small environmental consulting business. Three years later, he started working with MayerSeedLine of Willmar, Minn., where for the last 21 years he has been part owner. MayerSeedLine is a contract seed production and seed brokerage company focusing primarily on seed corn, soybeans, wheat and sunflower. It facilitates seed production and agreements between buyers and sellers that have a need and an ability to fulfill that need. MayerSeedLine customers range from small independent companies to large multinational corporations.
Kjolhaug sums up MayerSeedLine fitting into a seed business, that once was a highly vertically integrated business: "Historically, many seed companies engaged in research, production, sales, marketing and distribution," he says. "Today, many seed companies are no longer vertically integrated. They've chosen to specialize in a sector of the seed business. MayerSeedLine focuses our efforts on production and seed supply, supporting customers with their seed supply strategies."
The Minnesota Crop Improvement Association recently honored Kjolhaug with its highest honor, the Achievement in Crop Improvement Award. The Farmersponsors this award.
He says, "The people who have received this award have been people, in my opinion, who are highly renowned and successful people in the seed business. I am humbled and don't feel like I belong."
Kjolhaug takes the work that he and all others in the industry and agriculture do for society very seriously. He says he has a framed quote in his office from Jonathan Swift's "Gulliver's Travels" a novel written in 1726: "that whoever could make two ears of corn, or two blades of grass, to grow upon a spot of ground where only one grew before, would deserve better of mankind, and do more essential service to his country, than the whole race of politicians put together."
He is grateful to be among those who focus their energy on production agriculture. "You folks are those people. You're that small percentage of people that have the passion to feed the world. And it is an important responsibility we have."
Other winners
MCIA also honored recognized four Premier Seed Grower awardees: Lon Baldus of Grand Meadow, Kurt Flegel of Benson, and Dean Johnson and Kurt Aakre of Karlstad.
Each year since 1928, MCIA has presented Premier Seed Grower awards to recognize individuals or partners involved in quality seed production, are active in MCIA and who provide excellent service to the seed industry.
Recipients of MCIA's Honorary Premier Seed Grower Award this year were Denise Thiede, Minnesota Department of Agriculture, Plant Protection Division, Section Manager, who is responsible for seed, noxious weed, hemp and biotechnology; and Dave Grafstrom, a researcher at the University of Minnesota's Department of Agronomy and Plant Genetics.
This award recognizes individuals not directly involved in seed production but who have actively supported the seed industry, MCIA and their local communities. MCIA has presented this award annually since 1930.
Minnesota Crop Improvement Association contributed to this article.
Subscribe to receive top agriculture news
Be informed daily with these free e-newsletters
You May Also Like
---