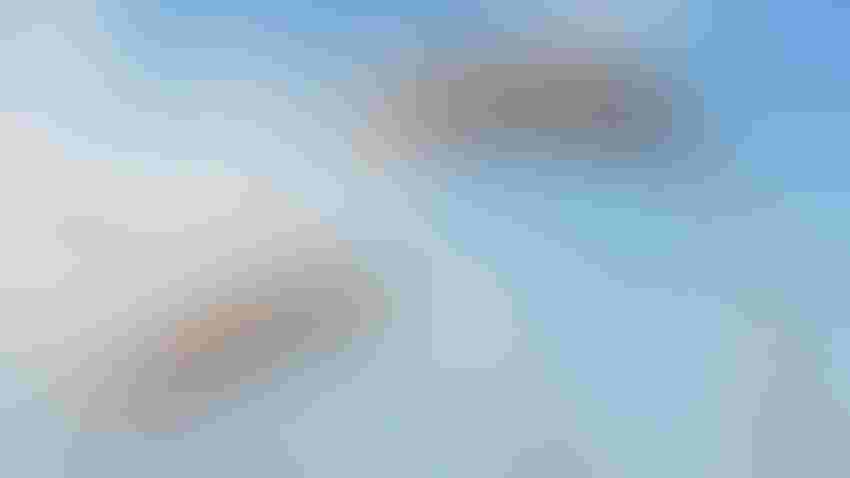 HARVEST IN PROGRESS: Kansas farmers wrapped up week 3 of harvest June 29, reports Kansas Wheat, with varied results.
danahann/Getty Images
The USDA National Agricultural Statistics Service crop progress report for the week ending June 25 shows that the Kansas wheat harvest is 21% complete — that's well behind the 54% harvest completion this same time last year, and the 38% five-year average.
The report rated the wheat crop condition as 53% poor to very poor, with 31% fair and 16% good to excellent.
The Kansas Wheat Harvest reports from the week of June 26 tell of the weather finally turning hot and dry enough for some farmers to finally get into their fields to begin harvest in earnest.
Rice County
Brian Sieker, who farms near Chase, in south-central Kansas, reports he's cutting a sparse wheat crop a few miles west of Chase this year. While the crop had a good start in the fall, the moisture turned off in the winter, and the wheat used up any residual moisture. He reported some neighbors opted to abandon their wheat and move on to a different crop.
For the fields Sieker was able to cut, yields ranged from a high mid-thirties down into the teens. Moisture was normal at 11%, and test weights in some of his nearby fields were doing fairly well at 60 pounds per bushel.
"You go farther west, they have it worse," Sieker says. "We are just thankful to have some fields worth cutting."
Montgomery County
Jesse Muller farms in Montgomery County, in eastern Kansas, which escaped much of the extreme drought conditions of the rest of the state.
Muller reported a wide variety of yields, from 20 bushels per acre to a high of 70 to 80 bushels and above. He planted a Kansas Wheat Alliance variety with excellent head scab tolerance, which helped him reach test weights of an average of 60 pounds per bushel or more. He attributed the better-than-expected yields to planting behind corn and using up the excess nitrogen from last year, as well as being lucky to be in the pocket of the state that received timely rains.
Rush and Ellis counties
Dale Younker has been farming for more than 30 years, and this year he chose to terminate his entire wheat crop and plant it all back to grain sorghum. He farms in northern Rush and southern Ellis counties, and according to the Kansas Wheat Harvest Report, he says all of his winter wheat appraised between 1.5 to 3 bushels per acre — back before rains started falling in the first week of May and into June.
The area is still in exceptional drought, according to the U.S. Drought Monitor, despite rains the last two months. That's good for Younker's grain sorghum, which was planted into decent conditions, but he says it will need more rain to take that crop to harvest.
Younker reported that he and his crew did break out the harvest equipment to help a neighbor cut wheat northeast of LaCrosse, Kan., and they saw significantly lower yields, with one field making around 20 bushels per acre and the other just into the low 30s. Test weights were also down, at 58.5 to 59 pounds per bushel.
Challenges and bright spots
Troy Presley, of CoMark Equity Alliance, says he expects their 75 locations in Kansas will take in 40% to 45% of a normal crop this year. But that's just the tip of the story.
He reported that the inverted market environment, storage issues from higher dockage due to weeds, the logistics of a stop-and-go harvest, and trying to forecast whether farmers will sell their wheat now or store it for later are just some of the challenges they're dealing with this harvest.
There is a bright spot in Kansas, though, and that's the small pockets of soft red winter (SRW) wheat in far southeastern Kansas and northeast Kansas.
According to Kansas Wheat, SRW typically yields higher than hard red winter (HRW) wheat, but has lower protein content of 8.5% to 10.5%. Its soft endosperm and weak gluten make it more useful for specialty products like spongecakes, cookies and crackers — unlike HRW, which is a bread wheat.
Jay Armstrong plants SRW near Muscotah, Kan., in Atchison County. He reported that he put on 160 pounds of nitrogen, fungicide and seed treatments on his SRW crop. Combined with a near-perfect amount of rainfall, he said his Pioneer 25R74 wheat averaged 94 bushels per acre across the farm, with test weights between 60 and 61 pounds per bushel. He'll bin this crop for later delivery to mills near Kansas City, making sure to keep it segregated from any HRW.
The 2023 Harvest Report is a collaboration among the Kansas Wheat Commission, Kansas Association of Wheat Growers, Kansas Grain and Feed Association and the Kansas Cooperative Council. Read more at kswheat.com.
Source: Kansas Wheat contributed to this story.
Subscribe to receive top agriculture news
Be informed daily with these free e-newsletters
You May Also Like
---