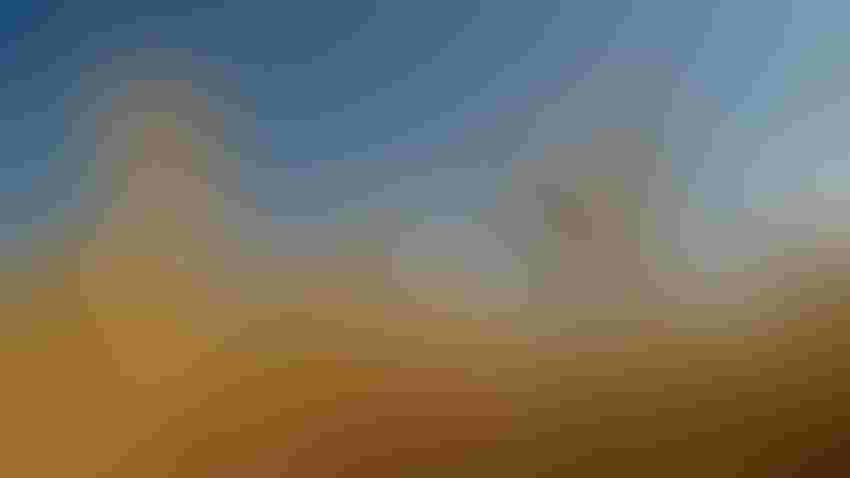 WHEAT HARVEST RAIN CHALLENGES: Kansas wheat harvest continues into Week 5 across the state. Sporadic rains have crossed parts of the state, easing drought concerns for some, but making it difficult to get the crop out for others.
PrairieArtProject/Getty Images
The July 9 USDA National Agricultural Statistics Service Kansas Crop report has the state's winter wheat crop at just 59% harvested, well behind last year's 93% harvest figure and the average of 84%.
Badly needed moisture continues to fall across the state, with topsoil moisture supplies finally reaching 61% adequate and subsoil moisture reaching 53% adequate.
The U.S. Drought Monitor reported that heavy rainfall of 4 to 8 inches in many areas soaked much of south central and southwestern Kansas the first week of July. This prompted substantial improvement in the drought conditions in those areas. However, exceptional D4 drought remains over parts of southeastern, west-central and north-central Kansas.
According to Kansas Wheat CEO Justin Gilpin, the 2023 crop is one that's going to be remembered for its challenges.
"This wheat crop will be remembered for facing challenges from start to finish with the final Kansas total production being the lowest in decades," Gilpin said in the July 6 Kansas Wheat Harvest Report. "After two years of drought, it is good to finally get some relief. It just came at the wrong time in many places for this year's wheat crop." He adds that these challenges — from the dry fall and winter that hurt stand establishment, to the rainy late spring and summer that's delayed harvest — just show the need for advanced technologies in wheat production and management.
Many farmers were in the field for their Fourth of July celebrations, trying to get ahead of the widespread showers that moved through the state that evening.
Ness County
In Ness County at the D.E. Bondurant Grain Co., Gary Gantz said during the Fourth of July weekend, Friday and Saturday were particularly busy days, especially for the Riverside location. Gantz predicted harvest will continue into late July.
Gantz said farmers in the area who had not terminated their wheat were seeing slightly better yields than what they had initially predicted. Yields ranged from 25 to 35 bushels per acre, with decent test weights and high proteins in the 12.5% to 14% range. 
Last year, during the 2022 wheat harvest, which was another dry year for the Kansas wheat crop, Gantz recalled the company only received about 50% of its normal amount of wheat. With the already dry conditions following 2022, the 2023 crop was off to less-than-ideal conditions that continued into harvest. This harvest, the elevator is seeing a mere 25% of normal wheat quantity. About 40% to 50% of the planted 2023 wheat crop in the area was abandoned. Although this wheat crop was very disappointing, with these late rains, Gantz noted the elevator remains optimistic for currently growing fall crops. One such rain event brought as much as 3 inches of rain.
Haskell County
Kendall Poland, of the Sublette Co-op in Haskell County, said harvest has just really gotten started. Only one of his farmers has been able to get into the fields after these recent rains. The wheat crop is shaping up to be very minimal so far — almost 95% of dryland wheat acres were abandoned in the area. With wheat harvest only having just begun June 27, and more rain in the forecast, wheat harvest might extend much further into the calendar than what anyone is used to.
Despite the slow start to harvest, Poland remarked how much of a blessing these rains have been to this parched area of Kansas. Hailstorms have torn through the area, causing damage to corn and cotton acres. Although the hail wasn't large, there was a lot of it.
Based on July 1 conditions, Kansas' winter wheat production is forecast at 208 million bushels, down 15% from last year, according to the USDA NASS. Average yield is forecast at 32 bushels per acre, down 5 bushels from 2022. The area to be harvested for grain is estimated at 6.5 million acres, down 2% from a year ago.
Kansas Wheat Harvest Reports are a collaboration of the Kansas Wheat Commission, Kansas Association of Wheat Growers, Kansas Grain and Feed Association, and the Kansas Cooperative Council. Find more online at kswheat.com.
Kansas Wheat contributed to this article.
Subscribe to receive top agriculture news
Be informed daily with these free e-newsletters
You May Also Like
---