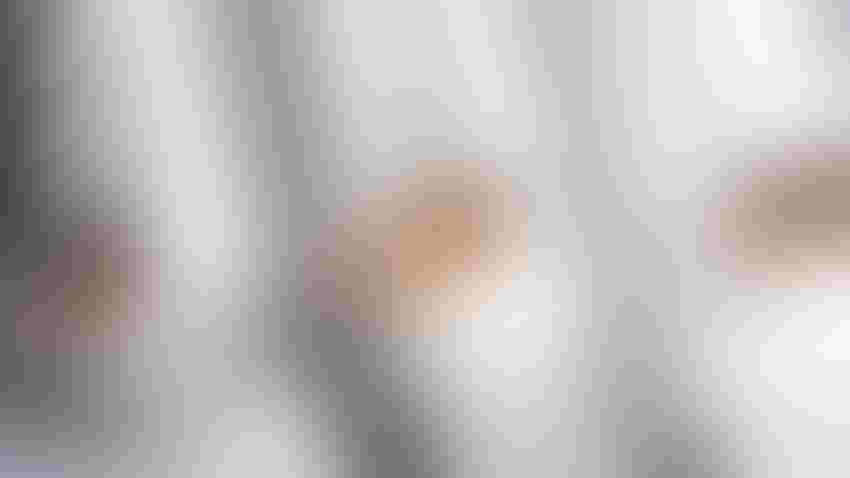 LOOKING AT GERMINATION: Drought and heat stress have pinched wheat yields in the western half of the state. This has some farmers starting to be concerned if they'll be able to find the wheat seed varieties they want in the quantities they need for this fall's planting.
Chepko/Getty Images
It's the middle of July, and some Kansas farmers are still in the combine or the grain cart battling Mother Nature to harvest what little wheat outlasted the drought. But many are already starting to make calls trying to track down wheat seed to plant this fall.
And the outlook is concerning.
Sourcing
The Sipes family has been growing, cleaning and selling wheat seed near Manter, Kan., for more than 75 years. Jim Sipes says they had to zero out all of their dryland wheat acres due to drought, and to ensure he had some wheat seed to sell, he planted a few irrigated circles of wheat. But recent rains have delayed harvest.
"We've harvested two circles in 10 days with three machines," he says. "We thought we were going to be cutting 70-to-100-bushel wheat, and what we're cutting so far is just 60- to 65-bushel wheat."
Sipes says that he's seen and heard stories of tough years for wheat seed because of weather or other extenuating circumstances, but somehow farmers always managed to find the seed they needed to plant a crop in the fall.
This year is different.
"I've been in this business quite a while — and whenever I have said that we were going to have a shortage before, wheat seed managed to come out of the woodwork, and we really didn't end up having a shortage," he says. "What's different about this year is that we don't have carryover. Typically, the industry carries over as high as 66% of what we raised." Maybe that certified seed wasn't the variety that farmers were searching for that year, or some other reason, he adds.
But last year was a tight year for wheat seed as well, and other western Kansas wheat seed farmers, like Sipes, had failed crops and are short on seed this year, too.
This fall, farmers should prepare themselves for learning the variety they may want may not be available in the quantities they need it unless they book it early. Or they may need to make more phone calls to buy their seed.
"I had a customer come in just this week and say it was their opinion that this is going to be a year where we plant what we can get — and be glad we can get it," Sipes says. "I can see that." He adds that some farmers are also concerned about the price of the seed they can source — with some penciling in doubled seed costs as they plan the next crop.
Quality
Sipes says one thing that farmers need to remember as they're sourcing wheat seed is to look for quality in whatever they source. Typically, farmers need 58- to 60-pound-per-bushel test weights for their seed to have what it needs to grow in the field.
"There's a lot of studies out there that say that the higher-test-weight wheat that's been conditioned, is uniform in size, will give you anywhere from 2 to 4 bushels per acre better yields," Sipes says. Certified seed over bin-run seed will give you a better genetic advantage as well, he adds.
Still, a farmer may have no option but to plant bin-run seed as an alternative to certified seed due either to availability or price. If that's the case, Sipes warns they must be certain that the seed is not one of the many single-use-only certified seed varieties out there. Farmers who purchased and planted these varieties signed paperwork agreeing not to save back seed to plant the following year, Sipes says. There are penalties if that agreement is broken.
Whichever option farmers choose this fall, the key this year will be starting the buying process early, making sure they know the seed quality before they buy, and giving that seed the best start they can, Sipes says.
A good start
Considering the growing conditions in some parts of Kansas this year, a farmer may have seed that is lower test weight, or of a quality that they normally wouldn't put in the ground. If that's the case, Sipes says you have to give the wheat seed the best opportunity you can for it to get established this fall.
Seed treatments. Agronomists recommend treating wheat seed this fall with fungicide and insecticide seed treatments. Sipes says that gives the wheat seed more vigor to overcome field conditions this fall. "This would be a good year to put treatment on your seeds to give them the best tillering ability, especially if you've gotten something that's a little bit lighter and not as uniform in seed size," he says.

Planting conditions. Not every variety may be available, so farmers need to really pay close attention to their planting conditions, Sipes says. You may need a variety like Winterhawk that tends to do well in really dry conditions, or a variety that has wheat streak mosaic virus resistance to battle the wheat curl mite, if you have neighboring volunteer wheat.

Volunteer wheat. Sipes says a lot of winter wheat out west didn't emerge until May, and a lot of those fields were planted into sorghum. "There's a lot of volunteer wheat in that sorghum, and that's wheat that didn't vernalize," he cautions. "That means it will never make a head." And it's tough to kill with typical weed control right now because rains keep interrupting product applications. If that volunteer wheat is allowed to live through the fall and winter, that creates a green bridge for the wheat curl mite, which can bring wheat streak mosaic virus to your fields.

Sprouting. Western Kansas usually doesn't have a sprouting problem in its wheat crop, but this year could be the exception, Sipes says — especially for white wheat varieties. He advises getting a good germination test on white wheat seed you plan to plant.

Testing. Kansas State University agronomy recommends having wheat seed professionally tested for germination, especially with the severe drought and heat stress the crop was under in a lot of the state this year. To have an official germination test, farmers can send a 2-pound sample to the Kansas Crop Improvement Association. A germination test for non-members of the KCIA costs $20. You can find a submission form and details at kscrop.org/seed-lab.html. You might also consider an accelerated aging test to identify weak seed lots beyond the standard germination test.
Subscribe to receive top agriculture news
Be informed daily with these free e-newsletters
You May Also Like
---