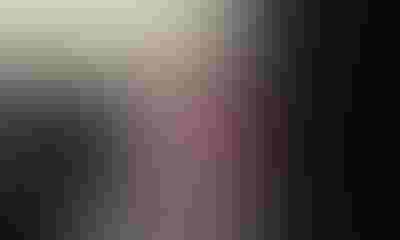 Iowa Secretary of Agriculture Bill Northey announced on February 11 the four agribusinesses and two Certified Crop Advisors (CCAs) who are recipients of the Secretary's annual Iowa Ag Leader Award for outstanding leadership in improving Iowa's water quality. Northey recognized these agribusinesses--LaCrosse Seeds, Agriland FS, New Leader and AgriDrain--as award winners for 2016, along with CCAs Pat Tekippe from Winneshiek County and Terry Grote from Black Hawk County.

WINNERS: Iowa Secretary of Agriculture Bill Northey (left) presented awards to four businesses (LaCrosse Seeds, Agriland FS, New Leader, AgriDrain) and two certified crop advisers (Terry Grote and Pat Tekippe) for their efforts to improve water quality. Grote is pictured here with Bill Northey.
"Partnerships have been a key to the Water Quality Initiative since the very start and it is great to be able to recognize these ag businesses and Certified Crop Advisors that have really taken a leadership role in helping advance water quality efforts in the state," says Northey.  "We are fortunate to have support from many businesses and CCAs all across the state who have taken responsibility to help farmers and landowners improve water quality and it is great to be able to recognize these award winners."
Thanks for helping farmers and landowners improve water quality
Northey presented the awards at the Agribusiness Association of Iowa's annual Showcase and Conference for 2016, held this week at the Iowa State Fairgrounds in Des Moines. The award winners are listed and described here.
LaCrosse Seeds: LaCrosse Seeds is a leading forage, turf, cover crop, pasture and related agricultural seed supplier. They're helping support and grow the use of cover crops in the state by providing not only a range of cover crop seed varieties and mixes, but also sound agronomic advice relating to the successful establishment and management of cover crops in Iowa. LaCrosse has been an active partner in the ADM-Unilever Sustainable Soy program. Offering discounts to participating producers for cover crop seed purchases.
Agriland FS: Agriland FS is a farmer-owned cooperative serving southern Iowa with 17 CCAs currently on staff. Agriland FS places a strong emphasis on the continuous training of new crop specialists and implementation of best management practices such as variable rate technology that support a voluntary, science-based approach to implement Iowa's nutrient loss reduction strategy.
The FS System has shown the effectiveness of managing nitrogen as a system that results in both economic and environmental benefits. Agriland FS is guided by the 4Rs of nutrient stewardship, the use of soil testing, N-Watch, stabilizers, split applications, and cover crops when appropriate. These efforts have led to significant investments in equipment and implements in order to deliver these services. Agriland FS is a valuable member to the Bluegrass/Crabapple WQI watershed project in Audubon County.
~~~PAGE_BREAK_HERE~~~
New Leader: New Leader products are used to apply fertilizer, ag lime, micronutrients, seed and cover crop seed. These products contribute to nutrient efficiency because of the ability to variable rate up to four products at once. This company also recently developed an advancement that takes precision further with independent spinner speed operation for boundary spreading to reduce overlap. New Leader is leading in the efforts that contribute positively to Iowa's Nutrient Reduction Strategy through improved nutrient management equipment development and manufacturing.
AgriDrain: AgriDrain is a manufacturer of water control and management equipment.  These products are critical components to many of the practices in the Nutrient Reduction Strategy, including (but not limited to): wetlands, bioreactors, saturated buffers, ponds, terraces and controlled drainage. AgriDrain has been a leader in developing the delivery and advancement of many of these technologies. The products they manufacture can not only help improve water quality, but also have the potential to manage water in a way that boosts crop productivity and resilience.
The company is instituting a "Smart Drainage System" product line that includes automated controls and innovative management options. They are a significant supporter of conservation projects and research efforts and have participated in 37 projects across the nation over past 5 years alone, including several water quality projects in Iowa.
Pat Tekippe, certified crop adviser in Winneshiek County
Tekippe is a Pioneer sales rep for Farmers Union Cooperative in Northeast Iowa (at Ossian) and an active participant and advisory board member for the Central Turkey Watershed Project in Northeast Iowa. In addition to using cover crops and other practices on his own farm, he coordinates aerial application of cover crops for area producers. They seeded over 3,200 acres last year. He's been a great asset to the project through producer engagement at the co-op and presence at project events. He's also an agronomist for Northeast Iowa Community College and been instrumental as the college's farm has transitioned to no-till with cover crops. Tekippe was recommended for the award by Central Turkey River Nutrient Reduction Demonstration Project Coordinator, Michelle Elliott.
Terry Grote, certified crop adviser in Black Hawk County
Grote is an agronomist for Spence Fertilizer in La Porte City. In that role he has been an important contributor to the Miller Creek WQI project in Black Hawk County. He has helped reach out to area farmers and provided information about nutrient management and has helped promote interest in strip till and nitrification inhibitors. Spence Fertilizer has helped sponsor field days and other outreach events and Grote is also a member of the Miller Creek Advisory Board. Grote was recommended for the award by Shane Wulf, Miller Creek WQI project coordinator.
Editor's Note: Visit the website CleanWaterIowa.org to learn more about voluntary, science-based practices that can be used on farms and in cities to improve water quality. Iowans can also follow @CleanWaterIowa on twitter or "like" the page on Facebook to receive updates and other information about the ongoing Iowa water quality initiative.
Subscribe to receive top agriculture news
Be informed daily with these free e-newsletters
You May Also Like
---