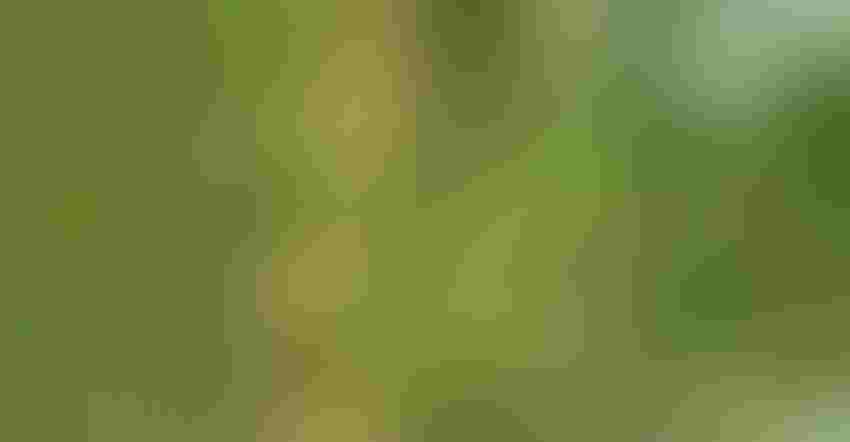 PALMER POO: Invasive Palmer amaranth weeds were found in a Redwood County, Minn., soybean field last year. State investigations found that the weed came into Minnesota via outstate sunflower screenings that had been fed to beef cattle.
Bruce Potter, University of Minnesota Extension
Palmer amaranth is making its way into Minnesota fields in a very natural way — via livestock manure.
A Redwood County farmer reported the suspect weed in October 2018 after finding it in his soybean field, says Allen Sommerfeld, Minnesota Department of Agriculture Communications.
MDA and University of Minnesota Extension scientists were in the field within 24 hours of the report, finding one female plant that produced no seed and three male plants. All plants were pulled out by hand, samples were taken for genetic testing to confirm they were Palmer amaranth and then they were destroyed.
Officials then inspected fields within a 5-mile radius. No other fields at that time were found to contain Palmer amaranth, Sommerfeld says.
During their investigation, MDA scientists learned the farmer had fertilized his field with beef cattle manure. Tracing back further, they found that those cattle had been fed delivered feed containing contaminated sunflower screenings that originated from an outstate source — likely Kansas, Colorado, Nebraska or Texas, where Palmer amaranth is more prevalent, Sommerfeld says.
U-M Extension is working with the farmer and providing guidance on management options for this growing season, he adds, and MDA will continue to inspect this field for the next two years.
"Since we're still trying to determine the scope of this issue, we're asking farmers to check fields if they've applied manure from animals who have been fed screenings," Sommerfeld says.
Palmer amaranth is an invasive, fast-growing weed that is resistant to multiple herbicides and causes substantial crop yield loss. It can grow 2 to 3 inches a day and can 8 eight feet or more in height. Left uncontrolled, a single female Palmer amaranth plant typically produces 100,000 to 500,000 seeds.
It is a prohibited weed seed in Minnesota, meaning no Palmer amaranth is allowed in any seed offered for sale in the state. It is also on Minnesota's Prohibited Noxious Weed Eradicate List. All above- and belowground parts of the plant must be destroyed. Transportation, propagation or sale of the plant is prohibited.
If you are a livestock producer using screenings as feed, Sommerfeld advises obtaining screenings from grain or seed produced in Minnesota to avoid feeding possible contaminated feed.
Ongoing surveillance
MDA scientists have since sampled screenings throughout the state and has found Palmer amaranth seed in numerous screenings — some containing as much as 250 Palmer amaranth seeds per pound of screenings.
"We are continuing to test," Sommerfeld says. "However, the Redwood County find is what opened the door to this new path. We are working on doing some tracking to see where the manure and screenings have gone from this Redwood County case."
In one instance, a source has been identified and notified, he adds, and regulatory action is being considered.
Farmers have been on the front line in keeping Palmer amaranth from taking over Minnesota fields.
"Every single infestation that we have identified since 2016 has been reported by a farmer," Sommerfeld says.
After finding the illegal weed in manure from cattle fed sunflower screenings, MDA is reaching out to state livestock and poultry groups and stakeholders with plans to form an advisory group to get input on regulatory options and to provide education, Sommerfeld says.
In the meantime, MDA encourages farmers, especially those that have manure from feedlots spread on their land, to look for Palmer amaranth and report suspect plants. Officials advise farmers to follow these steps:
• Take pictures of the plant including close-ups of the stem and inflorescence.
• Provide pictures and contact info to the MDA through the Arrest the Pest line at 1-888-545-6684 or [email protected].
• Save the plant material for testing. Fresh material can be saved in a plastic bag in the refrigerator and dry material can be stored in a paper bag at room temperature. It is best to keep the whole plant including leaves and flowers.
Palmer amaranth was first discovered in Minnesota in 2016. Since then, it has been found in six counties in the state. However, because of eradication efforts at confirmed sites and a strong partnership with the University of Minnesota Extension, no Palmer amaranth has been found in subsequent growing seasons.
The invasive weed is native to the southwestern United States and northwestern Mexico. It has been found in over half of the states, including Minnesota's neighbors — Iowa, North Dakota, South Dakota and Wisconsin.
For more information on the identification and control of Palmer amaranth, visit the University of Minnesota Extension website.
About the Author(s) Paula Mohr has been editor of The Farmer since 2004. She enjoys covering a wide range of topics that are of interest to Minnesota producers.
Subscribe to receive top agriculture news
Be informed daily with these free e-newsletters
You May Also Like
---