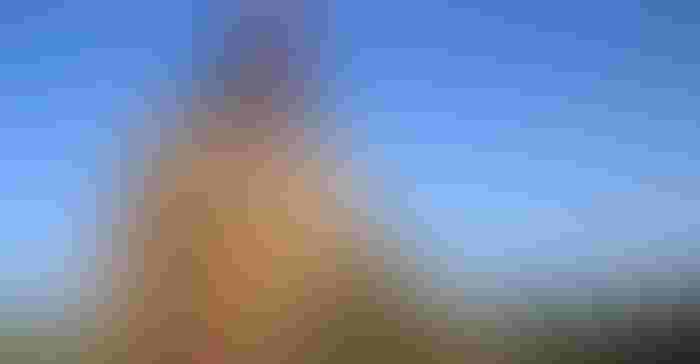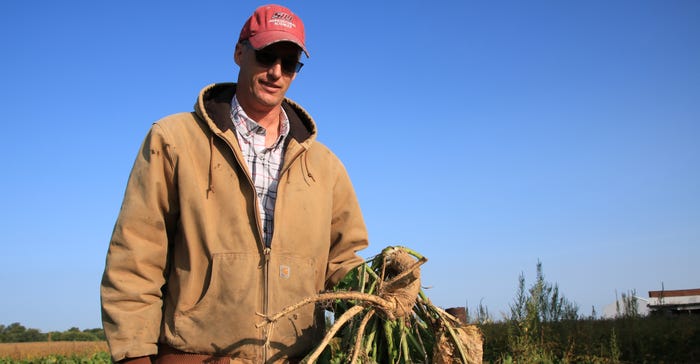 Markets were looking good for Illinois horseradish growers earlier this year, as condiment processors across the U.S. offered up contracts in anticipation of more demand than ever for the tangy condiment. Then COVID-19 came along.
Because horseradish relies on restaurant sales more than most crops, processors went from saying, "Bring us as much as you can" to significantly cutting orders ahead of early spring planting, says Jeff Heepke, a Collinsville horseradish farmer. As president of the Illinois Horseradish Growers Association, he says acres are down across the state in 2020 compared to 2019.
"A year ago, we never filled up. As soon as we had a truckload ready, it was gone. By April this year, we were full," Heepke says of the room where he and his brothers store horseradish at 28 degrees F to prevent spoilage. "Demand went from, 'You've got to plant more' to 'Don't harvest anymore for us, we don't want it' within just a few months."
He says they destroyed some of their 2019-planted crop earlier this year as demand from processors sank.
Horseradish how-to
Horseradish harvest typically starts in November after the tops freeze off and corn and soybean harvests are finished. The Heepkes rotate the ground where horseradish is grown, coming back to the land every five to seven years to help prevent root discoloration. Farmers prefer the moist loam soils of the Mississippi River bottoms because they're conducive for "digging" plants.
"We harvest any month with an 'r,' when the roots are large enough to harvest," Heepke says. "We usually have a mild winter here, though sometimes you have to put an 'r' in May to get your harvest finished. Then you plant again."
Illinois farmers grow an average of 1,700 acres of horseradish for condiment processing. The state is home to two-thirds of horseradish acres grown for that market, according to the 2017 agricultural census, with most located in the Mississippi bottoms region in St. Clair and Madison counties. Runner-up California has 850 acres, with over 90% of farms there growing horseradish for fresh markets.
Fewer than 50% of Illinois horseradish farmers grow for fresh markets. That's a more labor-intensive product, requiring hand labor to strip side roots off the main horseradish root during the growing season. These techniques allow farmers to grow so-called No. 1 grade and "fancy" horseradish, which have a minimum 1.25-inch diameter and sell for about a dollar each or more.
Farmers like Heepke grow wild root, which goes into condiments and yields about 7,000 pounds per acre with thinner roots. It fetches 25 to 50 cents a pound. Heepke and other wild root growers use potato harvesters modified to dig about 1.5 feet deep to exhume as much of the perennial root as possible.
This helps prevent volunteer horseradish when farmers rotate back to corn and soybeans. It also ensures side roots, or sets, are harvested along with the main roots so they can be removed and used to grow new crops the next year.
"We take good care of the crop we have because it's not just this year's crop, it's next year's as well," Heepke says.
Developing pressure
The metro-east region of St. Louis that's well-suited for horseradish is also facing development pressure. Horseradish farms in the area used to number up to 40, but were down to 15 when Heepke became president of the horseradish association 10 years ago. Now there are 10.
While the number of acres devoted to growing the crop every year hasn't changed much, the remaining farms have been forced to farm fields farther away from the historic growing region, developed first by German immigrants in the 19th century.
"Part of that is the development. But it's also because of root discoloration," Heepke says. He notes the inoculum of fusarium species builds up in soils even when rotated away from the horseradish host crop, causing black discoloration that processors reject.
"Where Grandpa raised horseradish for his entire career, we've moved away from those fields to where my father raised horseradish during his entire career. And now, we're driving even farther from there," he says.
He and his brothers have also gotten creative, converting the loamy hilltops of fields outside of the traditional horseradish-growing area in the Mississippi River bottoms to horseradish plots.
"We don't even plant the whole field. We're just locating where we can get low disease pressure and still obtain good yields," Heepke concludes.
About the Author(s) Associate Editor, Prairie Farmer
Austin Keating is the newest addition to the Farm Progress editorial team working as an associate editor for Prairie Farmer magazine. Austin was born and raised in Mattoon and graduated from the University of Illinois at Urbana-Champaign with a degree in journalism. Following graduation in 2016, he worked as a science writer and videographer for the university's supercomputing center. In June 2018, Austin obtained a master's degree from the Medill School of Journalism at Northwestern University, where he was the campus correspondent for Planet Forward and a Comer scholar.
Austin is passionate about distilling agricultural science as a service for readers and creating engaging content for viewers. During his time at UI, he won two best feature story awards from the student organization JAMS — Journalism Advertising and Media Students — as well as a best news story award.
Austin lives in Charleston. He can sometimes be found at his family's restaurant the Alamo Steakhouse and Saloon in Mattoon, or on the Embarrass River kayaking. Austin is also a 3D printing and modeling hobbyist.
Subscribe to receive top agriculture news
Be informed daily with these free e-newsletters
You May Also Like
---