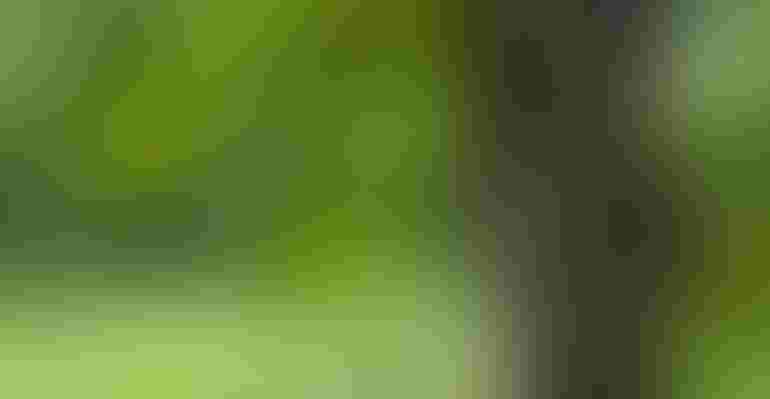 GORGING ON GRAPES: Spotted lanternflies in Pennsylvania have a taste for grapes. According to Heather Leach, Extension educator, between 30 and 40 growers reported widespread damage from spotted lanternfly in 2018.
Photo courtesy of Heather Leach
Darv Levengood, owner of Manatawny Creek Winery and Vineyard in Douglassville, Pa., isn't banking on a bumper crop of grapes this season.
Last year brought rain, diseases and the dreaded spotted lanternfly.
"What we will probably do is shift from grape producing to vine preserving because the vines are weak," he says. "The one thing that will further weaken it is allowing the unhealthy vine to produce too much fruit."
The quarantine area for spotted lanternfly in Pennsylvania is now 14 counties, mostly in eastern and south-central Pennsylvania. Three counties in New Jersey are also under quarantine along with parts of New Castle County, Del.
The pest is just starting to hatch from its eggs and will enter the nymph stage.
Heather Leach, spotted lanternfly Extension educator with Penn State, says they don't typically see damage from nymphs unless there are a lot of them in a single place. Trying to control nymphs is hard, she says, because they have many hosts and can be in many different places at one time.
Based on observations of the pest last year, Leach says it has a distinct moving pattern as it searches for sap and its piercing-sucking mouth parts begin to change. It will start feeding on multiflora rose and grapes as early as May, followed by deciduous Tree of Heaven most of the summer. As its mouth parts begin to mature, it will move onto more woody trees such as red maple, silver maple, black walnut and tree fruit as young adults. Finally, the pest settles back to more deciduous trees right around the time those trees start shedding leaves for winter as it tries to feed on the upward flow of sap.
Knowing the movement of the pest, she says, could better target ways to kill and control them.
Taste for grapes
Between 30 and 40 grape growers, mostly in eastern Pennsylvania, reported extensive damage last year, she says.
The state is 4th in wine grape production and in the top 5 for juice grapes.
Levengood, who grows 10 acres of wine grapes in three vineyards, says the pest compounded problems with rain and disease last season. "Everything that could go wrong did go wrong," he says.
Like most growers, spraying was his only option to try and control the pest and salvage some sort of crop. Hybrid grapes fared better than vinifera, he says.
But he saw a lot of feeding. A "show vineyard" that was wrapped in netting and fence — which also prevented proper spraying — was completely decimated, he says.
TRAIL OF LANTERNFLY: Based on two years tracking and studying spotted lanternfly, Penn State Extension has created a graph of the most likely plants the pest will feed on depending on the month.
Buds are starting to break in the vineyards but later than usual, he says, as the plants are weak and some are probably dead.
While he hasn't given up on producing a crop for this season, Levengood says he wants to preserve his vines for next year and beyond.
"You want the strength of the vine this year to get a living plant next year," he says. "It's cumulative and it's a little difficult to say how this will turn out, but there isn't any choice.
"Because of less fruit than normal last year, we will be in the position of having to buy additional fruit from other places, more than we would have in a normal year. Prior to last year we had a bunch of good years, so we've built up some inventory. The economic losses aren't going to hit as much this year as a year or two after this."
Ready for battle
Rich Blair's Setter Ridge Vineyards in Kutztown is right next to the place where spotted lanternfly was first detected.
Blair started seeing spotted lanternfly in his vineyards — he runs two vineyards, 10 miles apart — in 2014 and 2015, but it was in 2016 when the populations "exploded into millions and they sucked the life out of the vines, a loss of 5 producing acres and 2 (acres) that did not fruit," he says.
The pest moved around the vineyards in 2017 and 2018, but Blair says he was ready for the invasion.
"We were prepared with an aggressive insecticide program and egg removal in adjacent woods," he says. "So, no losses from spotted lanternfly in 2018.
"In 2019, we expect to have a major invasion of SLF in our Kutztown vineyard and will be proactive in our approach."
Getting permits
Leach says farmers in the quarantine area who ship product off the farm need to get a permit.
She says the permitting system is intended to control the pest from entering other areas, but she admits it will be difficult to control at this point. For one thing, it feeds on so many crops, including corn, soybeans and fruit crops, and it can hitch a ride fairly easily on a truck, car or farm implement.
The permit doesn't cost anything, but it does require business managers or supervisors to complete an online training course to show working knowledge of spotted lanternfly and the quarantine requirements.
You can access the course and exam online.
Leach says state ag officials are also working with the Pennsylvania State Police to increase inspections of trucks, especially at state lines. This will likely include farm vehicles that do interstate travel.
Subscribe to receive top agriculture news
Be informed daily with these free e-newsletters
You May Also Like
---