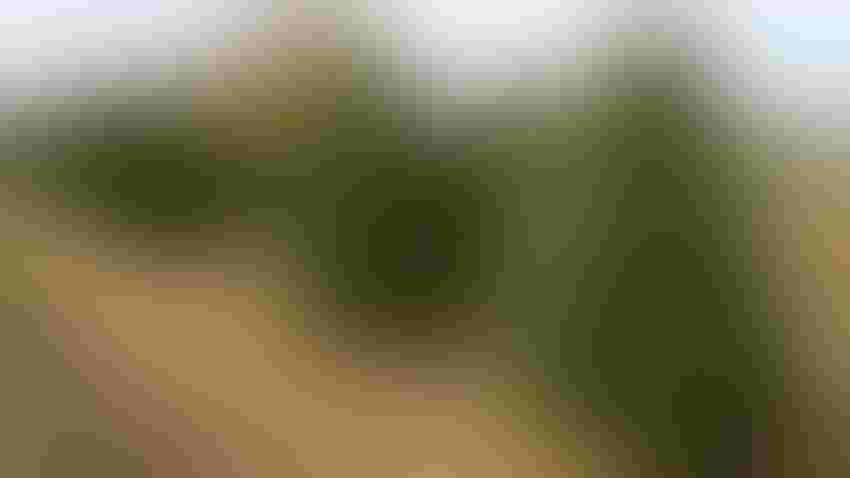 Christmas trees at Worthey Tree Farm in Amory, Mississippi, await harvest. Drought and freezing temperatures have impacted mature Christmas tree inventory across the state. Consumers who want locally grown trees should shop early.
Kevin Hudson, Mississippi State University
Michael May expects to see tree growth impacted for at least the next three years on his Chunky, Miss., Christmas tree farm after this year's severe to exceptional drought conditions that spanned most of the state.
"It's been a rough year because of the drought," said May, who owns and operates Lazy Acres Plantation. "We've lost 5% of the larger trees that would have been for sale this year."
Mild to moderate drought conditions usually only affect trees up to 2 years old. More mature trees can withstand moderate drought conditions better. However, with little to no rain for much of the state since late summer, drought conditions across the state range from severe to exceptional, according to the U.S. Drought Monitor.
May said he planted 1,000 trees in January. He estimates well over half of those trees -- 700 to 800 -- died. His Newton County farm is included in the portion of the state that is experiencing exceptional drought.
Financial loss
At $3 to $4 per seedling, the loss of those trees means an immediate $2,100-$2,400 financial loss. He also loses a year of growth on those 700 to 800 trees, which will impact the availability of mature trees later.
Trees normally grow about 2 feet per year, but drought conditions have stunted this year's growth.
"Trees that would have been 10-feet trees this year are now just 6 to 8 feet tall," May said.
Jeff Wilson, horticulture specialist with the Mississippi State University Extension Service, said weather conditions were the greatest challenges for growers this year.
"This year's drought has affected trees of all ages, killing many of them, especially in the lower half of the state," he said. "Freezing conditions in December 2022 and March 2023 also killed many younger trees. Some older trees had to be pruned to remove frozen portions causing some that would be sold this year to need another year of growth."
Fewer adult trees
Wilson said these issues have caused a decrease in mature tree inventory across the state, and consumers who want locally grown trees should shop early.
"Compared to last year, there will be less available trees," he said.
May plans to sell every tree he can, and they will go fast.
"I'm going to sell everything I've got, but I'll sell out really early -- even earlier than in the past," he said. "If you want a locally grown tree anywhere in Mississippi, you better get it early."
Typically, most growers sell out by the second week of Thanksgiving. Some sell out on Thanksgiving weekend. Some tree farms offer pretagging, where consumers select their trees a few weeks ahead of when they return to collect the tree.
Average cost for a Christmas tree is $10 to $16 per foot, or about $60 for a 6-foot tree. Larger trees and certain varieties sell for more per foot because of the inputs, including labor and materials.
Wilson expects trees to sell for at least what they sold for last year, while some growers may raise prices because of increased input prices.
May said his prices will remain the same -- between $10 and $12 per foot.
Days and times vary for farms that offer pretagging. Call to confirm if and when a tree farm offers pretagging.
To locate a Christmas tree farm, visit the Southern Christmas Tree Association's website at https://tinyurl.com/4euj7rrr and the Mississippi Department of Agriculture and Commerce website at https://tinyurl.com/yyxy9uzp.
Source: Mississippi State University Extension Service
Subscribe to receive top agriculture news
Be informed daily with these free e-newsletters
You May Also Like
---