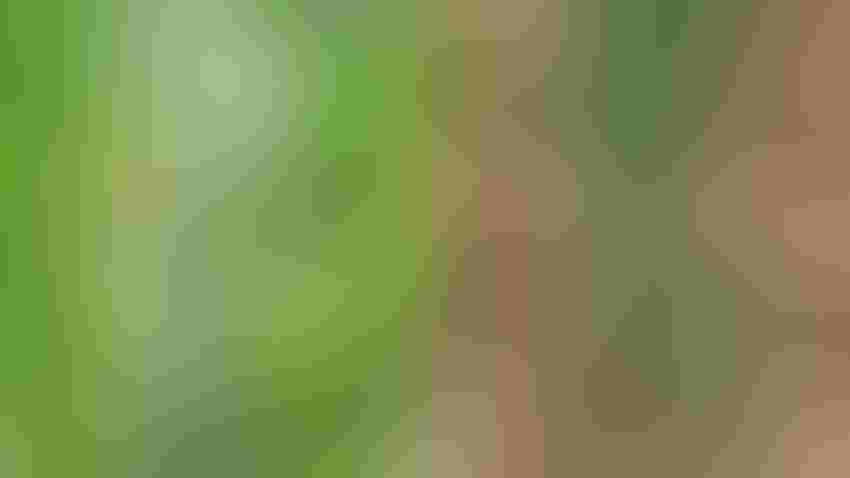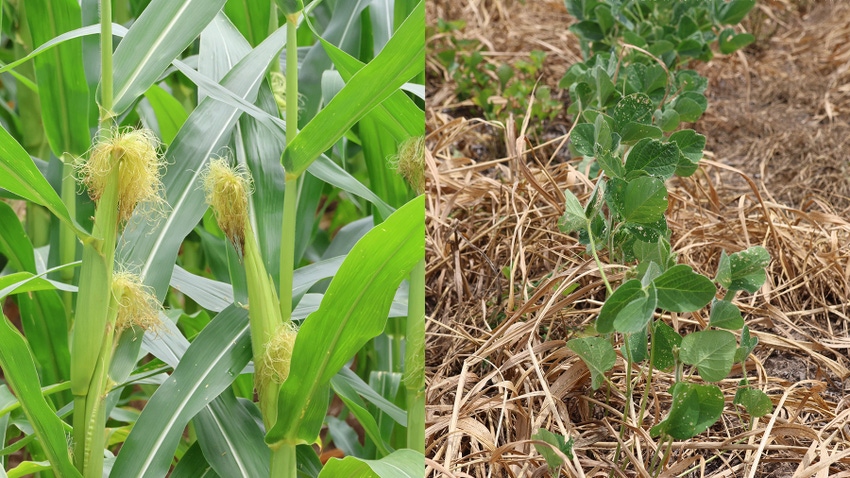 HOLDING ON TO HOPE: Corn and soybean farmers across Missouri continue to wait for rain to improve crop conditions. Last year at this time, 50% of the state's corn crop and 44% of soybeans were rated "good" by USDA. This year, those percentages were cut in half.
Mindy Ward
When only 23% of Missouri's corn and soybean crops are rated "good" by USDA, it may be an indicator of a less-than-abundant statewide bounty this fall.
While there are still days left in the growing season, row crops are struggling. "Crop conditions for the most part are very rainfall dependent," says Joe Harris, Dekalb/Asgrow technical agronomist. "Where we've gotten rain in the last two weeks, it has made a substantial difference in the way the corn looks. In those areas, it looks really good. But some areas are missing all of this moisture, and crops are stressed."
Missouri Ruralist sat down with Harris to check in on midseason corn and soybean crop status across the state.
Crop conditions for corn
Here are some observations Harris has about corn in Missouri:
Early-planted corn fares better. This group had more water reserve to start and pulled out subsoil moisture. "The later-planted has struggled since day one," Harris adds. "It never really had a chance to get its roots down to any moisture."
Pollination is hit or miss. Corn is pollinating basically across the state right now. There are spots that received rain where it is pollinating the whole ear. In other areas without rain, Harris says, "It doesn't look like it's going to be good at all, maybe 20% to 30% pollination."
Disease is a concern. Tar spot is showing up in places, mostly in irrigated area where the moisture and the environment were in place for it. "But the forecast with wet and cooler temperatures, and high humidity, is kind of perfect breeding grounds for tar spot," Harris explains. "It could really blow up on us if we're not careful." He recommends spraying a fungicide, such as Delaro Complete, on areas with good yield potential. "More important than anything this year, for the plant health aspect," he says. "Anything we can do to alleviate some of the stress is going to help us get to the end goal of a corn crop that is still standing."
Scout fields throughout the growing season into grain fill. Rapid grain filling occurs from R2 (blister) to late R5 (full dent). Examine the ear leaf and leaves above and below the ear at several locations throughout a field. If disease is present above the ear leaf on most of the leaves, a fungicide application may be necessary.
Problems for harvest. With corn plants enduring so much this growing season, Harris is concerned for what harvest will look like. "It scares me a little bit because I think we could see some potential stalk cannibalization. And we could have a lot of corn go down," he says. "I hope we are not talking to farmers using corn reels this fall."
Be proactive. Farmers should pay attention to warning signs. "If we start to see some firing in the plant, we've got to be proactive to do something to try to keep that plant alive if we can," Harris adds. That may include spraying a fungicide simply to extend the plant health. If you're not spraying, if it may come down to chopping it for silage. Harris warns to watch nitrate levels and the potential for toxicity in that corn plant. Test before feeding.
Focus on soybean success
Here are some observations Harris has about soybeans in Missouri:
Yield potential optimism. "We kind of play the long game with them," Harris explains. "We can still catch some rains in August and September and raise a pretty decent soybean crop."
Herbicide injury. Harris has seen a Group 15 herbicide response in soybean fields. "Where we didn't have the moisture and the plant couldn't metabolize that herbicide, it's showing up in that heart-shaped leaf farmers are seeing."
Disease pressure. In our current weather conditions, phytophthora and rhizoctonia usually doesn't show up. But stress can be a trigger for it, Harris notes. "We've seen some dieback on some beans from that this season."
Pests and disease in the field. While the heat is keeping many pests at bay, a few are in fields.
"If you are going to make a fungicide pass on your bean acres, go ahead and add an insecticide," Harris advises. "That will clean up the pests that are lingering."
Subscribe to receive top agriculture news
Be informed daily with these free e-newsletters
You May Also Like
---