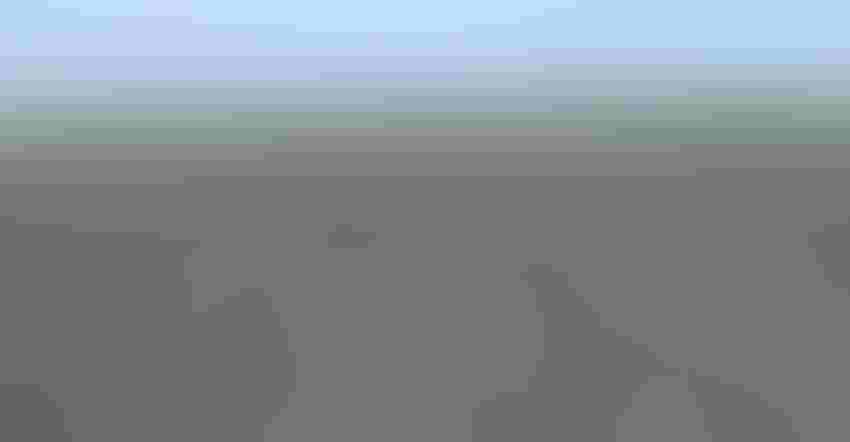 EMERGENCE: Corn seedlings which were replanted three weeks after a Memorial Day frost event in 2021 emerge in a northern Iowa field.
Josh Michel
Even if we do everything right, sometimes significant weather events may cause enough plant injury to early-season corn stands to make us consider replanting. This could be the result of hail damage, greensnap from high winds, early-season flooding, or even a late-season frost.
Regardless of cause, it's important to quantify the amount of injury and stand loss to determine if replanting is necessary. Replant decisions are not easy and should be determined by which decision provides the greatest net income. Consider the cost of replanting and the estimated value of the expected yield increase. Each field will have its own unique set of circumstances that will influence this decision. Stand assessments and likely replant dates will be key factors.
Hail, wind and flooding
Hail injury to corn may seem like a rare occurrence, happening on a small number of acres each year. However, individual hailstorms can cause considerable losses in isolated areas. Hail damage can vary depending on the hail intensity and the growth stage of the plant. Thankfully, hail injury often looks worse than it is. Hail damage which occurs prior to V6, rarely affects corn yield, since the growing point of the plant is belowground and protected until then. Young corn plants at this stage can experience up to 80% defoliation and incur only a 6% estimated yield reduction. It is generally recommended to wait at least seven days after a hail event to assess for damage. Additional information pertaining to hail damage on corn may be found in Iowa State University publication IPM 007.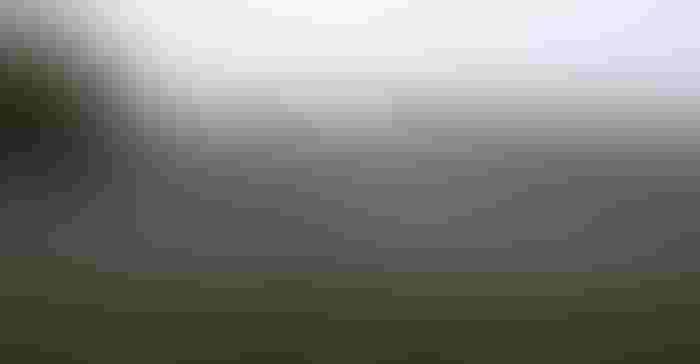 STANDING WATER: Excessive moisture in a northeast Iowa field resulted in standing water and caused farmers to contemplate replanting in some areas.
Greensnap, sometimes also known as brittle snap, is a condition when rapidly growing cornstalks are broken by the strong winds typically associated with severe thunderstorms. Although greensnap can occur as early as V5, when corn plants are only 10 to 12 inches in height, it tends to be more common in later vegetative development stages through tasseling. A few factors may help reduce the risk of greensnap from occurring. Not applying growth-regulator herbicides after V3 can be helpful. Planting corn at least 2 inches deep and looking at greensnap ratings when selecting hybrids should also be considered.
Early-season flooding and field ponding can affect young corn plants severely . A germinating seed or a corn seedling is a living organism; therefore, it requires oxygen to survive. In flooded soil conditions, oxygen supplies can be quickly depleted. Survival depends mainly on the plant growth stage, air temperature, if the plant is partially or totally submerged, and duration underwater. Expect some damage to corn seedlings which have been submerged for any length of time, but damage should be minimal if the duration was less than 48 hours. If the duration extends to four days, the chances for survival are greatly reduced.
It is recommended to wait at least five days after the waters recede before assessing damage. Carefully examine the growing point on multiple plants. A cream-colored growing point suggests the corn can recover with minimal yield impact under favorable growing conditions for the remainder of the season. A soft and dark-colored growing point is likely dying. For crusting on soil surfaces prior to seedling emergence, consider cultivating between rows or using a rotary hoe as soon as possible to allow water and oxygen to get to the roots, and allow new seedlings to emerge.
Deciding whether to replant
Key factors to keep in mind when deciding whether to replant include determining stand loss, stand uniformity, comparing the current crop estimated yield against an estimated replant yield, and economics. First, calculate the plant population in several random areas of the affected parts of the field. Often, a zigzag pattern across a field works well to gain a representative sample. Typically, we count the number of viable plants in 1/1000th of an acre. On 30-inch rows, this would equate to the number of plants within 17 feet and 5 inches. Be sure to split open any questionable plants to determine if the growing point is healthy. Then take the average plant counts from across the area and multiply this number by 1,000 for the per-acre plant population.
Plant emergence and stand uniformity needs to be assessed as well. If emergence is uneven between rows, replanting will most likely not increase yield. If the delay in emergence between plants is less than two weeks, replanting may slightly increase yields, but is most likely not economical.
Depending on planting date, an assessed viable plant population of even 65% of the original seeding rate still has the yield potential of 85% of its maximum yield. However, if several 4- to 6-foot gaps occur within the row, yield will be reduced an additional 5% relative to a uniform stand. Gaps of less than 36 inches will only reduce yield by 2%.
Estimated replant dates and yields are the next considerations to keep in mind. Replanting on May 25 at a population of 35,000 seeds per acre will result in approximately 87% of maximum yield. Comparatively, an original stand of 35,000 which was planted on April 30, but now only has an existing population of 20,000 plants per acre, has an expected yield 89% of the original maximum yield. Keep in mind that there is no guarantee of getting a good stand with replanting. Insect and disease pressure may be greater in replanted fields as well.
The additional cost of replanting a field is often the deciding factor. The cost of tillage, seed, fuel, additional pesticides and labor are the main considerations. The chance of a fall killing frost is higher for late-planted corn as well, potentially leading to high grain moistures at harvest and increased drying costs. Switching to a hybrid with an earlier relative maturity can lessen this risk. Generally, full-season hybrids typically found in the area can be planted until June 1. After this date, some recommendations suggest shortening the relative maturity by one day for every two days that planting is delayed.
Attempts to interseed directly into an existing stand generally result in additional complications. Larger plants strongly compete for space, water and nutrients, and complicate subsequent management decisions. Therefore, it's recommended that if a replant is warranted, destroy the original stand and start over. If the original stand is adequate, leave it alone and be willing to accept it as is. Additional information on determining when to replant can be found in the Iowa State University Extension resource Guide to Iowa Corn Planting, CROPR 3161.
Even if we do everything correctly, sometimes the weather does not cooperate, or a severe storm may cause us to react to an unexpected event. Keeping these factors and considerations in mind will allow you to properly assess your stand this spring and manage it appropriately for the best outcomes throughout the growing season.
Michel is an Iowa State University Extension and Outreach field agronomist.
Subscribe to receive top agriculture news
Be informed daily with these free e-newsletters
You May Also Like
---