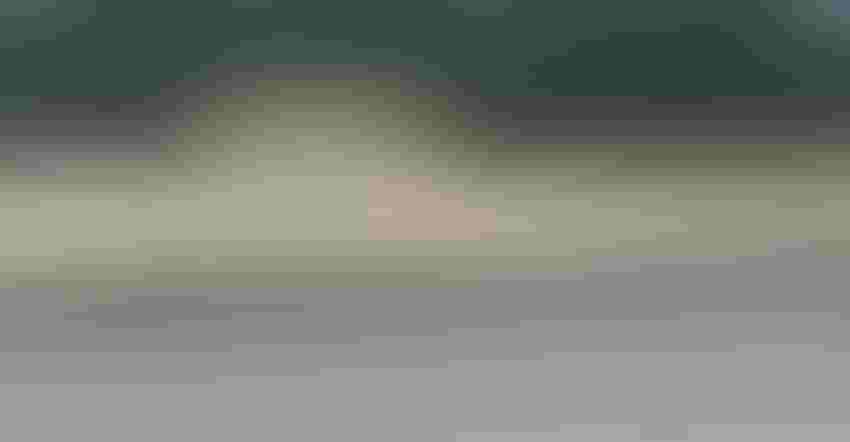 View of the Arkansas River at the Dardanelle Lock and Dam, taken May 24, 2019.
U of A System Division of Agriculture photo by Phil Sims
Farmers who work the Arkansas River's fertile bottomlands were scrambling last week, moving equipment and livestock to higher ground; anticipating the rain-swollen, angrier side of the waterway.
With blue skies and sunshine overhead on Friday, Leslie Oats paused for a few moments to talk about his last 72 hours. Oats grows row crops and hay in Pope County and has been moving equipment around since Tuesday.
"Between the row crop and the hay operation, we probably have 60 man hours in pulling pumps and moving equipment to higher locations," he said. "Then find out they upped (the river forecast) and then moving equipment to new locations. We've been at it for the third day."
As a backdrop to the rush of equipment shuttling, an emerald meadow of horse-quality hay waited in the sunshine, ready for harvest.
"If we weren't in this situation today, we'd probably be cutting," he said. "It's ready to cut, but it probably won't happen because if the water gets as high as they say it might, it'll be taken in.
"All we can do is pray that it will not get as high as they think it will," he said. "This is the first nice hay weather we've had, and it's beautiful hay weather the next few days, and we can't cut. It's not even raining and we get flooded out."
Compared to the brute power and roar of thunderstorms and funnels that were all too common in the last few weeks, this disaster "will be quiet. It will just come in," Oats said.
Waiting and watching
As hard as the scrambling might be, the next step is harder.
"Wait and watch. Not much else to do," Kevin Lawson, Faulkner County Extension agent for the University of Arkansas System Division of Agriculture, said on Friday.
"Cattle and equipment are moved. After it goes down then we can make decisions on what needs to be done," he said.
Phil Sims, Pope County Extension staff chair for the Division of Agriculture, said the Arkansas River at Russellville was not only expected to rise higher than it did during the flooding of 1990, but also "they're predicting it to be higher than 1943."
In addition to the immediate flooding, another impact of the high water the stoppage of river barge traffic.
"Barges are how we get our fertilizer," he said. "We're already behind in planting and now fertilizer has to be trucked in, which is a lot more expensive."
Farmers aren't the only ones affected. So too Extension agents who plant crop plots to demonstrate management techniques.
"This flood and rain are killing me. All of my row crop demos are out the window," Lawson said. "I am screaming the blues right now."
Ouachita River Flooding
Producers in the Arkansas River Valley aren't alone with high-water woes.
"Calhoun County has been under water for about a month now!" said Jaret Rushing, Calhoun County Extension chair for the Division of Agriculture. "The Ouachita River in Camden has not fallen below 26 feet — which is flood stage — in about three to four weeks.
"Some of our producers have moved livestock out of lowland grounds, some have been boating in to check their cattle and some have been stranded," he said. "We are finally seeing a recession of the floodwater, so hopefully within the next few days we will get some relief."
National Guard deploying
On Friday, Gov. Asa Hutchinson directed Arkansas National Guard to deploy 26 members of the Arkansas Guard in anticipation of flooding that may continue through this week. The two high-water-rescue teams were to be stationed in western Arkansas by Saturday and will move southeast with the floodwaters.
"We are preparing to deal with the record-breaking floodwaters that meteorologists and the Corps of Engineers are predicting for the coming days," Hutchinson said. "I have directed General Berry to deploy two 13-member teams and will direct the deployment of more guardsmen as needed. If your local emergency management officials order an evacuation, please heed their warning."
Check river levels at the National Oceanic and Atmospheric Administration's Lower Mississippi River Forecast Center (https://www.weather.gov/lmrfc/).
Subscribe to receive top agriculture news
Be informed daily with these free e-newsletters
You May Also Like
---