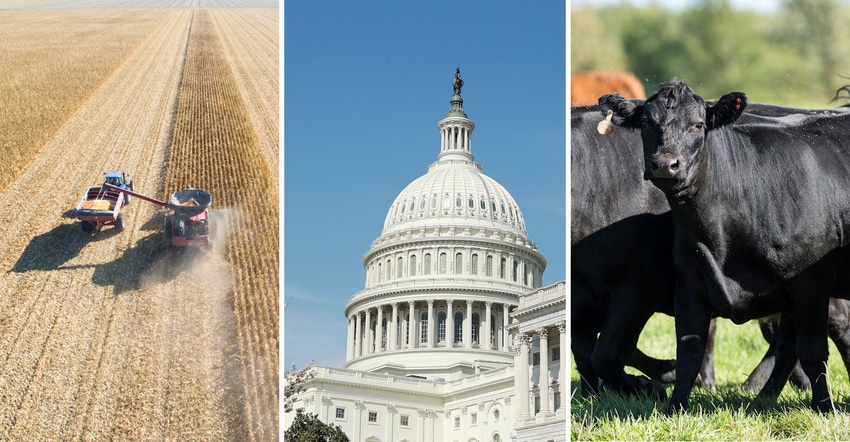 Missed some agricultural news this week? Here are seven stories to catch you up.
Preventing African swine fever
African swine fever was detected in the Dominican Republic, and countries in the western hemisphere are on high alert to prevent the spread. The USDA already has safeguards in place to prevent the disease from entering. The U.S. Department of Homeland Security and Customs and Border Patrol plan to increase surveillance and mitigation efforts.  – National Hog Farmer
Water restrictions for California farmers
The drought is causing havoc for many ag sectors across North America, and U.S. Agriculture Secretary Tom Vilsack is wrapping up a three-day tour to see the impacts of drought and wildfires. California is now limiting the amount of water farmers can draw from rivers in the Central Valley. This is the most severe measure taken by the state since a drought emergency was declared for most of California in May. – New York Times
Continued use of paraquat
The Environmental Protection Agency reversed a restriction to end aerial applications of paraquat, a recommendation made during the Trump administration. The common weedkiller is found in products like Gramoxone, Firestorm, Helmquat and Parazone.  This interim decision allows the EPA to continue onto other steps during the chemical's periodic regulatory review. - E&E News
Tyson Foods requires COVID-19 vaccines
A memo from Tyson on Tuesday outlined requirements for all Tyson Foods U.S. team members to become vaccinated. Employees at U.S. office locations must be vaccinated by October 1, and all others must be vaccinated by November 1. Tyson Foods is now the largest U.S. food company to require COVID-19 vaccinations. – Feedstuffs
Milk fuels Olympic athlete
Elinor "Elle" Purrier St. Pierre is representing the United States in the women's 1500m race at the Tokyo Olympics.  Elle grew up on a dairy farm in Vermont and still lives on a farm with her husband. She discusses how dairy has helped her own fitness, and how it's a crucial part of an elite athlete's diet. Elle will battle for gold in the 1500m final race on Friday, Aug. 6th at 8:50 AM ET. – National Milk Producers Federation
WOTUS rewrite
The U.S. Environmental Protection Agency and U.S. Department of the Army intend to revise the definition of the waters of the U.S. – or WOTUS - following a process that includes two rulemakings. The agencies intend to restore protections in place prior to 2015 rather than keep Trump rule. – Farm Futures
Upper Mississippi River System Improvements
The U.S. House of Representatives passed a bill to improve the navigability of the Upper Mississippi River System, a crucial avenue for major U.S. crops. Funds will support the Navigation and Ecosystem Sustainability Program to construct new locks on the river and help address efficiency issues with existing locks and dams. The funding will also be used to improve conditions for fish and wildlife. – National Corn Growers Association
And your bonus.
We are rounding off the 2021 National Farmers Market Week! Local retailers - like farmers markets - return over three times as much of their sales to the local economy compared to chain retailers. As you head into the weekend, consider grabbing some sweet corn, watermelon and other goodies at a local farm. – Farmers Market Coalition
Subscribe to receive top agriculture news
Be informed daily with these free e-newsletters
You May Also Like
---