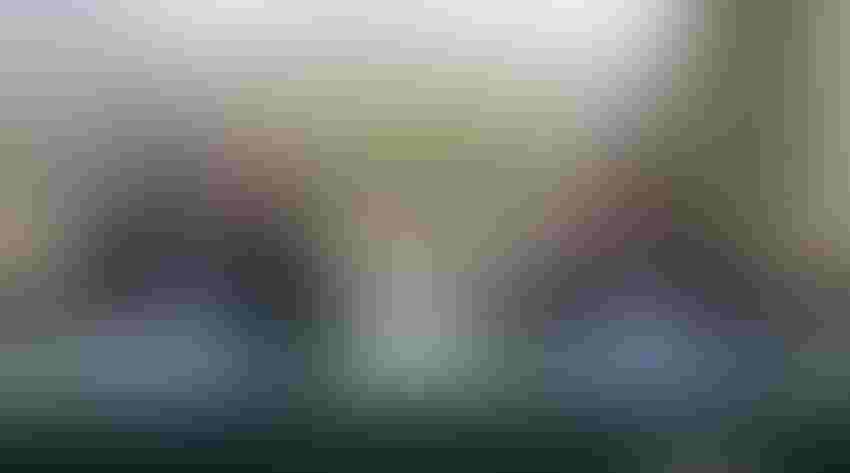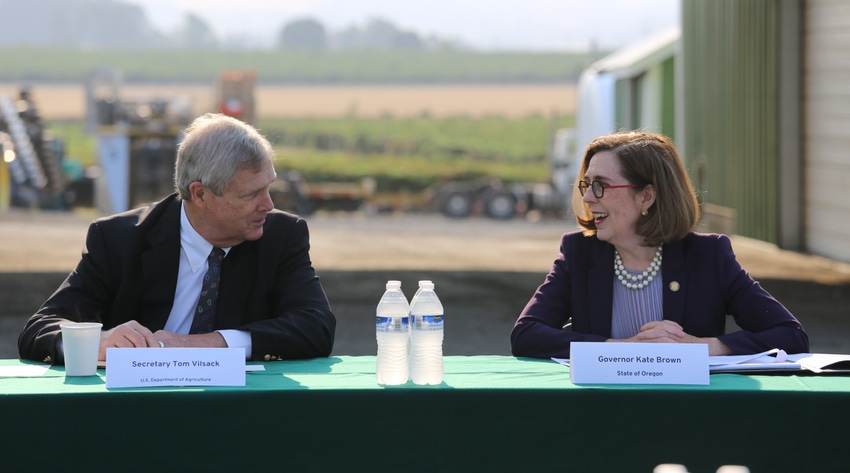 U.S. Agriculture Secretary Tom Vilsack and Oregon Gov. Kate Brown lead a roundtable discussion on drought at G&C Farms in Salem, Ore., on Aug. 3, 2021.
Office of Gov. Kate Brown
U.S. Agriculture Secretary Tom Vilsack is calling for "bold action" to boost drought and wildfire resilience in communities as he finishes a three-day West Coast swing today with a farm tour in California's San Joaquin Valley.
Vilsack began the swing Tuesday, Aug. 2, in Oregon, where he and Gov. Kate Brown visited G&C Farms in Salem, led a roundtable discussion on the drought's impacts on small producers and were briefed by fire officials at the Anderson Readiness Center.
The secretary proceeded to California on Wednesday, joining Gov. Gavin Newsom at a briefing on the August Complex in Glenn County and later traveling to Chappellet Winery in St. Helena to talk with producers who have been impacted by drought and fire damage.
Vilsack was scheduled to join Rep. Jim Costa, D-Calif., today, Aug. 5, for a tour of Terranova Ranch in Helm, which is owned by state Board of Food and Agriculture Chairman Don Cameron. They were to discuss the impact of drought and need for climate resilient infrastructure, according to the USDA.
In remarks in Oregon, Vilsack said the current historic drought and wildland fires are "anything but normal" and that growers are experiencing the "climate crisis" firsthand.
"While we work together to put out the fires in front of us, we must also take bold action to increase the long-term resilience of communities at risk for wildfire in the face of climate change," Vilsack said. "USDA is committed to working with partners at all levels to support communities in their recovery and increase the scale of forest restoration and fuel reduction activities."
Need for collaboration touted
Among the ag officials and producers who attended the drought roundtable were Lisa Hanson, Deputy Director of the Oregon Department of Agriculture; Taylor and Brian Martin, Operators of G&C Farms; Tiffany Monroe, Co-owner of Monroe Farms; Nathan Jackson, Ranch Manager; Mark Wiegardt, owner of Whiskey Creek Shellfish Hatchery; Josh Zielinski, owner of Alpha Nurseries; Reyna Lopez, Executive Director of PCUN; Venancio Carillo, a member of the United Farm Workers union; and Ben Stone, co-owner of BTN of Oregon, a Christmas tree farm.
At the wildfire briefing, they were joined by Major General Michael Stencel, Adjutant General of the Oregon National Guard; Andrew Phelps, Director of the Oregon Office of Emergency Management; Doug Grafe, Oregon Department of Forestry Chief of Fire Protection; Nancy Hirsch, Acting State Forester; Alex Robertson, U.S. Forest Service Regional Fire Director; and Glenn Casamassa, USFS Regional Forester. In St. Helena, Vilsack and Rep. Mike Thompson, D-Calif., were joined by Forest Service Fire Chief Randy Moore.
"The Bootleg Fire underscores how the challenges of fire season are being exacerbated by the climate crisis," Brown said. "Fires now arrive earlier, move faster, and burn longer. It is critically important we work together at the local, state, tribal, and federal levels to proactively tackle fires.
"As fires know no boundaries, we have an incredible opportunity to collaborate in ways we haven't done so before to invest in forest management, expand firefighter capacity and support recovery efforts," she said.
Others come West
Vilsack isn't the only top federal official visiting the West Coast this week. U.S. Trade Representative Katherine Tai is in the Puget Sound region today for a scheduled tour of the Washington State University Breadlab in Burlington, Wash., and a roundtable discussion with agricultural representatives. She and Rep. Suzan DelBen, D-Wash., were to meet later with labor leaders and union representatives at the Seattle Machinists Hall.
Meanwhile, Pennsylvania's Rep. Glenn "GT" Thompson, the House Agricultural Committee's top Republican, was hosted by Rep. Dan Newhouse, R-Wash., for a handful of events Wednesday. The pair met with the Washington Association of Wheat Growers, attended the Tri-Cities Chamber of Commerce luncheon in Pasco and met with hop growers in Sunnyside and tree fruit growers in Yakima.
Subscribe to receive top agriculture news
Be informed daily with these free e-newsletters
You May Also Like
---