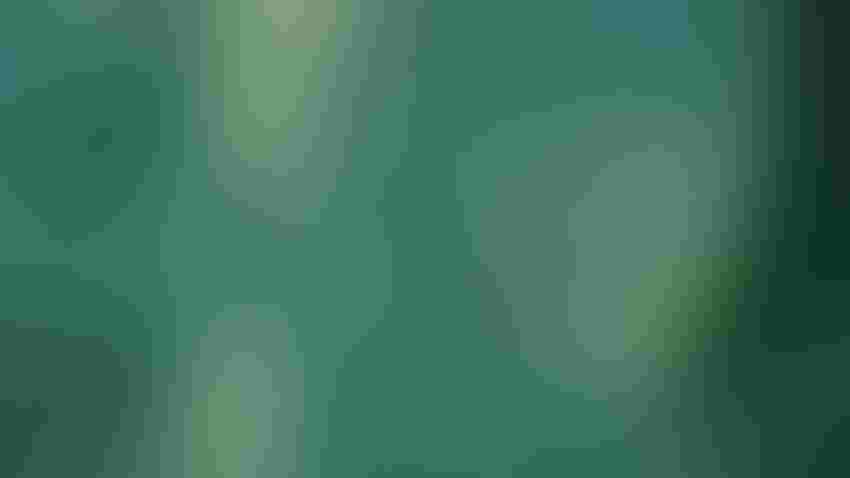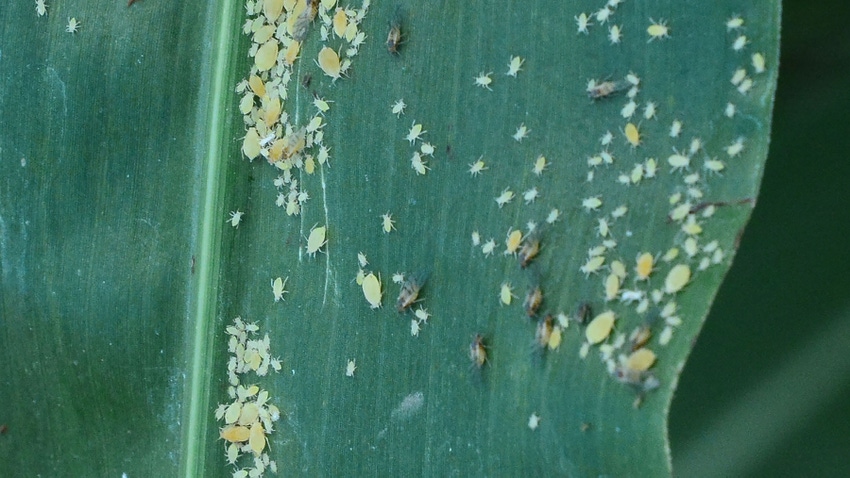 Sugarcane aphids can be a devastating pest in grain sorghum. The economic threshold is an average of 50 per leaf in a 40-leaf sample. Farmers also can use a dynamic growth stage threshold.
Pam Caraway
At a Glance
Grain sorghum varieties with sugarcane tolerance are preferred.

SCA-tolerant grain sorghum varieties ease pressure.

Sivanto can be used in-furrow.
Sugarcane aphid pressure in grain sorghum varies year to year. But when they show up, the damage toll mounts quickly. Or does it? 
Since grain sorghum varieties with sugarcane aphid tolerance came on the market, that maxim changed. 
"I'll tell you this, we cannot make a trial with a tolerant variety. We can't get the population to threshold," Mississippi State University Entomologist Don Cook said. Still, Cook said, sorghum crops should be scouted for sugarcane aphid regardless of the variety planted to the field. 
"Tolerant varieties buy you some time," Bayer Technical Agronomist Scott Stanislav said. "Even the tolerant varieties sometimes have to be sprayed." 
That's a warning well-heeded. Since the sugarcane aphids were first found on sorghum in Texas in 2013, the pest proved to be one of the most damaging insect pests of grain and forage sorghum in much of the United States. 
"People have experienced sugarcane aphid enough at this point that they know to look for them," Stanislav said. "They try to accumulate in the head. It can be an issue if you don't look for them and treat them." 
Grain sorghum acreage in Mississippi has been down in recent years – driven down around 2015 by the double whammy of low prices and the cost of treating sugarcane aphids. In Texas, which is second only to Nebraska in grain sorghum production, acreage is steady and is supported by the availability of those tolerant varieties. Acreage planted to varieties that don't include SCA tolerance is limited in both states, said Bayer Grain Sorghum Product Manager Bryan Thomas. 
Though tolerance doesn't rule out sugarcane aphid populations hitting the economic threshold, Thomas said, "it provides more assurance to farmers." 
Thresholds set by population or growth stage  
The threshold for sugarcane aphid, as established by Mississippi State University, is 25 to 30 percent infested plants with localized areas of honeydew and high populations. In Texas, A&M AgriLife offers thresholds based on growth stages or population per leaf:  
Population per leaf, which assumes treatment within three days of reaching or exceeding threshold between preboot and flowering.

The threshold is 50 or more aphids per leaf. Ten leaves from four different locations – 40 leaves total – should be examined per field.

Sorghum growth stage, which the Texas A&M AgriLife publication "Managing Insect and Mite Pests of Texas Sorghum" suggests using "in non-uniform sugarcane infestations, problems caused by weather delaying insecticide treatment, the inability to scout the field more than once per week, and uncertainty about timing insecticide applications".  

20% of plants infested at preboot or boot

30% of plants infested at flowering-milk, soft dough or dough

Heavy honeydew and established aphid colonies at blacklayer. Treatment at this stage is primarily to mitigate harvest problems. 
For farmers with sugarcane aphid at threshold in 2023, Thomas recommended Sivanto Prime at 4 oz./A for a ground application or 5 oz./A for an aerial application. The maximum label rate is 7 oz./A.  
Transform 50WG, Cook noted, also is labeled for sugarcane aphid in grain sorghum. Transform 50WG can be applied at 0.75 oz./A to 1.5 oz./A. Generally, farmers use 1 oz./A. Treatment with Transform 50WG is limited to two applications per year. 
Consider pre-plant treatment in 2024 
Going into 2024, Bayer insecticide trials led to another application timing for Sivanto Prime: in-furrow. In fields with a history of sugarcane aphid infestations, Thomas suggested growers consider 10 oz/A in furrow at planting.  
Cook noted that seed treatments with imidacloprid also help control sugarcane aphid in grain sorghum. 
Subscribe to receive top agriculture news
Be informed daily with these free e-newsletters
You May Also Like
---