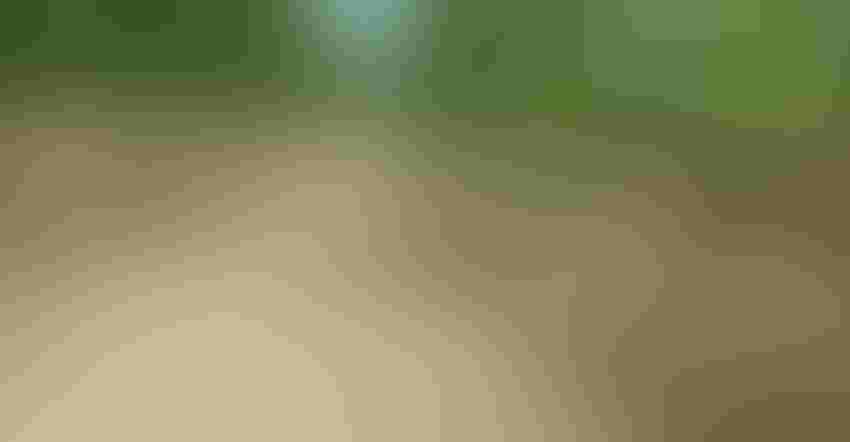 EVEN DISPERSAL: SuperU fertilizer, urea with both urease and nitrification inhibitors, helps to keep ammonia from being lost to the atmosphere through volatilization of urea, while also slowing the nitrification process and reducing leaching.
Koch Agronomy Services
Fall 2018 through spring this year was one of the most challenging in Illinois' history of applying anhydrous ammonia, and with a delayed harvest, 2019 may be following suit. This year, corn farmers will likely have another narrow window for knifing in fertilizer before a consistently wet weather pattern comes through.
North of Route 16 in Illinois, where winter temperatures limit nitrification of ammonium from anhydrous ammonia, some farmers who normally apply it were forced to switch to urea and UAN, and to change placement as well.
Other farmers went further. They opted to stabilize their various forms of nitrogen against loss from volatilization, leaching and nitrification so that more N would remain available to the plant later into the growing season. It's a strategy with a payoff in wet growing seasons and less of a payoff in dry ones, says Emerson Nafziger, professor emeritus at the University of Illinois.
"If it starts out as a cool growing season, you're not getting as much nitrogen from mineralization," Nafziger says. "And wet soils can mean some loss of N, or movement below the root system if the ammonium has converted to nitrate."
He's seen both conditions over the past five years while comparing different fertilizer materials, N timing and inhibitors, with funding from the Illinois Nutrient Research and Education Council.
"You don't always need or benefit from an inhibitor, but we seldom know in advance whether inhibitors will help or not," Nafziger says in reference to 2016. "In 2016, the spring was relatively dry and warm, and we had a good supply of nitrogen.
"But if a nitrification inhibitor kicks in and it keeps the N as ammonium longer in a wet spring like 2019 or 2015, it stays longer in the upper soil layer and can be more available to the crop," he adds.
In corn trials at four sites in central and northern Illinois, products in the inhibitor market showed varying results year over year. Nafziger concludes that while the yield advantage of inhibitors varies with conditions, the benefit of placing fertilizer closer to the young roots can make a difference every time.
"It's good to protect against the possibility of nitrogen deficiency by having some nitrogen fairly close to the seed; however, you can manage to do that. Some will broadcast UAN as a herbicide carrier, for example. If they do that at the time of planting, that probably takes care of it most of the time," Nafziger says.
Even in an irregular year, however, he says there's a benefit of an inhibitor such as SuperU by Koch Agronomic Services. Though compared to injected UAN, the urea-based dry broadcast fertilizer landed an average 5 bushels higher.
Options for farmers
SuperU is the only 46-0-0 product on the market that protects against volatilization of N in urea by urease and also inhibits nitrifying bacteria to slow the conversion of ammonium to nitrate.
One central Illinois retailer told Prairie Farmer that it is pricing the product at $560 to $570 a ton, speaking on condition of anonymity and cautioning that the price varies region to region. Retailers also offer Koch Agronomic Services' Agrotain for inhibiting volatilization in urea and UAN, though prices vary.
Timothy Laatsch, an Altamont, Ill., farmer and Koch Agronomic Services technical agronomist, says he chose to split his own application in the spring between 135 units of SuperU at planting and a follow-up of urea with Agrotain. The company says demand is growing for inhibitor products.
Laatsch says SuperU's ability to fight leaching becomes less important further into the season. "When the season got drier and the plant was actively taking in N, I used urea with Agrotain as a follow-up treatment focused on aboveground losses."
Trial results
In Nafziger's trials, SuperU broadcast at planting ranked No. 1 from 2015 to 2018, with a 229-bushel average yield. ESN controlled-release broadcast fertilizer ranked seventh, with a 225-bushel average yield. Injecting 100 pounds of N as UAN and then broadcasting or dribbling the rest in-row with UAN or urea at different growth stages took up ranks two through six and average yields of 226 to 227 bushels.
"These aren't huge differences," Nafziger says. "It just goes to show there's a lot of factors that interact in terms of how much nitrogen is available to the crop as it's growing. Generally, we don't lose as much as we think we do as long we're getting the nitrogen placed well in the soil."
When asked why UAN broadcast mixed with urease volatilization inhibitors Agrotain and Corteva's Instinct II ranked 16 and 17, respectively, he says these inhibitors couldn't make up for the fact that surface-broadcast placement of UAN doesn't get it into the soil as quickly, which means there's more potential for urea to volatilize. Plus, this method doesn't place N close enough to the emerging roots of corn to maximize yield potential.
With a 223-bushel yield, Corteva's N-Serve nitrogen stabilizer injected with anhydrous ammonia yielded the same as anhydrous ammonia alone. Nafziger thinks that's because placement between the rows before planting might have kept the N away from the young plants too long, thus lowering yield.
"With the complex interactions among soils, weather, plants, and fertilizer materials and placement, it's clear that no one treatment is always going to be the best treatment," Nafziger concludes.
Subscribe to receive top agriculture news
Be informed daily with these free e-newsletters
You May Also Like
---