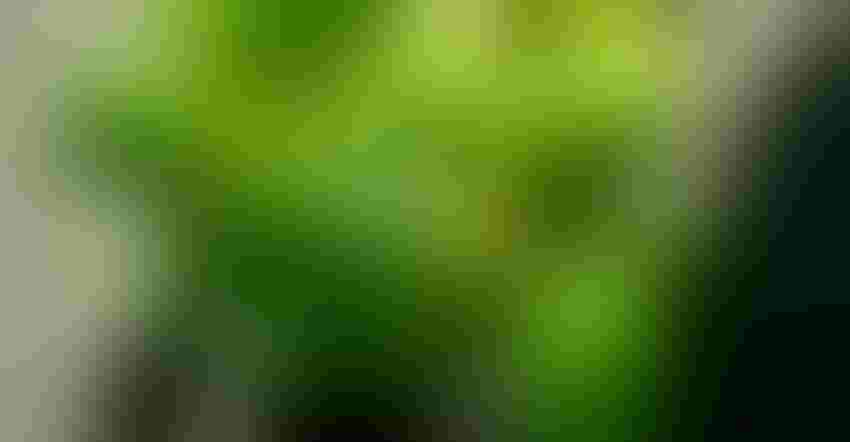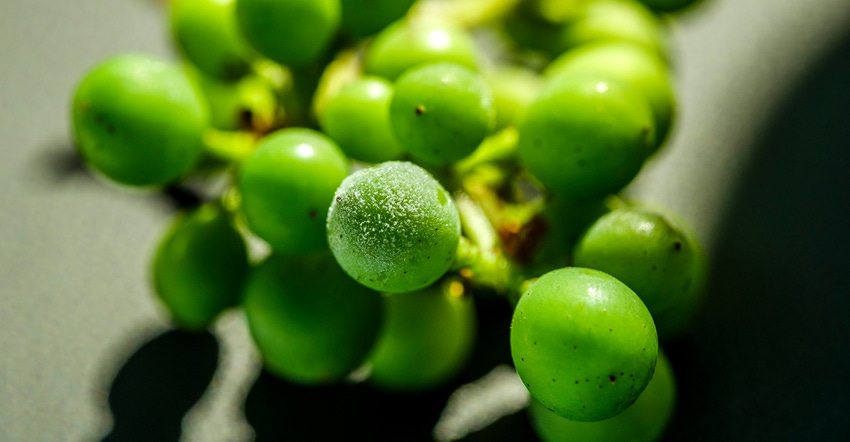 In coastal California, grape growers experience varying disease pressure from one season to the next. Not knowing the level of disease pressure or when it will occur, growers should establish a consistent disease management plan to protect their crop from year to year.
In 2018, coastal grape growers experienced a warm February, a cool, wet March, and then a warm, dry summer. "Weather patterns in 2018 led to a split bloom in some regions and varieties. Later, when temperatures warmed up again, there was a second bloom flush," said Kate Walker, BASF Technical Service Representative. "Botrytis management decisions were more difficult for growers because of the young flowers and berries."
Growers also experienced issues with powdery mildew. During last year's growing season, powdery mildew didn't show up in many vineyards until as late as veraison, when grapes ripen.
"Although disease pressure was low for many growers in 2018, it's important that they do not become complacent with their disease management programs," said Walker. "Growers still need to be proactive and put together a strong program for powdery mildew and Botrytis."
Disease management timing
Powdery mildew is one of the first diseases growers think about when implementing their disease management program. Early in the spring, vines often put on a lot of young leaves that are extremely susceptible to infection. As soon as there is shoot growth and a decent amount of leaf tissue, growers should start their powdery mildew programs and spray until veraison.
Botrytis won't typically show up until later in the season when vines begin flowering. Growers should begin their programs for disease control with a strong powdery mildew program and add Botrytis-specific products when flower clusters appear and berries begin to put on sugar.
Control throughout the seasonTo control both diseases, Walker recommends Pristine® fungicide. "For control of powdery mildew, it's important to rotate chemistries or modes of action (MoA) since growers are making 8 to 10 applications a season," said Walker. "Pristine fungicide provides built-in resistance management with two MoAs, but it's still important to use it in rotation with other chemistries." For activity on both diseases, Walker recommends making an application of Pristine fungicide at the high-label rate beginning at bloom in May or June.
Since growers will make multiple powdery mildew applications throughout the season, it's important to use products with MoAs outside of the common FRAC groups 3, 7 and 11. This makes Vivando® fungicide, which has a unique MoA, a great rotational partner of Pristine fungicide for control of powdery mildew.
Tips for program success
Along with utilizing the right chemistries at the right time, Walker recommends growers follow these practices for optimal disease control:
Select strong chemistries with multiple MoAs such as Pristine fungicide.

For powdery mildew programs, start early and keep intervals tight at the front end of the program to allow for flexibility later in the season if pressure turns out to be lighter.

Follow cultural practices, such as early-season use of dusting sulfur for powdery mildew control, to keep disease pressure low early in the season while vines are growing rapidly.
Consistent control of powdery mildew and Botrytis is important for preserving the yield and quality of a grape crop. By establishing a strong program for disease control, growers will see lower disease pressure now and in future growing seasons. For more information on how Pristine and Vivando fungicides can protect your grape crop, contact your local BASF representative.
Always read and follow label directions.
Pristine and Vivando are registered trademarks of BASF.
© 2019 BASF Corporation. All rights reserved.
About the Author(s)
Subscribe to receive top agriculture news
Be informed daily with these free e-newsletters
You May Also Like
---