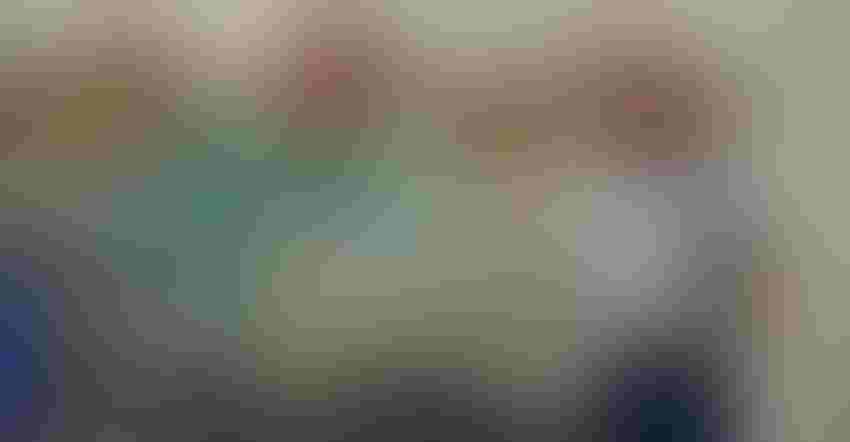 PROPER PROTOCOL: From tankmix agitation to nozzle selection and recordkeeping, Bob Wolf (left) and his teaching partner, Greg Yoder, cover everything farmers and applicators need to know about crop chemical application.
Think of it like finishing school for chemical applicators: four days, intense training, better sprayer skills.
Thanks to an applicator training program created by Agco and the Asmark Institute — a private, nonprofit organization that provides educational and regulatory resources for agricultural retailers — farmers and applicators can fine-tune their chemical application skills.
The Bloomington, Ill.-based training course targets individuals with little or no crop protection application experience, but the program is open to anyone seeking more in-depth applicator training.
"We started hearing from our retailers that they needed a course for the younger generation, the people who didn't grow up on a farm or who may not have that hands-on experience," says Jean Payne, Illinois Fertilizer and Chemical Association. "We also knew the new dicamba technology was coming, and it was going to change the way we handle chemicals, requiring more attention to mixing, loading, rinsing, tank cleanout, reading labels, and understanding drift and inversions."
Bob Wolf, owner of Wolf Consulting and Research, brings more than 30 years of application education experience to the program. His teaching partner, Greg Yoder, has more than 30 years of custom application and crop chemical experience. 
Wolf and Yoder teach basic math and measurements for proper pesticide mixtures. They use hands-on learning, including an obstacle course, to cover safe operation of application machines while maneuvering field entrances, railroad crossings, overgrown entrances, roads and a variety of field conditions. The program includes basic machine maintenance fundamentals, understanding sprayer components and systems, proper tank cleanout procedures, and recordkeeping.
HANDS-ON TRAINING: Trainees drive sprayers through an obstacle course with railroad tracks, bridges, hills and power line simulators.
Individuals seeking a private custom applicator or operator license are not required to complete the program, but Payne says the coursework goes beyond the Illinois Department of Agriculture's testing.
"The IDOA tests your ability to read a label, calculate proper rates and understand environmental conditions," she explains. "We fully support the state's licensing and testing program, but this course complements the licensing program by providing individual instruction on safe sprayer operation, the math skills needed to properly tank-mix chemicals, and helps operators ensure they can make the right decision on whether it is appropriate to spray, and how to properly assess and document the application."
Determining application timing and understanding how environmental conditions impact chemical applications is more important than ever before, she adds, now that many farmers and applicators are dealing with off-target dicamba damage this season.
What they've found: Even the most experienced applicators find dealing with in-season dicamba challenging.
Experience levels in the first applicator training class ranged from five years to two weeks, Wolf notes, and class members came from all over the country, including Ohio, Oklahoma, Indiana and Illinois. Program organizers anticipate California trainees in future classes.
"There's nothing like this in the country, and the Asmark Institute sees real value in bringing industry folks together and providing enhanced training to the pesticide applicators who play a fundamental role in a successful crop," Payne explains. "Applicators shoulder a huge level of responsibility in how the public perceives our industry. We want them to be the best they can be, and this training course provides the fundamentals for them to be successful."
Trainees take a final exam that prepares them for the state applicator license test, and they receive a certificate upon program completion.
For more information about the Applicator Training Course or to register online, go to asmark.org/TrainingCourses.
Subscribe to receive top agriculture news
Be informed daily with these free e-newsletters
You May Also Like
---