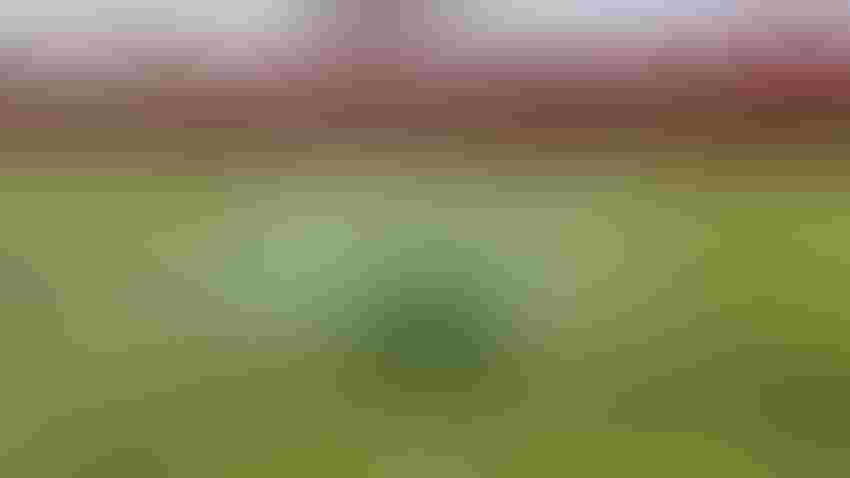 GREEN-ON-GREEN SPRAYING: This sprayer equipped with technology to identify and spray green weeds among other green vegetation does its job in this demonstration.
Courtesy of Trimble
You've heard about technology that allows you to spot-spray weeds in growing crops on the go. Some products are already on the market. Based on what's happening within the industry, what you've seen so far is just the tip of the iceberg.
In this exclusive interview, Guillaume Jourdain, Bilberry product manager for Trimble, reviews their technology and lays out the path toward commercial release in the U.S.
How did you get to the point where you are today? We saw the value of utilizing AI to distinguish between weeds and green crops in real time, and only spray weeds. The basic question we ask and answer in real time with the help of AI is this: "Is it a weed or not?" If it is, we spray the weed. So, we started our company, Bilberry, in 2016. I was co-founder and CEO. We went to Australia in 2020 to further develop the technology. Recently, we were acquired by Trimble.
Based on what you saw in Australia, are farmers interested? Yes. We demonstrated that we could save growers a large amount of money over time, because we are spraying fewer chemicals than they would spray in broadcast applications. The savings Australian growers saw added up to large amounts of money in U.S. dollars.
Are there other benefits besides cost savings accrued from reduced chemical application through this approach? Yes. For one, some plants can be injured or dinged up when sprayed with certain herbicides. With this system, many crop plants are never touched by spray. You avoid potential negative impact on the crop from spray application.
Second, there should be a long-term positive impact on slowing down weed resistance compared to broadcast spraying herbicides year after year. You also have the flexibility to up the rate on individual weeds, still staying on label, and getting a more complete kill, which is important to minimize development of weed resistance.
What crops have you worked with so far, and what crops will you work with going forward? We first worked with wheat, barley and some crops growers are less familiar with in the U.S. Now, we are working with wheat and corn in the U.S. as we fine-tune the technology. Soybeans are on the list. We don't have a commercial solution yet, but worked with them last year, focusing on data collection. It takes a bit different approach when working with crops where weeds are more numerous.
When can U.S. growers expect to see your technology on the market? We are accelerating our efforts in the U.S. Our goal is to bring the product to market by the end of 2024.
Will the technology only be available on new sprayers, or are there retrofit options? Look for there to be two options for growers. We are working with original equipment manufacturing companies, and we would expect this technology to be offered on some new sprayers. At the same time, we expect to offer after-market solutions through our Trimble dealer network. Our technology should be compatible with various brands of sprayers.
Subscribe to receive top agriculture news
Be informed daily with these free e-newsletters
You May Also Like
---