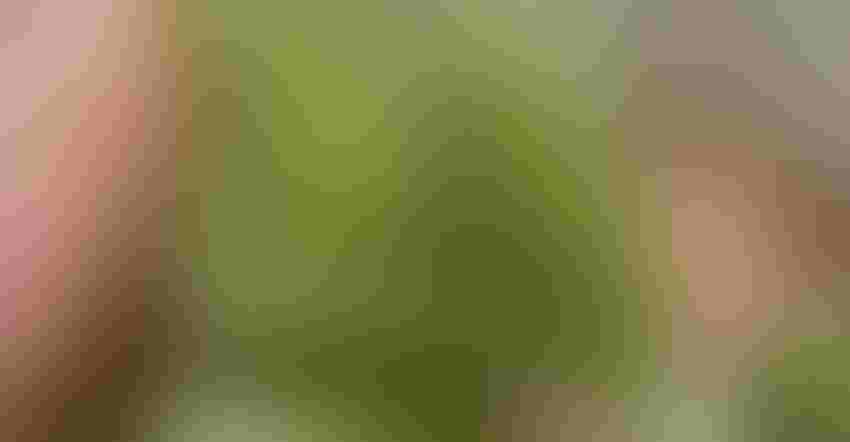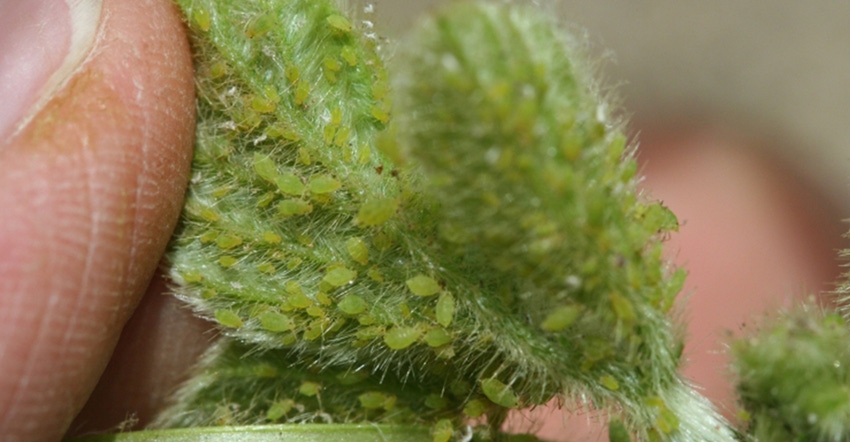 TINY BUT MIGHTY: Soybean aphids infest a soybean plant. Some populations now have resistance to pyrethroid insecticides.
Soybean aphids resistant to pyrethroid insecticides are apparently spreading from Minnesota, Iowa and other states into the Dakotas.
Matt Olson, an agronomist with Central Crop Consulting in Valley City, N.D., says he saw pyrethroid-resistant soybean aphids last year. He's not taking any chances with them this year. He plans to treat every aphid as if they were resistant to pyrethroid insecticides.
"We were able to control our soybean aphid population last year with chlorpyrifos (Lorsban) plus a bifenthrin product and got by with only one application," Olson says. "We added in the bifenthrin insecticide as it does provide repellency on the fields from future soybean aphids and helped with our control of thistle caterpillars and spider mites."
Adam Varenhorst, South Dakota State University Extension entomologist, also expects to get reports of pyrethroid resistant aphids this year.
"My recommendation for management is to use a product that isn't a pyrethroid, organophosphate or neonicotinoid," he says.
The alternatives will cost more than generic pyrethroids, but if it is necessary to control soybean aphids, "why gamble on a product that probably won't work?" he asks.
Best practices
The North Central Soybean Research Program — a joint effort of Minnesota, South Dakota, North Dakota and Iowa Extension services — recommends the following best practices to control soybean aphids:
• Treat fields only when needed to reduce insecticide exposure to soybean aphids. This will reduce the selection pressure for further development of resistance.
• Scout fields every seven to 10 days.
• Use the economic threshold of 250 aphids per plant, with greater than 80% of plants infested to determine when to apply insecticides.
• Treat within five to seven days of exceeding the economic threshold to protect yield.
• If a field exceeds the threshold, make sure the insecticide is applied correctly.
• Use an effective (and labeled) insecticide at full labeled rate.
• Use proper nozzles, spray volume (15 to 20 gallons per acre by ground; 3 to 5 gallons per acre by air) and pressure (40 pounds per square inch).
• Spray under favorable environmental conditions to promote efficacy and reduce drift.
• Three to five days after applying an insecticide, scout fields again to ensure the product provided the level of management expected.
• If a field needs to be retreated due to a failure, rotate to a different insecticide group for the follow-up application. For example, if a field was treated with a pyrethroid (Group 3A) and a follow-up insecticide application is needed, then an insecticide from a different insecticide group, such as an organophosphate (Group 1B), should be selected.
• Report suspected cases of insecticide-resistant soybean aphids to a local or regional Extension educator or the Extension entomologist. Before assuming resistance, try to rule out other potential causes for an insecticide failure (such as incorrect rate or application method, or unfavorable environmental conditions).
New products coming
There are some new insecticides being tested. Olson says he will be checking the trial results for flupyradifurone (Sivanto Prime from Bayer). It's more expensive than current products available, but preliminary results indicate that it is very effective.
Plant breeders are also trying to develop genetic resistance to soybean aphids in new varieties.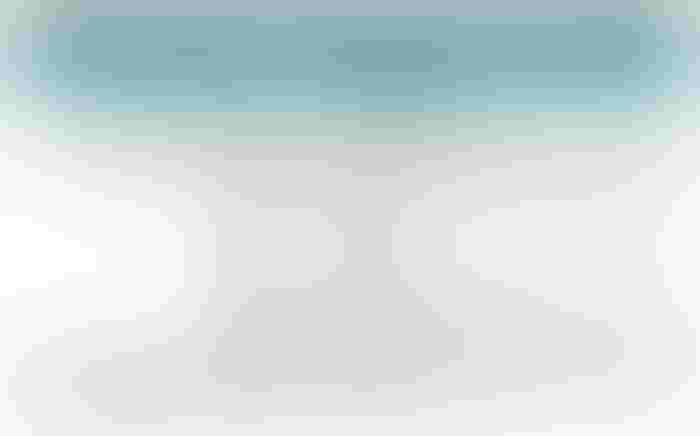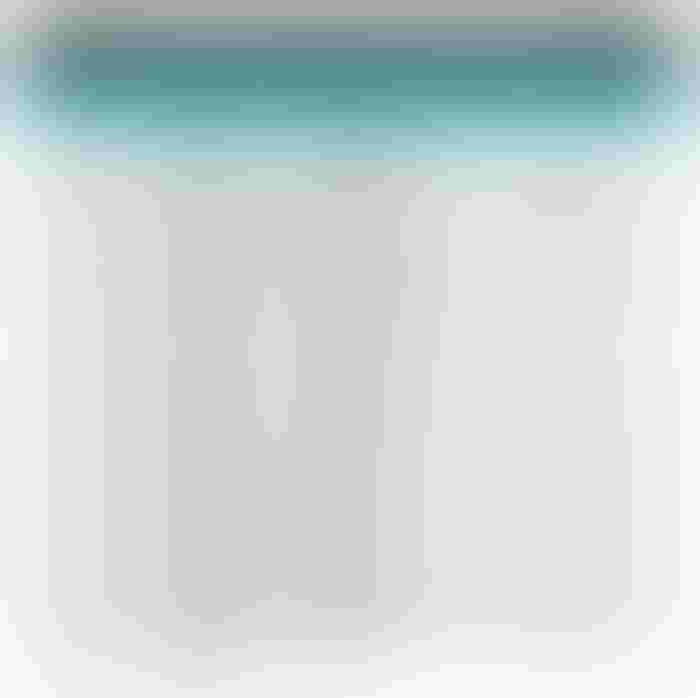 Subscribe to receive top agriculture news
Be informed daily with these free e-newsletters
You May Also Like
---