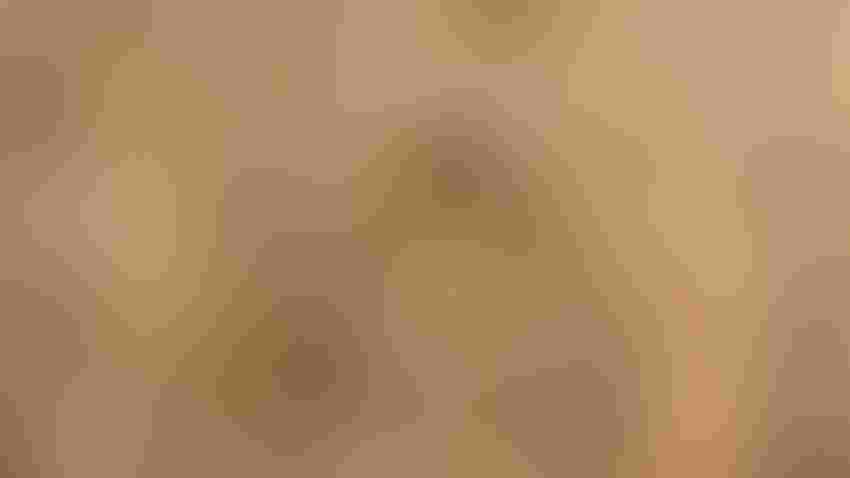 Submitted by Bayer Cropscience
There's a reason that Bayer's next-generation breeding technology goes by the name "designer seeds." The end game for each seed and traits package delivered to a grower is that it will be a perfect fit for a specific acre. Advances in these technologies, plus some new offerings coming in crop protection and digital innovation, are working together to provide growers excellent flexibility to navigate their specific tough-to-control weeds and growing conditions and help to obtain outstanding yield potential for each and every plant in their field.
Turning up the pressure on weeds
The launch of Roundup Ready® Soybeans in 1996 marked a new era in soybean weed management, and Bayer has been innovating ever since. "For more than 25 years, we have been delivering world class weed management to farmers, and we're only doubling down on that as we go into the future, with three new traits coming to the market over the next 15 years," said Wes Hays, NA Product Management – Soy Systems.
In 2021, Bayer launched XtendFlex® soybeans which offers tolerance to dicamba, glyphosate, and glufosinate herbicides. XtendFlex soybeans is receiving great reviews from growers, especially when it is combined with a pre-emergence or at-planting application of XtendiMax® herbicide with VaporGrip® Technology, a restricted use pesticide.* In the dry conditions of the 2023 growing season, XtendiMax herbicide provided a big benefit in weed control going into the season, unlike some other residual products, it does not need water to activate.
Upcoming 4th and 5th generation herbicide-tolerance traits will offer even more flexibility for growers. HT4, Bayer's 4th generation trait, builds on XtendFlex® Technology with glyphosate, dicamba and glufosinate tolerance, plus tolerance to 2,4-D and mesotrione, an HPPD inhibitor. Pending regulatory approvals, HT4 is anticipated to launch in 2027. Initial regulatory applications have been submitted in the United States, Canada, and in other key soybean importing countries.
In the early 2030s, Bayer expects to launch its HT5 trait, which adds PPO tolerance to HT4. "It is a fairly broad tolerance to many PPO products that can be used on soybeans today, as well as some new novel PPOs that we plan to bring to the market for crop protection," Wes said. "We are adding one more tool into that toolbox for growers to have the flexibility to help control tough-to-control weeds."
"We are building a trait pipeline that allows growers to have options in their weed management approach, even on a field-by-field basis," Hays adds.  "We're focused on grower choice, and providing a variety of options for an integrated weed management program to help combat resistance."
More near-term results for growers
A new herbicide mode of action for soybeans in the U.S. is slated for a 2025 launch. Diflufenican, which will be introduced under the brand name Convintro™, has shown excellent activity, in internal trials, on waterhemp and Palmer Amaranth, two prolific weeds facing soybean farmers. While diflufenican has been used for years in Europe, it is new to North America and offers a new site of action for Palmer Amaranth and waterhemp control in soybeans. Pending EPA-approval, Convintro products will be available to soybean growers for burndown and pre-emergence applications. The herbicide will also serve as a new weed control tool for corn growers.
More tools mean more options and flexibility for a farmer's integrated weed management, especially looking across the entire cropping rotation for a field. But it also adds complexity, which is where some new digital solutions from Bayer have a fit.
Anticipated for launch in 2027, new digital tools from Bayer are being built from its massive troves of product data. "These new tools will allow a dealer to match our data with information about the farmer's specific field in Climate FieldView™ to better place our products, especially new products, in the right fields and in the right way," Wes said. "The tools also will make weed management recommendations, which helps bring the complexity into a manageable space, where a dealer can make a field specific, tailored weed management recommendation, along with the individual variety recommendation by field."
Stacking agronomic advantages in seeds
Bayer CropScience invests up to $2.6 billion annually into R&D. Wes admits that not all that money goes into soybeans, but he notes that soy benefits substantially from precision breeding advances. Bayer breeding advancements are driving soybean yield improvements faster and higher than ever before, and stacking agronomic advances in seeds, such as stress tolerance, disease/pest resistance, and plant growth and development.
For the 2023 season, Bayer introduced more than 150 new soybean varieties into the North American markets, where the company now offers more than 850 varieties. "We just deployed our fourth product class of XtendFlex® soybeans," Wes said. "XtendFlex soybeans has benefitted from genetic gains and upgrading our portfolio of germplasm every year for the last four seasons since we launched it in 2021."
Working toward new innovations for its customers is how Bayer shows its commitment to the soybean market. "Bayer's ongoing investment into research and development is planned based on the needs of our customers," Wes said. "When we design our seeds and technologies starting with the end in mind and understanding the evolving needs of each grower and each field, we re-define customer success and unlock the next level of value for soybean growers."
Bayer is a member of Excellence Through Stewardship® (ETS). Bayer products are commercialized in accordance with ETS Product Launch Stewardship Guidance, and in compliance with Bayer's Policy for Commercialization of Biotechnology-Derived Plant Products in Commodity Crops. Commercialized products have been approved for import into key export markets with functioning regulatory systems. Any crop or material produced from this product can only be exported to, or used, processed or sold in countries where all necessary regulatory approvals have been granted. It is a violation of national and international law to move material containing biotech traits across boundaries into nations where import is not permitted. Growers should talk to their grain handler or product purchaser to confirm their buying position for this product. Excellence Through Stewardship® is a registered trademark of Excellence Through Stewardship.
XtendiMax® herbicide with VaporGrip® Technology is a restricted use pesticide and must be used with VaporGrip® Xtra Agent (or an equivalent volatility reduction adjuvant). For approved tank-mix products (including VRAs and DRAs), nozzles and other important label information visit XtendiMaxApplicationRequirements.com. Applicators must check XtendiMaxApplicationRequirements.com no more than 7 days before application of this product for additional labeling, including state restrictions. Where applicable, users must comply with additional requirements found on this website.
ALWAYS READ AND FOLLOW PESTICIDE LABEL DIRECTIONS. It is a violation of federal and state law to use any pesticide product other than in accordance with its labeling. NOT ALL formulations of dicamba or glyphosate are approved for in-crop use with Roundup Ready 2 Xtend® soybeans. NOT ALL formulations of dicamba, glyphosate or glufosinate are approved for in-crop use with products with XtendFlex® Technology. ONLY USE FORMULATIONS THAT ARE SPECIFICALLY LABELED FOR SUCH USES AND APPROVED FOR SUCH USE IN THE STATE OF APPLICATION. Contact the U.S. EPA and your state pesticide regulatory agency with any questions about the approval status of dicamba herbicide products for in-crop use with products with XtendFlex® Technology.
Roundup Ready® Technology contains genes that confer tolerance to glyphosate. Roundup Ready 2 Xtend® soybeans contain genes that confer tolerance to glyphosate and dicamba. Products with XtendFlex® Technology contains genes that confer tolerance to glyphosate, glufosinate and dicamba. Glyphosate will kill crops that are not tolerant to glyphosate. Dicamba will kill crops that are not tolerant to dicamba. Glufosinate will kill crops that are not tolerant to glufosinate. Contact your seed brand dealer or refer to the Bayer Technology Use Guide for recommended weed control programs.
XtendiMax® is a restricted use pesticide. Not all products are registered for use in all states and may be subject to use restrictions. The distribution, sale, or use of an unregistered pesticide is a violation of federal and/or state law and is strictly prohibited. Check with your local dealer or representative for the product registration status in your state. Bayer, Roundup Ready 2 Xtend®, Roundup Ready 2 Yield®, Roundup Ready®, VaporGrip®, XtendFlex® and XtendiMax® are registered trademarks of Bayer Group. LibertyLink logo® and LibertyLink® are trademarks of BASF Corporation. For additional product information call toll-free 1-866-99-BAYER (1-866-992-2937) or visit our website at www.BayerCropScience.us. Bayer CropScience LP, 800 North Lindbergh Boulevard, St. Louis, MO 63167. ©2023 Bayer Group. All rights reserved.
Subscribe to receive top agriculture news
Be informed daily with these free e-newsletters
You May Also Like
---