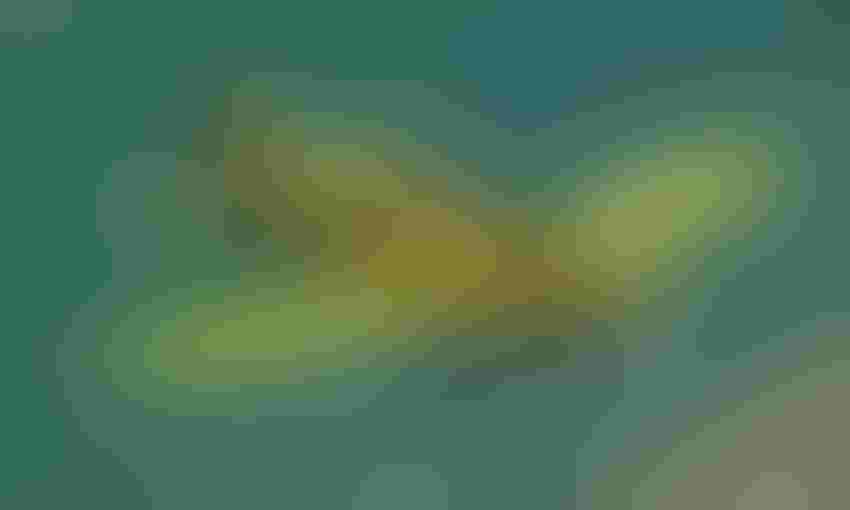 Today's modern ag aircraft employ precision guidance technology to insure accurate coverage of crop protection materials.
Air Tractor/Getty Images
"You've come a long way, baby!" — Slogan from a 1968 tobacco ad campaign 
That catch-phrase that was part of a long ago very successful advertising campaign for cigarettes could be applicable to the evolution of crop protection in the Delta region, and beyond, since Delta Farm Press had its start in 1943.
"Agriculture has been a crucible of evolutionary change since its inception thousands of years ago, and this change permeates agricultural endeavors at all levels of biological organization, ranging from the individual gene to whole communities," says an article published by The U.S. National Library of Medicine, National Institute of Health.1 
While it may be impossible to know the number of plant or pest species that have come and gone throughout Earth's history, we are nonetheless aware of changes brought about by both natural and selective plant breeding processes over the last several thousand years. And we know a great deal more today about the insects and diseases that have competed for the commercial crops grown on farms. 
By the time the 1940s arrived, and worsening global war between nations raged in other parts of the world, farmers tilling the rich soils of the Mississippi Delta were at war with weeds. 
"All through history, it is clear that farmed crops would suffer from pests and diseases, causing a large loss in yield, with the ever-present possibility of famine for the population," says a 2002 article on pest management.2 "Even today, with advances in agricultural sciences, losses due to pests and diseases range from 10 percent to 90 percent, with an average of 35 percent to 40 percent, for all potential food and fiber crops."
TRACTOR-MOUNTED BLOWTORCH 
Somewhere around 1942, Dr. J.E. Adams at the Delta Research Station at Stoneville, Miss., began using an invention known as The Flamer, a tractor-mounted blowtorch designed to burn weeds between the rows. Trials were promising, and for several years the machine became the primary tool for weed control.
In other parts of the nation, researchers had been working with inorganic substances, such as sodium chlorate and sulphuric acid, to control many pest problems. Organic chemicals derived from natural sources were widely used. 
New pesticides were being tested, mostly byproducts of coal gas production or other industrial processes. Early organics such as nitrophenols, chlorophenols, creosote, and even petroleum oils were being tested, and in some cases, used for fungal outbreaks and to control plant bugs. For weed control, farmers depended on ammonium sulphate and sodium arsenate, but those products needed to be applied at high rates with a lack of selectivity and phytotoxicity.3 
Following that, synthetic pesticides were being developed, including DDT, BHC, aldrin, dieldrin, endrin, chlordane, parathion, captan, and 2,4-D. These products were effective and inexpensive. DDT soon became the chemical of choice in the Delta because of its broad-spectrum activity. But researchers observed harm to other plants and even animals, and overuse also caused resistance buildups in some pests.
NEW FORMULATIONS
In the 1950s, new pesticides were formulated, and with little concern about health safety at the time, many were used effectively on some crops, with little if any opposition. But by the 1960s, there was increased environmental awareness and a growing concern for the safe use of chemicals in agriculture. Research continued, and soon began to look at health risks and challenges that ag chemicals might pose on the farm. 
By the late 1970s and early 1980s, researchers introduced the herbicide glyphosate, a low rate sulfonylurea and imidazolinone (imi) herbicide, as well as dinitroanilines and the aryloxyphenoxypropionate (fop) and cyclohexanediones (dim) families. 
More advancements in pesticides occurred with the development of pyrethroids and the introduction of the triazole, morpholine, imidazole, pyrimidine, and dicarboxamide families of fungicides.4 
Initial results were promising, until it was discovered that these single mode of action products made them more selective and vulnerable to resistance. By the 1990s, research was concentrated on finding new members of existing families that would offer greater selectivity and better environmental and toxicological profiles. Some of these products offered the added benefit of being applied at only grams per acre rather than kilograms.
GENETIC ENGINEERING
More recently, genetically engineered crops, designed to produce their own insecticidal traits or resistance to broad spectrum herbicide products or pests, have become the standard. But resistance has continued to be a problem, making the use of these traits challenging. 
New integrated pest management strategies are helping to reduce the risk of pest pressures, but more needs to be done. 
Farmers in the Delta and industrywide, have learned from the past. Now, thanks to steady research and development by the ag chemical industry, there are more tools in the farmer's arsenal to fight weeds and pests.
At the same time, many farmers are turning back the clock and integrating some of yesterday's effective products into today's crop management systems. 
The future for ag chemicals may be uncertain, but the one constant is that research to find more effective ways to protect crops continues at the highest levels at universities, independent laboratories, and agribusiness companies — all teaming up to discover the next great weed and pest management tools. 
But despite the challenges, few in agriculture would argue that, over the last 75 years, we've come a long way, baby.
Subscribe to receive top agriculture news
Be informed daily with these free e-newsletters
You May Also Like
---