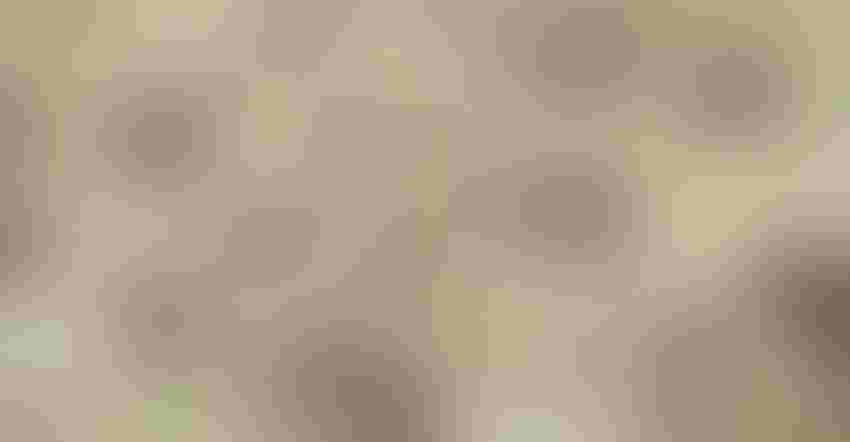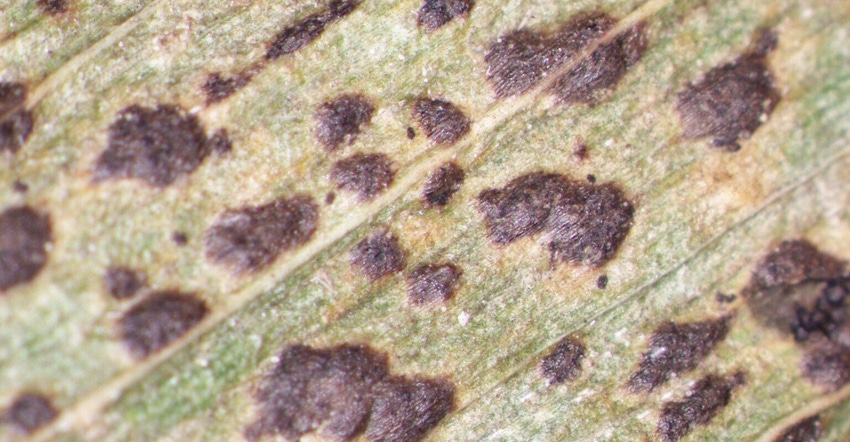 IT'S HERE: This leaf shows symptoms of tar spot, with characteristic black, raised stroma that cannot be scraped off.
Ed Zaworski, Bugwood.org
University of Missouri Extension and crop consultants are adding Holt County to the growing list of areas with tar spot in cornfields.
In 2019, MU Extension plant pathologist Kaitlyn Bissonnette identified tar spot in Scotland, Lewis and Clark counties. In 2020, it was in Marion County. This year, MU Extension confirmed tar spot from three samples collected from Lewis and Holt counties.
Two separate samples from northwest Missouri are the first verified incidences in Holt County. The Lewis County sample was from a previously established field with tar spot. All three were confirmed at the MU Plant Diagnostics Clinic.
Bissonnette and MU-PDC director Peng Tian are asking farmers who suspect tar spot to submit samples to MU-PDC for confirmation.
Scout, collect and submit
Continued scouting through the season is recommended, especially in northern regions of Missouri.
Farmers may confuse tar spot with dirt on leaves, insect waste or southern rust late in the season, as the pustules turn black from a change in spore phases.
Tar spot is in the lower canopy of fields. Scouting should start in mid-to-late August and continue through harvest as tar spot can attack both green and brown leaf tissue.
Occasionally, there can be a tan "fish-eye" or tan diamond-shaped lesion surrounding the black dots (stroma) on the leaves. In severe cases, plants will begin to prematurely senesce with yield loss becoming significant.
Make plans for next season
Fungicide efficacy trials against tar spot were conducted in Indiana, Illinois, Wisconsin, Michigan and Ontario in 2021. Results indicated that fungicide applications at VT to R1 protected yield relative to non-treated plots.
In the study, tar spot severity was rated at R5. The non-treated plots had an average of 26% severity on the ear leaf, and yields were protected by more than 3% in fungicide-treated plots.
There is still not a lot of information on the effectiveness of R4 or R5 fungicide applications. This is problematic in a year when the disease shows up late, like in 2022. Further research out of Purdue University in 2020 and 2021 did not show benefit of the later applications. Still, the fungus that causes tar spot, Phyllachora maydis, overwinters on corn residues.
For farmers who find tar spot in 2022, or if it is even in the area, Bissonnette offers the following tar spot management strategies for 2023:
Check with your seed dealer for the latest updates. Screening of corn varieties with tolerance to tar spot is ongoing.
Scout fields when conditions are right for tar spot. At current disease pressures, a well-timed VT or R1 application when tar spot lesions are present seems to be as effective as an early fungicide application to corn that has low to no incidences of tar spot. An early application is more likely to require a second pass if the pathogen is present.
Know the conditions that favor tar spot. Leaf wetness is an important factor. Even in dry years such as the majority of 2022, dew forms on leaf surfaces during many Missouri mornings, because of a weather condition known as a temperature inversion.
Change up crops. Consider residue management and crop rotation to reduce the amount of pathogen inoculum available to infect corn.
For more information on tar spot, including additional images, visit cropprotection.network.org.
The University of Missouri Extension and MU-Integrated Pest Management contributed to this article.
About the Author(s) Editor, Missouri Ruralist
Mindy resides on a small farm just outside of Holstein, Mo, about 80 miles southwest of St. Louis.
After graduating from the University of Missouri-Columbia with a bachelor's degree in agricultural journalism, she worked briefly at a public relations firm in Kansas City. Her husband's career led the couple north to Minnesota.
There, she reported on large-scale production of corn, soybeans, sugar beets, and dairy, as well as, biofuels for The Land. After 10 years, the couple returned to Missouri and she began covering agriculture in the Show-Me State.
"In all my 15 years of writing about agriculture, I have found some of the most progressive thinkers are farmers," she says. "They are constantly searching for ways to do more with less, improve their land and leave their legacy to the next generation."
Mindy and her husband, Stacy, together with their daughters, Elisa and Cassidy, operate Showtime Farms in southern Warren County. The family spends a great deal of time caring for and showing Dorset, Oxford and crossbred sheep.
Subscribe to receive top agriculture news
Be informed daily with these free e-newsletters
You May Also Like
---