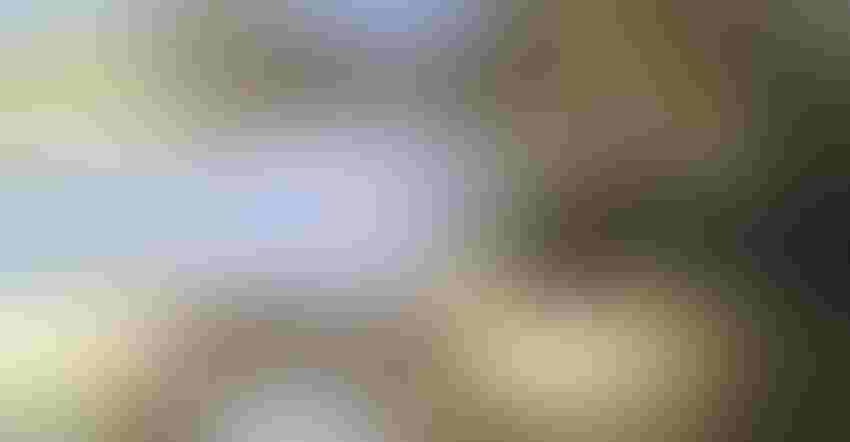 DECAY: Pythium stalk rot causes decay of the first internode above the soil, says University of Illinois plant pathologist Nathan Kleczewski.
Courtesy of Alison Robertson, Crop Protection Network
Pythium are fungal-like organisms that can cause rots in germinating and newly emerging soybean and corn plants. These organisms are common in Illinois fields, and can cause significant reductions in stands under the correct conditions — wet soils right after planting. Drier conditions that promote seedling germination and plant growth help reduce the overall effect of pythium on crops.
"Established seedlings have larger root systems and more foliage, so the amount of damage and the impact that they're actually going to have on the plant is going to be greatly reduced, as the plant can compensate and tolerate that damage," says Nathan Kleczewski, University of Illinois plant pathologist.
There are several pathogens that can cause seedling diseases in soybeans and corn. Pythium causes a rot of the outer root cortex. So if you slide roots between your fingers, and the outer cortex sloughs off but the inner white tissues remain, pythium is the likely culprit.
Because farmers can't control when the rain comes, pythium can be difficult to manage. Strategies that can help include spacing out planting dates as much as possible, and avoiding planting into conditions that are likely to allow seed to sit in the field for excessive periods of time.
Other options to consider include improving drainage of chronically wet and flooded fields, and reducing soil compaction. Rotation to other crops is not likely to help, because pythium can survive for years as oospores in the soil.
"If you just had bare soil out there, without any plants, the oospores would still survive," Kleczewski says, noting strains of pythium survive as hyphae, threads of fungal tissue, within residue too. "Oospores are the main issue. Those will germinate, and an abundance produce tiny zoospores that swim in the soil water and find seed, emerging seedlings and plant roots."
Pythium isn't a "true" fungus, he says, so seed treatments must have active ingredients that specifically target the pathogen to fight it.
"Ethaboxam, mefenoxam and metalaxyl are examples of fungicide active ingredients that could help with managing pythium in situations where you think you are at risk for disease issues. For example, planting early into heavy soils," Kleczewski says.
He adds that farmers should expect seed treatments to help protect seeds for about 14 days after planting.
"Seed treatments are there to provide additional protection during these really crucial stages, when plants are emerging and getting out of the ground. Plants need to get established and produce true leaves and more roots. Once you get there, then you're going to be in better shape," he says.
"Remember that the pathogen needs to be active to be effective, so if it rains three to four weeks or more after planting, you shouldn't expect to see much effect from your seed treatments."
Kleczewski concludes that the diversity of pythium species in Illinois and their management still need more research, and their status and management in Illinois have not been studied for many years.
Because of this, Kleczewski's team is looking to identify the different species in Illinois and their relative abundances and aggressiveness, as well as how different populations respond to seed treatments. They're also trying to gauge the effect temperature has on the effectiveness of different fungicides and species compositions. For more information, read Kleczewki's article at Illinois Field Crop Disease Hub.
About the Author(s) Associate Editor, Prairie Farmer
Austin Keating is the newest addition to the Farm Progress editorial team working as an associate editor for Prairie Farmer magazine. Austin was born and raised in Mattoon and graduated from the University of Illinois at Urbana-Champaign with a degree in journalism. Following graduation in 2016, he worked as a science writer and videographer for the university's supercomputing center. In June 2018, Austin obtained a master's degree from the Medill School of Journalism at Northwestern University, where he was the campus correspondent for Planet Forward and a Comer scholar.
Austin is passionate about distilling agricultural science as a service for readers and creating engaging content for viewers. During his time at UI, he won two best feature story awards from the student organization JAMS — Journalism Advertising and Media Students — as well as a best news story award.
Austin lives in Charleston. He can sometimes be found at his family's restaurant the Alamo Steakhouse and Saloon in Mattoon, or on the Embarrass River kayaking. Austin is also a 3D printing and modeling hobbyist.
Subscribe to receive top agriculture news
Be informed daily with these free e-newsletters
You May Also Like
---