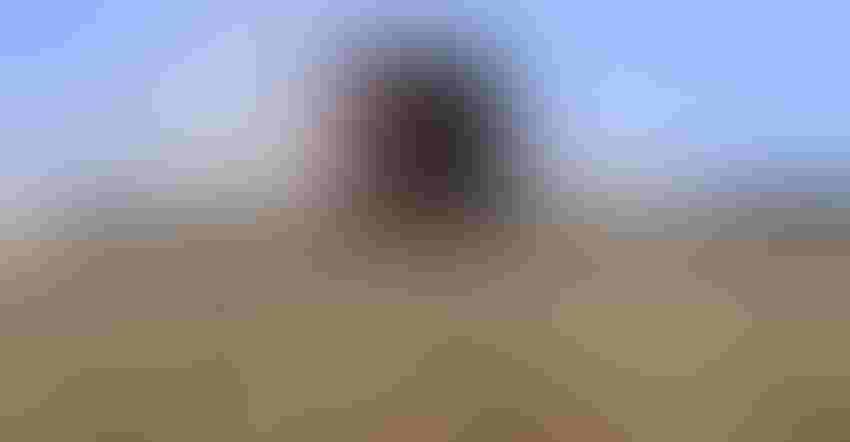 NO SILVER BULLET: While there is no sure treatment to suppress fusarium head blight, plant pathologist Andrew Friskop says a multifaceted approach can help manage affected fields.
William West/AFP/Getty Images
The top disease for small grains in the Dakotas is fusarium head blight, a disease that can cause sickness in livestock and humans, and decrease yields in affected fields.
"It has been our No. 1 disease, arguably since the mid-1990s," says Andrew Friskop, North Dakota State University Extension plant pathologist. "It has a very long history. So how I look at it is, that I can never predict where scab is going to be a problem, but I can almost guarantee that we're going to have some issues in at least one field in the state."
Fusarium head blight can be caused by Fusarium graminearum. Friskop says that traditionally the largest issues have occurred on the eastern side of North Dakota, but in recent years, western North Dakota has experienced severe problems. "That's why I call it a statewide problem, and we always have to be aware of scab," he says.
This disease is a detriment for producers due to its yield reduction, as well as the production of deoxynivalenol (DON) at harvesttime. "It's almost a double-edged sword. You think about how it's a yield robber but also a quality reducer, and that is where a lot of the losses are going to occur, even with complete rejection of some of the grain loads," he says.
Friskop says that just because fields have FHB present does not automatically mean that producers will see DON issues. "The reverse can also be true, too. You may not see scab in your field but still have issues with DON on the back end," he explains. "It doesn't come out of thin air, but this pathogen is releasing spores for probably a couple months around North Dakota."
For plants to be affected, Friskop says there needs to be a viable pathogen, a susceptible host and a conducive environment. "These all play together. This pathogen survives on small-grain residue and corn residue, and fungal structures can remain viable for two to three years. For the environment, we have a two- to three-week window where we have a small-grain crop heading and starting to flower, and wet and humid weather will more or less activate the spore-producing structures," he says.
Treatment plans
"We don't have a silver bullet for scab and DON, but we have some tools that can help suppress the disease," Friskop says.
NDSU Extension does extensive research regarding plant varieties when looking at disease or pest management, and Friskop says that Extension has found ways to reduce DON. "The No. 1 tool we have is variety resistance. There isn't one that is immune to this disease, but there are several out there that can significantly reduce the chances of it becoming a problem," he explains. "Spring wheat has the most resistance, and when you look at the other market classes of two-row barley or durum, there isn't as much resistance built in."
Multifaceted approaches are best when managing FHB, says Ken Deibert, BASF technical service representative. "Fortunately, we have one of the effective tools, which is Caramba fungicide, within our BASF portfolio," he says. "A lot of sales folks want to say scab control, but we know that it might not ever be complete control because it is such an aggressive disease. That's why we talk about suppression."
BASF has been working with NDSU experts in developing a new option for producers working to manage scab that will be released for use in the next growing season.
Friskop says that some active ingredients in fungicides are better than others. "Prothioconazole and metconazole tend to be the most effective triazoles that we have on the market," he says. Another key part of managing scab is the timing of these fungicide applications.
"The most important aspect is when we spray these fungicides. It has to occur at early flowering and up to seven days later. We have that week window to make an application to really help suppress the disease in the field, and also to suppress the DON levels," Friskop says.
This three-part approach to suppression can see disease reduction of up to 50%, but see even better reduction with resistant varieties. "When we use a resistant variety in combination with a well-timed fungicide, we start to see reduction of 75% to 80%. That's why we see a true synergistic effect of integrated strategy," Friskop explains.
While true control doesn't exist, Deibert and Friskop are confident that reducing and suppressing this disease is possible. Find more information here from NDSU Extension in management of FHB.
Subscribe to receive top agriculture news
Be informed daily with these free e-newsletters
You May Also Like
---