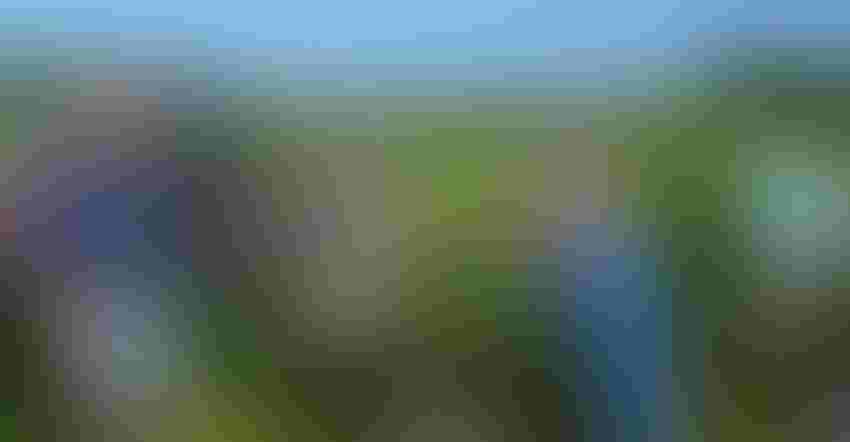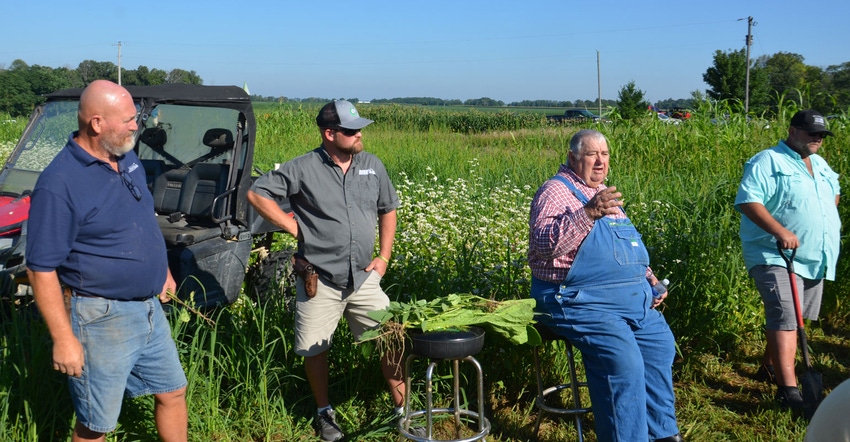 HONEST ANSWERS: Farmers say they come to Roger Wenning's field days for honest, practical information. Pictured (from left) are Wenning and his son, Nick, and fellow no-tillers Dave Brandt and Loran Steinlage.
Photos by Tom J. Bechman
What do those who believe 100% in no-till and cover crops talk about when they gather together to plan a field day? The main topic on the night before the field day on Roger and Nick Wenning's farm near Greensburg, Ind., this summer might surprise you. It wasn't which aftermarket closing wheel works best. Instead, the discussion was all about why more people don't adopt regenerative agriculture practices.
Dave Brandt has no-tilled in Fairfield County, Ohio, since 1971. Yet most of his neighbors still farm conventionally. At the same time, farmers in Illinois seek his advice. Why? Instead of getting hung up on finding an answer, Brandt provides advice that he knows will work for anyone with a passion for no-till.
"If you want to get into cover crops, the best place to start is with cereal rye ahead of soybeans," he says. "It's a proven practice, and you can make it work"
What's more, it's not too late to try it this year. Brandt and others note that cereal rye can be seeded successfully well into November. If it doesn't get much growth now, it's resilient and will grow next spring.
"It works especially well in front of soybeans," Brandt says. "Nitrogen is tied up in the decaying rye early in the growing season, and it promotes more nodules forming on soybean roots. Soybeans usually end up performing very well."
Keep it simple
Loran Steinlage joined Brandt at Wennings' field day. He and his family farm in Fayette County, Iowa, more than 500 miles from the Wennings and over 600 miles from Brandt. However, like Brandt, he concentrates on getting the most production from the least investment in inputs on every acre. That includes being creative with practices like intercropping soybeans into wheat.
"Our area has the latitude of Flint, Mich., so we can't do things the same as you might do them here," Steinlage says. He says he "adapts to his altitude by adjusting his attitude." Like Brandt, many of his neighbors farm conventionally. But that doesn't deter him from doing what he believes is best for his land.
"We utilize some newer cover crop mixes and new technology where we can today, and we look for niche markets," Steinlage says. "But at the end of the day, if you're starting out and want to make this work, it comes down to keeping things simple. That's why seeding rye after corn and ahead of soybeans is a good place to start.
"No matter what you're trying, the best thing you can do is leave check strips. See how the new thing compares to what you've done before."
Trying new things
The Wennings, Brandt and Steinlage have all tried new things at various times in their careers. "It's OK to think outside the box," Brandt says. "Remember that your goal is to maintain and improve your natural resources, but you also must make a profit.
"Sometimes there are profit opportunities, especially if you farm near urban centers, that might not have been there before. I know of someone who grows sunflowers in his conservation mix. People will pay to come to his farm to take pictures. He's not afraid to charge them by the hour, and they pay it. That's not something you think about with cover crops, but it comes from thinking outside the box."
At the same time, Brandt, like Steinlage, emphasizes that it's important to realize that no-till and cover crops take more management. "There's going to be a transition period — you can expect that upfront," Brandt says. "And if you stay at it long enough, there will be a year when it doesn't work.
"When that happens, remember the times when you had to replant conventional corn or soybeans. You don't quit raising them because of one tough year. You shouldn't give up on no-till and cover crops the first time it doesn't work well either."
Roger Wenning adds: "Learn from it, make adjustments and go again. If you do the same thing twice and it doesn't work, maybe it's a mistake. But lots of things may not work the first time. Look at them as learning experiences."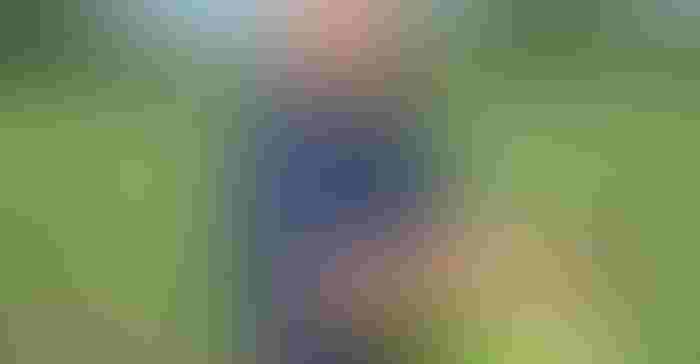 End goal
Standing in plots examining various cover crops, both Brandt and Steinlage point to the Wennings' new grain bin. "They didn't need it 30 years ago, because this is tough ground, and their yields were below average," Steinlage says. "They've figured out how to make no-till and cover crops work and boosted yields over time. That new bin is a testament that this system works if you want it to work."
Wenning explains, "Before we installed tile drainage and switched to no-till and cover crops, our corn yields here were 30 bushels per acre below the county average. Our county includes productive soils farther north.
"Today, our average corn yields are 30 bushels above the county average yield. We do lots of testing to keep improving. Some of the things work and some do not. Nick does strip tests and keeps track of what works and what does not work.
"We plant green today. No, you don't do that your first year. But over time you figure it out. And over time, you raise your yields. The system works."
About the Author(s)
Subscribe to receive top agriculture news
Be informed daily with these free e-newsletters
You May Also Like
---