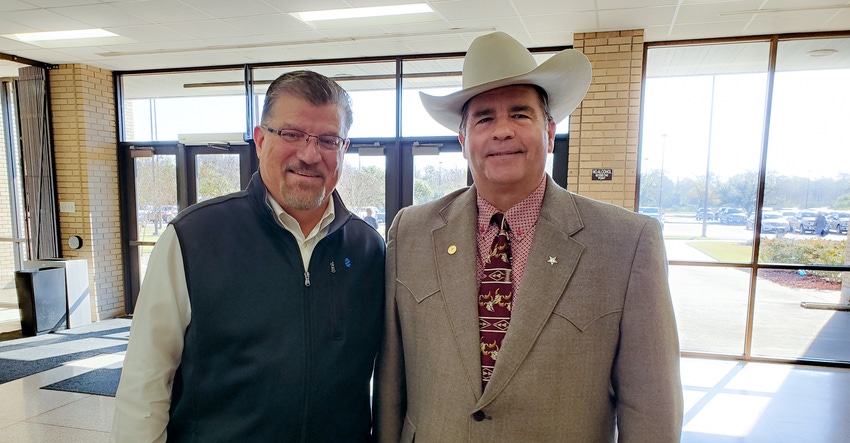 Willie Durham, NRCS National Soil Health specialist, right, with Runge, Texas, producer Zachary Yanta. The two have worked together to implement a soil health management system on Yanta's farmland and pastures.
Shelley E. Huguley
Standing in a clean field readied for planting near Runge, Texas, Zachary Yanta and his son watch as another norther blows away what they call their legacy – their topsoil. 
Yanta looks at his son. "There's got to be a better way. We've got to do something, or we won't have any topsoil or much left. And without topsoil, we don't have anything."
That was eleven years ago. Since then, Yanta and his son, also named Zachary II, have parked their tillage equipment, shifted their focus to soil health management and added cover crops to their farming and grazing operation.
Yanta, who is also Texas Farm Bureau state director, recently spoke at the Texas Plant Protection Association Conference, in Bryan. The conference highlighted artificial intelligence and its role in agriculture. Yanta warned the standing-room-only audience, "I am not a speaker, so I'll just do the best I can. I don't have fancy slides or a PowerPoint." What he did offer was his experience.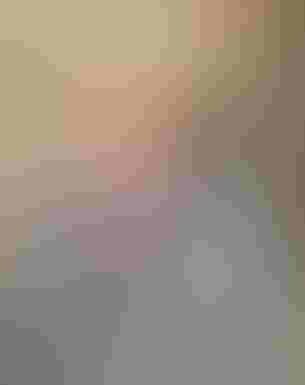 The fifth-generation farmer said, "I would rather get up every morning and think, 'What do we need to do today? How can I prolong my operation working with nature instead of going outside, as I used to, and think, we've got corn, we've got grain sorghum, what are we going to kill biologically today?' I know it's different. It's a different mindset."
Production
Yanta, who returned to the family farm in 1988, grows cotton, grain sorghum, corn, and wheat and runs cattle in Karnes County, a small rural community between San Antonio and Victoria. The area receives about 28 inches of annual rainfall. "I like to tell people, you ought to be there the two days it happens," he says joking.
Yanta credits his soil health management system for increasing the following:
• infiltration rates and soil moisture-holding capacity
• soil aggregation (The space between the aggregates provide pore space for retention and exchange of air and water)
• drought tolerance in pastures and, therefore, extended grazing
• pest resistance
• wildlife presence
• cattle health
He says the system has also reduced operating and equipment costs, use of fertilizer, along with farm stress.
Yanta's goal is to mimic nature. "I want to stop my sole reliance on a synthetic system, chemical system of production, and move towards a biological system and I think that's happening."
See, Soil testing exposes limited nutrients 
To achieve that goal, Yanta is no longer tilling and is planting cover crops in his pastures and row crop fields.
Reduced costs
Since implementing a soil health management system, Yanta has decreased fuel costs by almost $100,000. "There were years we spent about $120,000 in fuel. Now, we're down to $28,000 to $32,000."
Because he no longer cultivates or plows and is fertilizing less, he's also reduced equipment repairs while increasing time for other responsibilities on the farm.
Infiltration rates
In addition to researching soil health, Yanta has worked closely with Willie Durham, NRCS National Soil Health specialist. Curious about the soil moisture-holding capacity of his no-till fields, Durham tested one of Yanta's fields with an infiltration ring, which measures the velocity or speed at which water enters the soil.
"I'd never seen that done before," Yanta admits. The spot where Durham inserted the ring measured about seven inches of rainfall per hour. "I said, 'There is no way. I don't believe that. Let's move over.' So, we moved over about 10 to 15 feet, put that ring down, and again it was over seven inches. I know we couldn't get that kind of rainfall when I was a kid. Something's happening."
Not long after that, Yanta received about 3.5 inches of rain. The next day, he and his son climbed into their Gator to inspect their crops. "The best thing you can have on your farm or ranch is your footprint," Yanta says. "We started shoveling, looking for earthworms. I looked around and said, 'Zach, what's different about this?' The soil, after about six years of this different type of management system, felt different. I told him, 'My boots don't even have mud on them. Years ago, we still would have had water in the terrace channels with that kind of rain.'
"There was no water anywhere to be seen. And the Gator wasn't making tracks. And as you walk across that soil, we could feel the difference. It was almost like walking on carpet. You may think I'm crazy, but these are things I've personally noticed. There is a change."
Pest Pressure
His soil health management system has also reduced pest pressure. "In our grain sorghum, we've noticed in the last couple of years our aphid pressure has been lower. I have friends back home with a lot of aphid problems. We don't have them like we used to."
He's also using fewer chemicals in his cotton to treat insects like thrips, leafhoppers and plant bugs. "There's something to it. I might not be able to explain it, but from being out there, something is happening. And I really like it. Instead of spending money on a problem, we're working with nature and nature will reciprocate and give us what we need."
Pastures
Yanta, who ranches more than he farms, says the different management system also increased drought tolerance in his pastures. At the end of July, when many pastures are burning up, he says his are still green. "We're just doing something different. We're not fertilizing the heck out of it and scaling back and going more towards soil health principles.
"And it's nice to graze the cattle a little bit longer," he adds.
The hot summer months often usher in increased pest pressure. But Yanta says, much to his surprise, his management system has affected that as well. "During the summer, it's not unusual for us to get an infestation of grasshoppers on our grazing. We still get grasshoppers, but we get them less frequently." 
Fall armyworm pressure in his winter pastures is less as well. "We do plant a little later in the fall cover crops. We like to interseed our permanent pastures, coastal Bermuda, Tifton and Kleingrass, Wilman Lovegrass with multiple species, seven or eight different species. Typically, about half of those will be grasses, and half will be legumes."
Legume mixes in his pastures enhance his soil biology. "Why not let nature produce nitrogen for your pastures instead of fertilizer. I'm not knocking the fertilizer industry. I still use some, but we've drastically decreased the amount of fertilizer we use."
Yanta chooses legumes that will reseed. "On our ranch, we have legumes that have been there since I was in junior high, and these are small clovers that grow short, but they produce a massive amount of seed and they're very persistent. That's a benefit to me when we can wean ourselves off of buying fertilizer. We have to find ways to squeak out a little bit more, get a little bit more vertically integrated as we go through the years."
Another benefit is a reduction in cattle health issues. "Somebody will probably say this is an outrageous statement, but I can say it because it's my opinion, but I have seen the last two, three years, when we pull our calves, wean them, precondition them, and take them back to grow them out, we do not have the health problems we've had in the past."
Enthusiasm
He's enthusiastic about the future. "I am more excited now, at 61 years old, about agriculture than I was when I got out of college in the 80s," he says. "I feel like there is a future. It's bright. We need always to be looking for something, a better way to do things, and if we do that, it'll flourish."
About the Author(s)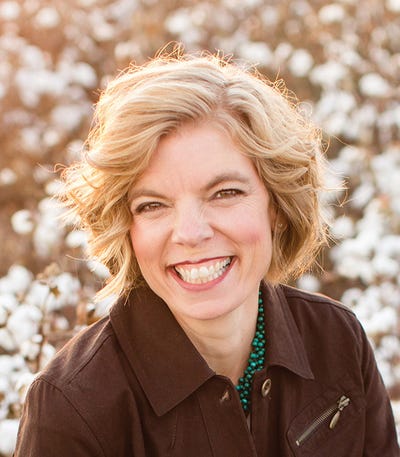 Editor, Southwest Farm Press
Shelley Huguley has been involved in agriculture for the last 25 years. She began her career in agricultural communications at the Texas Forest Service West Texas Nursery in Lubbock, where she developed and produced the Windbreak Quarterly, a newspaper about windbreak trees and their benefit to wildlife, production agriculture and livestock operations. While with the Forest Service she also served as an information officer and team leader on fires during the 1998 fire season and later produced the Firebrands newsletter that was distributed quarterly throughout Texas to Volunteer Fire Departments. Her most personal involvement in agriculture also came in 1998, when she married the love of her life and cotton farmer Preston Huguley of Olton, Texas. As a farmwife she knows first-hand the ups and downs of farming, the endless decisions that have to be made each season based on "if" it rains, "if" the drought continues, "if" the market holds. She is the bookkeeper for their family farming operation and cherishes moments on the farm such as taking harvest meals to the field or starting a sprinkler in the summer with the whole family lending a hand. Shelley has also freelanced for agricultural companies such as Olton CO-OP Gin, producing the newsletter Cotton Connections while also designing marketing materials to promote the gin. She has published articles in agricultural publications such as Southwest Farm Press while also volunteering her marketing and writing skills to non-profit organizations such a Refuge Services, an equine-assisted therapy group in Lubbock. She and her husband reside in Olton with their three children Breely, Brennon and HalleeKate.
Subscribe to receive top agriculture news
Be informed daily with these free e-newsletters
You May Also Like
---