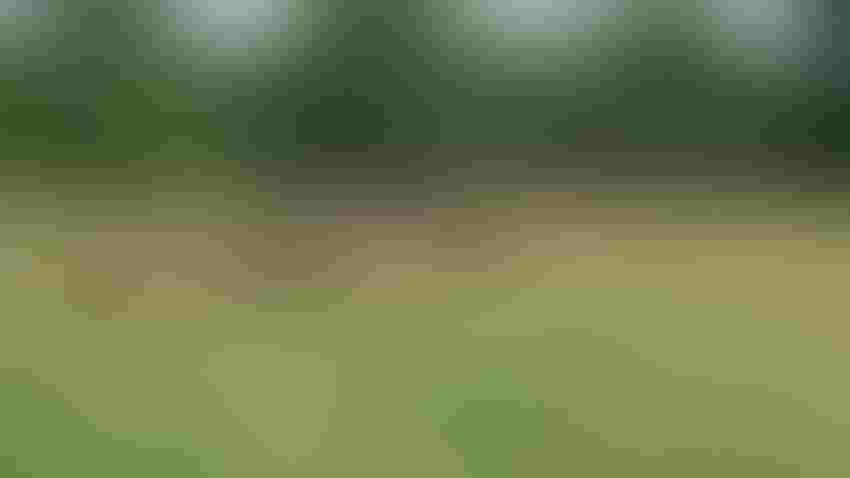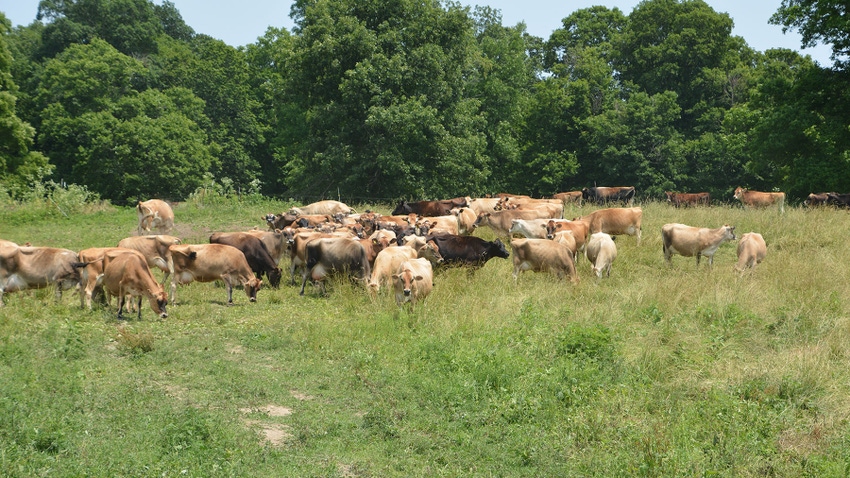 SHORT ON PASTURE: If grass pasture is running short, cover crops could offer an emergency solution. These cows will graze on sorghum-sudangrass later in the summer.
Tom J. Bechman
Much of Indiana is still in some stage of drought based on information from the National Drought Mitigation Center. While dry conditions greatly impact row crops, another significant impact is the reduction of available forage for livestock. 
Dry weather impacts forage in two ways. One, pastures are not recovering from grazing as they would with adequate moisture. Two, hay production was generally less than normal during the first cutting, with subsequent second cuttings not anticipated to be very good. So, what are some options for emergency forage? 
Summer annual cover crops come into the plan. While cover crops can provide many benefits, one that is often overlooked is their impact as emergency forage during dry summers. Species such as sorghum-sudangrass and pearl millet thrive in hot, dry conditions and can provide large quantities of high-quality, late-summer forage for grazing. If you have pastures that have been overgrazed due to dry weather, consider planting summer annual covers for forage. 
Pull livestock off the area being seeded, either into another pasture or into a drylot to be fed hay. Summer annual covers require very little moisture to germinate, so if you can schedule planting them ahead of a forecast rain, germination will occur quickly and shorten the time before you can bring livestock back into the pasture.
No-till drill the recommended seeding rates for your chosen species and allow covers to reach adequate growth of 12 to 15 inches before bringing livestock back into the pasture. Rotational grazing will stretch out the potential forage quantity greatly, and you should have adequate forage up to frost. Planting annual species in your pasture will speed up recovery once rainfall returns to normal, thereby getting the pasture back to normal production quicker. 
Covers as forage after wheat
Another option to produce emergency forage is planting summer annual covers after wheat. What you plant may depend on how you wish to use the forage. For example, sorghum-sudangrass can be hard to bale and is more suitable to green-chop or grazing. After you decide how you can best use the emergency forage, pick a mix and plant it as soon as possible.
As you plan planting of temporary covers, consider what animals will consume the forage. For example, species such as sorghum-sudangrass can cause sun sensitivity in horses. Also be careful with using some species, including conventional sorghum-sudangrass, after a frost.
One rule always talked about with cover crops is being flexible. That rule applies to their use as forage during periods of dry weather. If you are looking to increase your available forage this summer, consider planting a summer annual cover crop, either in your pasture or after wheat harvest. For more information and seeding recommendations, contact your soil and water conservation district or Natural Resources Conservation Service office. 
Subscribe to receive top agriculture news
Be informed daily with these free e-newsletters
You May Also Like
---