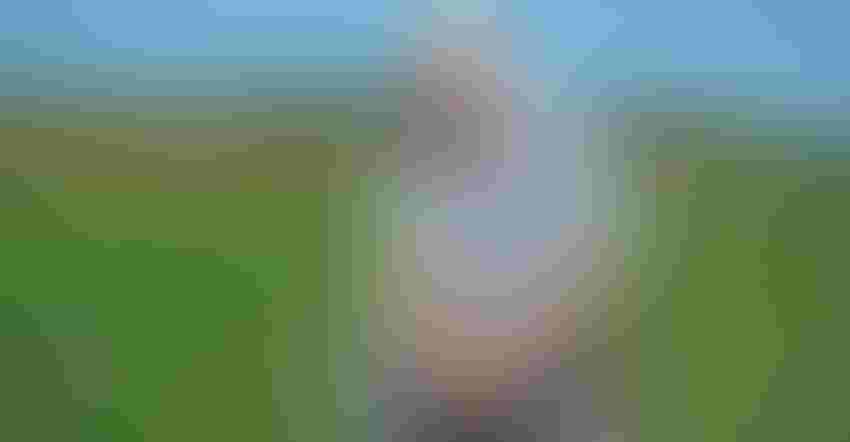 PROMOTING CONSERVATION: Ray McCormick believes that using cover crops to build biological diversity helps build soil health.
Darrell Boone
Ray McCormick was sowing cover crops before many people rediscovered them. McCormick, Vincennes, Ind., seeds cover crops from his combine. When he refills, he pays attention to what he sees on the ground.
"I look down and see insects of all kinds, including beetles, at work," he says. "My fields are teeming with activity."
McCormick shared his views about conservation during a webinar sponsored by the Midwest Cover Crops Council.
"To me, no-tilling and utilizing cover crops is not about sustainability, although that's what many people talk about," McCormick says. "It's about promoting biology and biodiversity in our soils. Where we are now isn't good enough to say sustainability is OK. We can improve over what we're doing today."
Here is McCormick's philosophy on conservation:
On seed treatments. When he can, McCormick plants seed that isn't treated. His goal is protecting beneficial insects and biology in the soil. By encouraging a buildup of natural predators to pests like cutworm larvae, he believes he gets adequate control naturally in most situations.
Getting seed corn without seed treatment can be difficult. One company provides it if he orders ahead. With another company, he insists on the least treatment possible.
On terminating cover crops. "I let them grow as long as I can," McCormick explains. "That produces maximum biomass, and I believe residue begins breaking down and releasing nitrogen later when the crop needs it most."
Letting cover crops grow and flower in the spring also benefits pollinating insects and wildlife, he says.
On promoting pollinators. You won't find McCormick mowing grass waterways and conservation buffer strips when he has a choice. Instead, he prefers to mount a sprayer on his UTV and spot-spray non-native invasives.
"My goal is to leave pollinator plants and milkweed alone," he says. "Milkweed provides habitat for monarch butterflies to feed and reproduce.
"We have a specialist on invasive plants at the Knox County Soil and Water Conservation District. He provides guidance on what is invasive and what isn't a problem. If it's invasive, I spray it."
On planting green. This works for McCormick in most situations. "I would not recommend it for someone just starting out," he says. "We need more people trying no-till and cover crops. I would not recommend planting green until you're familiar with cover crops."
He notes planting green can be easier with soybeans than corn, especially if you're doing it for the first time. Corn is less forgiving if you don't achieve complete termination of a cover crop, especially grasses.
Updated cover crop guide available
The pocket guide you should have if you sow cover crops is titled Midwest Cover Crops Field Guide, Third Edition. Anna Morrow, senior program manager for the Midwest Cover Crops Council, says the guide helps carry out the council's mission of encouraging widespread adoption of cover crops.
The guide helps you sort through cover crop options, with charts on key benefits and information on seeding rates. The third edition includes information about spring termination options.
Individual copies are $6 each. Visit the Purdue University Extension Education Store to order and visit midwestcovercrops.org to learn more about cover crops.
Subscribe to receive top agriculture news
Be informed daily with these free e-newsletters
You May Also Like
---