West Texas cotton crop delayed but growers hopeful
West Texas cotton crop delayed but growers hopeful
But in spite of the sunshine, this fall's cloudy, wet spell has raised questions about the maturity of the crop, especially in some of the northern areas of the High Plains, where temperatures dropped below freezing in early October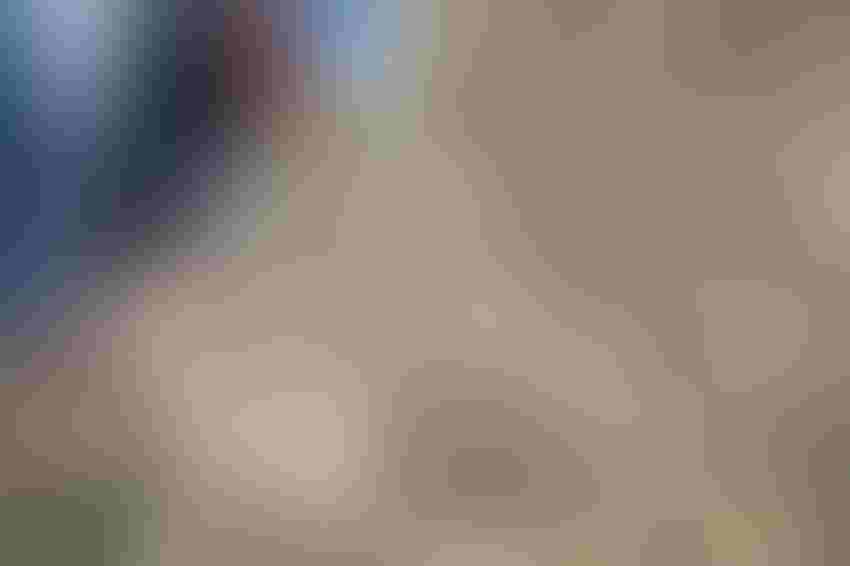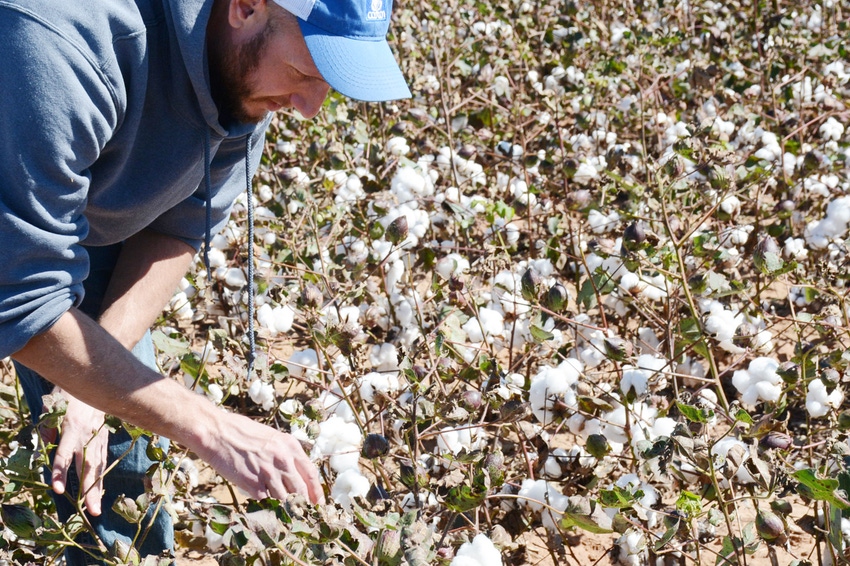 Seth Byrd, new Oklahoma State University Cooperative Extension Cotton Agronomist
Weather: It can be a producer's best friend or a worst enemy. For cotton producers on the Texas Plains, September and October's cool, cloudy, and for many, wet weather, may have temporarily dampened hopes of a bumper crop, but forecasts for sunshine and temperatures in the 70s and 80s, had producers hopeful about the harvest.
"There's certainly some optimism about crop prospects now that we're getting a pretty decent October," says Texas AgriLife Extension Cotton Specialist Seth Byrd at Lubbock. "So, whether it's maturing bolls or taking advantage of the weather to apply harvest aids, that's the kind of opportunity that presents itself with good weather."
But in spite of the sunshine, this fall's cloudy, wet spell has raised questions about the maturity of the crop, especially in some of the northern areas of the High Plains, where temperatures dropped below freezing in early October.
"The big question is, what has this done to the ultimate maturity in the quality of the crop, especially in our northern territories," says Steve Verett, Plains Cotton Growers executive vice president. "Especially, what's going to be the effect on micronaire?" Micronaire is a vital measurement in determining how easily cotton fiber can be processed, and a primary factor in determining potential quality.
Related:Weather keeps West Texas cotton producers guessing…but hopeful
When it comes to cotton color, he says, he isn't too worried, unless there's significant rainfall at harvest time. He expects much of the cotton to bleach out, which will take care of some of the grayness that might have been present when conditions were cool and cloudy. "It's mainly micronaire that the jury is still going to be out on."
Of the small amount of cotton that has been harvested and classed, Verett says, micronaire "has really been pretty good," but he adds that no official report had been issued because not much cotton had been classed. "We're keeping our fingers crossed on the quality side, for sure."
The USDA released its crop progress report Oct. 10, estimating cotton production at 5.44 million bales, 250,000 less than in its September report.
Another risk to quality this year, says Seth Byrd, is hardlock bolls. "We've seen this in years past, but certainly much more this year." The reasons for the increase in hardlock bolls is twofold, he says: disease pressure that has been greatly increased this year by the wet, cloudy conditions, and weather in general — high humidity, rain, and cloudiness.
"We never really get the drying-out that we need for the carpal wall to pull back and the lint to fluff out. So, we end up with bolls that aren't completely open, and the lint never really fluffs out — it stays in that wedge shape. While we can get some of that out when it's going through field cleaners, a lot of times it will also kick some of those hardlock pieces of lint out, and can certainly lead to some yield reductions. If it does get into the basket and we get some staining, it can lead to color issues as well, if it's a large proportion of the field."
While weather conditions in the last month may not have been ideal, Verett says, they aren't the death knell for this crop. "Moisture is always needed in this region. The farther we get into harvest, the more harmful any kind of rain is. But whether we're planting wheat or just needing to replenish moisture in the soil profile, we need to get rain in the fall.
"We're much more into the heart of the harvest now, and we need for cotton to open up and to have as open weather as we can possibly get over the next couple of months. We need well into late November or early December to get all of this crop harvested." With the right kind of weather, Verett says, producers can have harvesting done by then. "We have a lot of harvest capacity to get cotton off the stalks — if we just get the weather that allows us to do it."
SOUTH TEXAS HARVEST
While High Plains and Rolling Plains growers are gearing up for harvest, most of South Texas producers are winding down after what Gaylon Morgan, Texas AgriLife Extension state cotton specialist at College Station, says has been a year of better than average yields and quality in many regions.
"In the last two years [2015 and 2016], we've had an extremely wet spring, so cotton got off to a really slow start and really never recovered," he says. "This year's rains have been spread out — uniformly distributed through much of the growing season. That was the case for the Lower Rio Grande Valley and the Coastal Bend, too."
Moving into the Central and Northern Blacklands, producers are reporting above average yields. "Some have been pushing over two bales — and that's dryland," says Morgan, while in the southern region growers made their average, a little over one bale. "Southern Blacklands was pretty erratic due to the way the rain fell."
South of there, in the 10-county Winter Garden region, growers celebrated the highest number of cotton acres planted, as well as yields, for the past five years, with yields usually exceeding three bales.
Overall, outside of the devastating damage Hurricane Harvey caused to the cotton regions north of Corpus Christi and up through the Wharton area, Morgan says, it's been "a fairly normal year" insofar as disease, insects, and rainfall go. "We haven't had anything that's been extreme. I think we can attribute that to the fairly uniform, good yields across much of south and east Texas."
The Rolling Plains is a much different story, yet similar to neighboring producers on the High Plains. "They had a really rough start — not a whole lot different than what [producers elsewhere] had with hail and high winds," Morgan says. "They lost quite a bit of cotton to begin with, but those fields they were able to keep look really good. They may not top the 2016 cotton crop, but it will be another good year for Rolling Plains producers, assuming we can get it out of the field and to the gin."
The range of maturity on the Rolling Plains varies greatly, he says, with some producers about to begin harvest, while others only have 10 percent to 20 percent open bolls. "Three weeks ago, they had a really good rainfall event that caused some premature defoliation. Foliar diseases can often affect yields, but because most of the cotton was pretty mature, little yield impact is expected. But that's obviously worrisome to those growers."
U.S. upland cotton production for 2017 is expected to total 20.4 million bales, up 23 percent from last year. 
About the Author(s)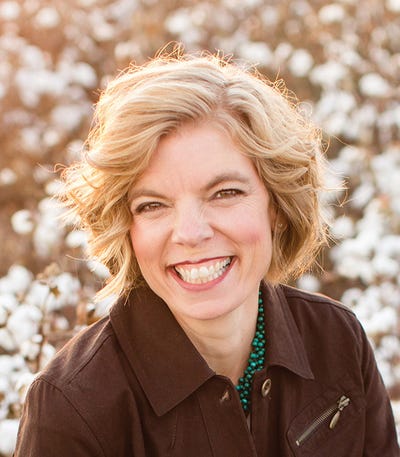 Editor, Southwest Farm Press
Shelley Huguley has been involved in agriculture for the last 25 years. She began her career in agricultural communications at the Texas Forest Service West Texas Nursery in Lubbock, where she developed and produced the Windbreak Quarterly, a newspaper about windbreak trees and their benefit to wildlife, production agriculture and livestock operations. While with the Forest Service she also served as an information officer and team leader on fires during the 1998 fire season and later produced the Firebrands newsletter that was distributed quarterly throughout Texas to Volunteer Fire Departments. Her most personal involvement in agriculture also came in 1998, when she married the love of her life and cotton farmer Preston Huguley of Olton, Texas. As a farmwife she knows first-hand the ups and downs of farming, the endless decisions that have to be made each season based on "if" it rains, "if" the drought continues, "if" the market holds. She is the bookkeeper for their family farming operation and cherishes moments on the farm such as taking harvest meals to the field or starting a sprinkler in the summer with the whole family lending a hand. Shelley has also freelanced for agricultural companies such as Olton CO-OP Gin, producing the newsletter Cotton Connections while also designing marketing materials to promote the gin. She has published articles in agricultural publications such as Southwest Farm Press while also volunteering her marketing and writing skills to non-profit organizations such a Refuge Services, an equine-assisted therapy group in Lubbock. She and her husband reside in Olton with their three children Breely, Brennon and HalleeKate.
Subscribe to receive top agriculture news
Be informed daily with these free e-newsletters
You May Also Like
---