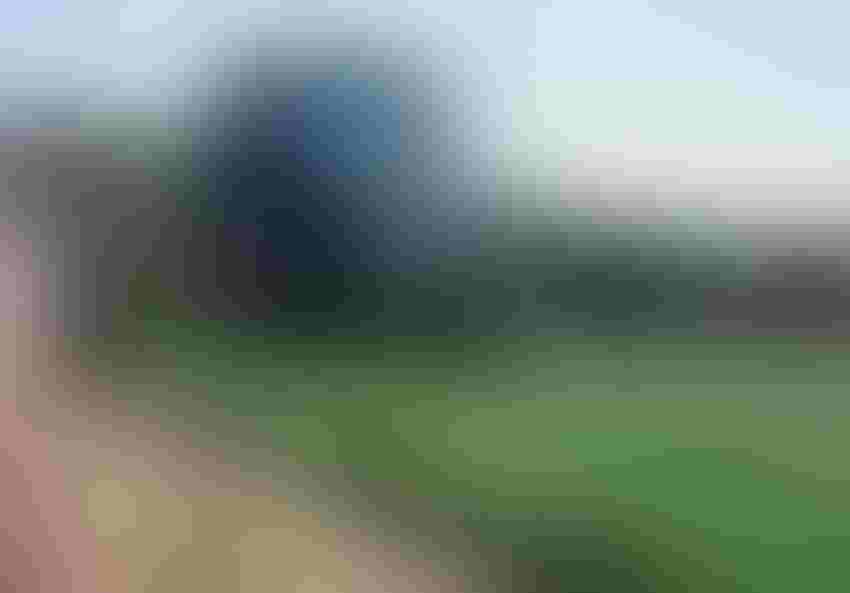 Now is a busy time for growers, but it is also a critical time to diagnose diseases in fields and to begin thinking for next year. 
Perched above it all, growers picking peanuts and cotton have a commanding view of a crop they have tended and nurtured over the past five months.  From the combine or picker, the grower can draw satisfaction from fields where the harvest is good, or even better than expected.  From the same vantage point, growers will see areas in the field where yields suffered from disease or nematodes.  In many situations, damage that the grower sees now has been building since early in the season.
In some instances, little could have been done once the furrow was closed.
In 2019, tomato spotted wilt disease has been much more severe than in recent years.  While it is not known why spotted wilt was a bigger problem, it is clear that you must not forget this disease and that it must be taken seriously.  All of the management strategies for tomato spotted wilt on peanut have been decided once the furrow is closed; the rest of the season is spent watching the fallout from those decisions. 
Too much spotted wilt in your field this season?  I encourage you to study Peanut Rx for 2020.  Your choice of variety, planting date, use of Thimet or other at-plant insecticide, your tillage, your seeding rate and your row pattern can all make a difference.  For most growers, the easiest changes to make to a program to reduce risk to spotted wilt include:
Whether harvesting cotton, peanuts, or soybeans, coming upon areas in the field with poor growth and reduced yields is often a warning that nematodes are robbing you.  The most likely culprits are peanut root-knot nematodes on peanut, southern root-knot, reniform and sting nematodes on cotton, and a combination of all of these, plus cyst nematodes, on soybeans.  As described earlier for tomato spotted wilt, damage you see in the field from nematodes has been building throughout the season since the furrow was closed.  Decisions made in April or May affect yield in October. 
To minimize losses to nematodes in 2020, important steps must be taken.  The first, and perhaps most important, is to confirm if nematodes are indeed the cause of the problem.  For root-knot nematodes, it may be as simple as going to those areas of the field and checking the peanut, cotton, or soybean roots, carefully differentiating the damaging galls from the beneficial nitrogen-fixing nodules on the peanuts and soybeans. 
As not all nematodes will form such distinctive galls, it is important to submit a soil sample for testing to determine both the type and quantity of nematodes in a damaged area.  With such information, growers can best decide what to plant back into the field in 2020, the best nematode-resistant varieties, and the most appropriate nematicides.  With only a few exceptions, all of the management decisions (rotation, variety, nematicide) are made when the furrow is closed and the rest of the season can only be spent watching the nematode battle from the sidelines.
Not all damage is visible to the grower from the seat of a combine.  Growers should make the effort to determine the cause of weaker areas in a field. (Contacting your local county agent is one way to get help in making a diagnosis.) 
In addition to nematodes and tomato spotted wilt, Cylindrocladium black rot (CBR) can lead to wilted and stunted areas in a peanut field.  Properly diagnosing CBR is important not only to prepare for 2020, but also to avoid spreading the disease both within and to other fields.  Wilted and dying plants in the peanut could be white mold (southern stem rot) and significant amounts indicate a need to reassess your program for next season. 
Stunting and dying areas in a cotton field could be the result of Fusarium wilt or charcoal rot.  Stunting and dying plants in a soybean field could be charcoal rot as well.
There is very little that can be done now to protect yield for the 2019 crop.  However, there is much that can be done to protect the 2020 crop.  Now is the time that damage is most evident from your vantage point on the picker.  Take the time to understand the cause of the damage and to plan for next season.  It is a hard lesson, but the die was cast on much of the damage you see now when the furrow was closed five months ago.
Subscribe to receive top agriculture news
Be informed daily with these free e-newsletters
You May Also Like
---