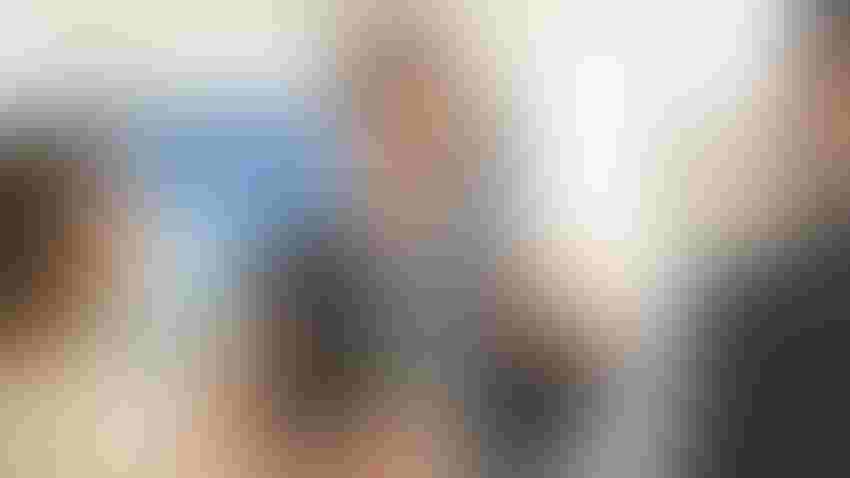 Mark and Cali Noland of Coahoma County, Miss., didn't plan to farm when they graduated from the University of Mississippi. However, one year of working in the insurance business showed Mark that he didn't want to spend his days in an office. Today they're focused on using regenerative practices to continue Cali's family farm legacy. Cali's father, Johnny Larson, brought the couple into the farm and then retired.
BASF
An abbreviated Farmers from Greece and the United States met at the United Nations Headquarters in New York City last month to share what they're doing to increase sustainability in cotton production. They were in town to tell their story before the United Nations 2023 Sustainable Development Goals Summit, in the hope of being heard by those outside of agriculture. 
From opposite sides of the ocean, they found common ground. 
The conversation flowed into two common themes: 
Growers are passionately committed to stewarding their land for the benefit of their farms, their communities, and our world. 

Manufacturers and their customers – particularly in the fashion industry – voice sustainability values but are slow to financially support those efforts. 
A Greek ginner said his group asked for a 7% premium from a brand. "And they said, 'no, we can't do it," said Ilias Kouroudis, general manager at Thrakika Ekkokistiria (Thrace Ginning Mills) in North Greece. "We believe it is something the brands should be willing to pay to tell the story of using Greek cotton that is grown sustainably." 
But the company hasn't found anybody yet. "We haven't found anyone who will pay the 7%," Kouroudis said. 
Mississippi success  
Across the ocean, Mark Noland and his wife Cali, who farm in Coahoma County, Miss., found success with one buyer who committed this year to buy 275 acres of their cotton. With an "enhanced focus on sustainability," Citizens of Humanity contracted cotton from the Nolands to support their regenerative production practices.  
BASF leaders globally support the company's efforts to drive regenerative production with traceability. The next step, they noted, is for the fashion industry to pull the effort though to consumers. 
"We need to support our farmers more for all of their hard work," said Jessica Monserrate, BASF head of sustainability, North America. To promote a premium price for sustainable production practices, she said, BASF is engaging various value chains through the e3 sustainable cotton program. "There where we really need to have that conversation," 
As the industry stand, the farmers agreed, price dictates cotton purchases. The farmers who focus on sustainability do so for the satisfaction of properly stewarding their land. And they prefer the term regenerative over sustainable. Here's why: 
"I think we not only sustain, we improve the land," Como, Miss., farmer Sledge Taylor said. "My father left the farm in better condition, and I will as well." 
Cotton conversation 
The sustainability conversation, billed as "United for the Biggest Job on Earth" was hosted by BASF through their e3 and Certified Sustainable FiberMax (CSF) programs under the FiberMax and Stoneville seed umbrellas. Farmers who sign on to the e3 program in the United States or to CSF in Greece agree to specific practices to enhance the cotton sustainability story and provide "seed to sewn" traceability. On the e3 side of the story, BASF released 2022 data that shows the group reduced carbon dioxide emission by 3,691 tons and saved 489,653 tons of soil from erosion. 
Those are the kinds of numbers BASF and the farmers hope the textile and mass media journalists report. In addition to Farm Press/Farm Progress, the event was covered by Business of Fashion, Textile InSight, and Bloomberg. They also hope UN leaders focused on 2030 global sustainability goals consider their efforts when they evaluate progress. 
Mostly, Ropesville, Texas, farmer Randy Smith hopes the non-farming public recognizes what agriculture does to steward the land. 
"We keep trying to tell the story thinking that if we say it enough eventually it will make a difference," Smith said. "You can't throw your hands up. If you believe in this at all, you have to try one more time." 
Subscribe to receive top agriculture news
Be informed daily with these free e-newsletters
You May Also Like
---