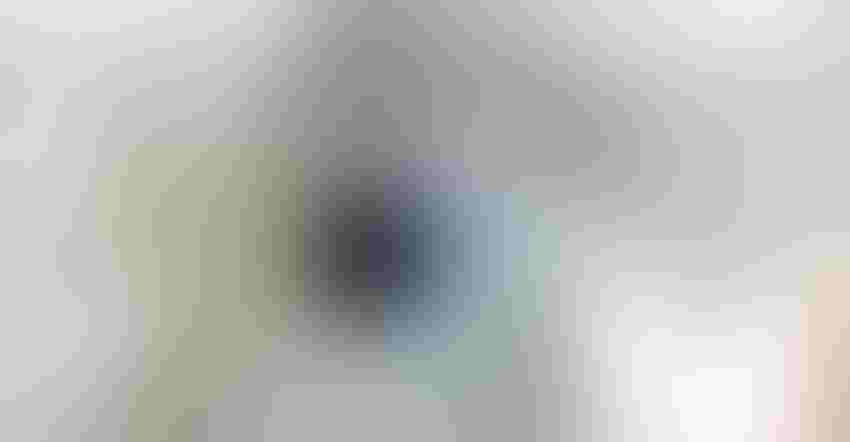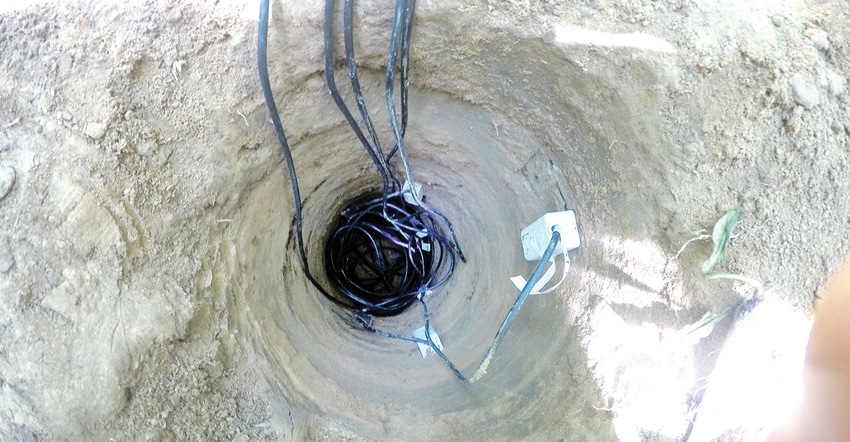 Decagon individual sensors installed into the wall of the soil column by augering a very large hole to get hands and the sensors down there. "After this picture was taken, we refilled the hole and connected the wires to a nearby datalogger," says Stacie Conger, LSU Extension specialist. (Photo by Stacie Conger, LSU Extension)
Managing irrigation efficiently demands more attention and technology that kicking dust off the soil surface and determining that the crop needs watered.
Fortunately, producers have tools and technology available to monitor and manage moisture.
In part 2 of this series on efficient and effective irrigation in the Mid-south Stacie Conger, Extension irrigation specialist, LSU Red River Research Center, Bosier City, La., looks at how to incorporate available technology into irrigation programs.
What are the important tools needed to manage irrigation more efficiently? Soil moisture monitors, surge irrigation valves, system design?
The number one consideration to efficient irrigation is the design — a real design, not just a plan — that must be created before drilling a well or laying a pipe. All irrigation designs should include hydrologic and hydraulic factors that account for current and future land use and associated characteristics.
Irrigation is typically part of the engineering discipline for good reason. Frequently when I'm called for a general farm visit to discuss irrigation improvements, problems resulted from poor choices the farmer made from lack of knowledge. The result is poor investments.
It may cost more upfront to hire a professional engineer for a good design, but it will save in efficiency (and frustration) in the long run. For example, placing a well for a gravity flow system (i.e. furrow irrigation) in the lowest part of the field, which requires more energy to get the water to the top of the field, significantly increases fuel costs. A proper design makes the technological tools — soil moisture sensors and surge valves — much more cost effective as well.
If irrigation includes lay-flat tubing (i.e. polypipe), the next step is to run computerized hole selection. Delta Plastics, through their H2O Initiative, pushed their web-based version, Pipe Planner, throughout the Mid-South and have had success in other states.
We went through some concerns about data privacy since farm data is uploaded to a for-profit company's server without a privacy policy in place. We've chosen to demonstrate Pipe Planner and the free standalone version, PHAUCET, with pros and cons for both, and allow producers to decide on their own.
Based on current farming practices and the state of overall soil health, I recommend surge irrigation as the next tool in terms of importance. We tend to have heavy soil types with low infiltration rates and compaction issues. Surge irrigation aids infiltration, putting more water in the soil and less in the tailwater ditch. It uses less water, distributes water more evenly within the soil profile, and allows for less time in stressful anaerobic conditions.
Lastly, I suggest adding flow meters and soil moisture sensors to any irrigation system. The flow rate is the No. 1 factor for any irrigation design. It can change throughout the season and from season to season. By the time someone notices the difference in flow rate, they've lost efficiency.
Sensors provide eyes under the soil surface. It's easy to kick the dry surface dirt and think irrigation is necessary but plenty of moisture may be available at 12 to 24 inches, where the roots need it.
How are farmers adapting these new technologies?
It's slow. Farmers understand they need to improve, but it's hard to focus on irrigation when you don't need it every year. The time and investment may be too much for an immediate return like other areas of crop production. That's why we see many farmers selecting one of the technologies to try in field or two, but not fully committing to the entire program.
With soil moisture sensors, I frequently hear from producers who chose the cheapest sensor product, hated it, and gave up on sensors as if they are all the same.
I recommend selecting the right product in the beginning that provides the necessary information. It should have an interpretation approach that fits the producer's thought process. The installation method is worth the time.
Given the time commitment to irrigating properly and the learning curve for new technology, irrigation management may be more appropriate as a dedicated job function or crop consultant service rather than adding to the farmers' already busy lives.
Subscribe to receive top agriculture news
Be informed daily with these free e-newsletters
You May Also Like
---