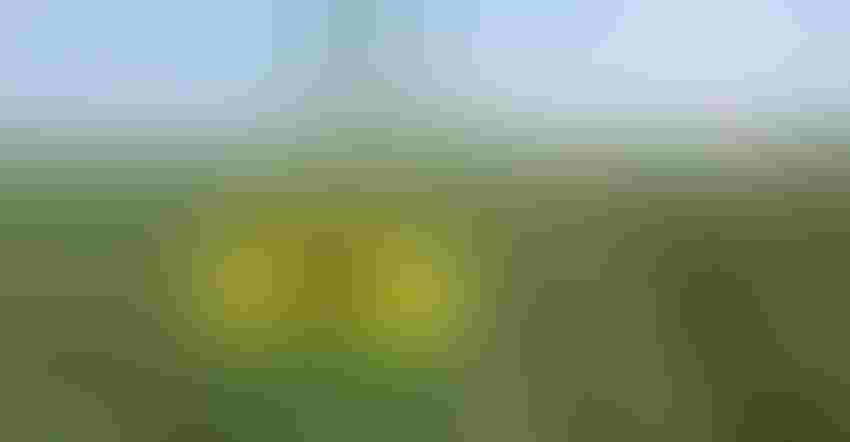 Mother Nature provided near-perfect growing conditions in parts of South Carolina for setting a very good cotton crop in 2020. But then she took it away in the fall with rainy weather, resulting in boll rot and hardlock.
In St. Matthews, Jason Waltz watched what was an outstanding crop on his farm drop some 250 to 300 pounds below his normal average due to a wet, cloudy September. Opened bolls in the bottom of the crop rotted, and unopened bolls in the top of the crop hard-locked.
Despite the unfortunate fall weather and resulting yield drop, Waltz made some key observations about his cotton variety mix. For the past few seasons, DP 1646 B2XF has been his go-to variety for high yield potential and premium fiber quality. After two seasons of planting the Deltapine® Class of '20 variety, DP 2038 B3XF, his seeding plans are changing for 2021.
"DP 2038 B3XF looked really good," Waltz said. "I had it planted in different fields and plots around the farm. It beat DP 1646 B2XF in one plot by 75 pounds per acre, in another field by 100 pounds and in another plot by 137 pounds. It outyielded DP 1646 B2XF, but scored a little lower in fiber quality grades. I'll take 100 pounds more to the acre over a 2- to 3-cent premium, however."
Waltz, a Deltapine® New Product Evaluator (NPE) grower, saw DP 2038 B3XF perform well in his 2019 NPE plot, where it compared favorably to DP 1646 B2XF. He elected to plant several acres of it in 2020 for another comparison. While he has not seen DP 2038 B3XF perform during a season with heat stress, he is confident in the variety. "I am replacing DP 1646 B2XF with DP 2038 B3XF because of yield," he said. "We have the opportunity to make more money by making more pounds per acre and reducing our need for bollworm sprays. So, between DP 2038 B3XF being Bollgard® 3 XtendFlex® cotton and offering better yield potential, it is a no-brainer for my farm."
LIGHTNING STRIKES
In his 2020 NPE plot, Waltz evaluated six Deltapine® variety candidates and placed as checks in the plot both DP 2038 B3XF and DP 1646 B2XF. Lightning struck the ground in the middle of the 4-acre DP 2038 B3XF section of the plot, creating a dead patch in that variety some 2,000 square feet in size. The gin recap for the plot field shows DP 2038 B3XF averaging 1,560 pounds per acre, and DP 1646 B2XF averaging 1,480 pounds per acre.
Waltz witnessed the lightning strike the field. After harvesting the plot and seeing the gin recap, he's convinced DP 2038 B3XF has proven it belongs on his farm.
"There was a 2,000-square-foot dead spot in one variety, and it outyields DP 1646 B2XF — it's almost a proving factor," he said. "I am not letting the bad September skew my view of DP 2038 B3XF. It had boll rot and hardlock, but it was not due to the variety's fault. It was all due to weather. Right now, DP 2038 B3XF is going to be my go-to variety next season, and I think a lot of growers are thinking the same thing."
GOING ALL BOLLGARD® 3 XTENDFLEX® COTTON
Northeast of St. Matthews in Dillon, Daniel Baxley also experienced a tough 2020 crop season — one that brought too much rainfall for cotton to reach its full potential on his farm. Excessive rainfall in May gave him a one-and-a-half-week window in which to plant the crop, and cloudy, soggy weather conditions delayed growth. Typically, harvest begins September 30, but not one boll was picked in 2020 until October 16.
While yields were down overall on the farm, one variety — DP 2055 B3XF — shined in a tough growing season. After seeing both DP 2055 B3XF and DP 2038 B3XF perform well in his 2019 NPE plot, Baxley dumped DP 1646 B2XF and went all Bollgard® 3 XtendFlex® cotton in 2020.
"On the harvester, we were seeing 3 bales per acre in a field with 2 to 2.5 bales per acre potential based on conditions," Baxley said. "DP 2055 B3XF is probably going to average 2.5 bales per acre, and the farm overall is going to be about 900 pounds per acre. DP 2055 B3XF was a boost to our overall farm average. It really pumped out the yield in a tough season."
DP 2055 B3XF is a full-maturity variety that Baxley believes can be managed for optimum performance. He had DP 2055 B3XF planted across the road from a mid-maturity variety, with the fields planted one day apart, and was surprised to be defoliating the two varieties the same day. Baxley figures DP 2055 B3XF will play heavily into his planting plans for 2021.
"It is an all-around good variety," he said. "We've gotten good plant stands from it, and it has grown off well early in the season. It is a full maturity, but I can manage it, and I think it is a good fit for my farm. We are getting excellent yields from this variety."
Bayer is a member of Excellence Through Stewardship® (ETS). Bayer products are commercialized in accordance with ETS Product Launch Stewardship Guidance, and in compliance with Bayer's Policy for Commercialization of Biotechnology-Derived Plant Products in Commodity Crops. Commercialized products have been approved for import into key export markets with functioning regulatory systems. Any crop or material produced from this product can only be exported to, or used, processed or sold, in countries where all necessary regulatory approvals have been granted. It is a violation of national and international law to move materials containing biotech traits across boundaries into nations where import is not permitted. Growers should talk to their grain handler or product purchaser to confirm their buying position for this product. Excellence Through Stewardship® is a registered trademark of Excellence Through Stewardship.
ThryvOn™ Technology is not currently available for commercial sale or commercial planting. Commercialization is dependent on multiple factors, including successful conclusion of the regulatory process. ThryvOn™ Technology may not be registered in all states. Check with your state pesticide regulatory agency for the registration status in your state.
ALWAYS READ AND FOLLOW PESTICIDE LABEL DIRECTIONS. It is a violation of federal and state law to use any pesticide product other than in accordance with its labeling. NOT ALL formulations of dicamba, glyphosate or glufosinate are approved for in-crop use with products with XtendFlex® Technology. ONLY USE FORMULATIONS THAT ARE SPECIFICALLY LABELED FOR SUCH USES AND APPROVED FOR SUCH USE IN THE STATE OF APPLICATION. Contact the U.S. EPA and your state pesticide regulatory agency with any questions about the approval status of dicamba herbicide products for in-crop use with Roundup Ready 2 Xtend® soybeans or products with XtendFlex® Technology.
Bt products may not yet be registered in all states. Check with your seed brand representative for the registration status in your state.
Performance may vary, from location to location and from year to year, as local growing, soil and weather conditions may vary. Growers should evaluate data from multiple locations and years whenever possible and should consider the impacts of these conditions on the grower's fields.
Roundup Ready® 2 Technology contains genes that confer tolerance to glyphosate. Products with XtendFlex® Technology contain genes that confer tolerance to glyphosate, glufosinate and dicamba. Glyphosate will kill crops that are not tolerant to glyphosate. Glufosinate will kill crops that are not tolerant to glufosinate. Dicamba will kill crops that are not tolerant to dicamba. Contact your seed brand dealer or refer to the Bayer Technology Use Guide for recommended weed control programs.
Insect control technology provided by Vip3A is utilized under license from Syngenta Crop Protection AG. LibertyLink® and the Water Droplet Design® are registered trademarks of BASF Corporation. Bayer, Bayer Cross, Bollgard®, Deltapine®, Respect the Refuge and Cotton Design®, Roundup Ready®, ThryvOn™ and XtendFlex® are trademarks of Bayer Group. ©2020 Bayer Group. All Rights Reserved.
About the Author(s)
Subscribe to receive top agriculture news
Be informed daily with these free e-newsletters
You May Also Like
---