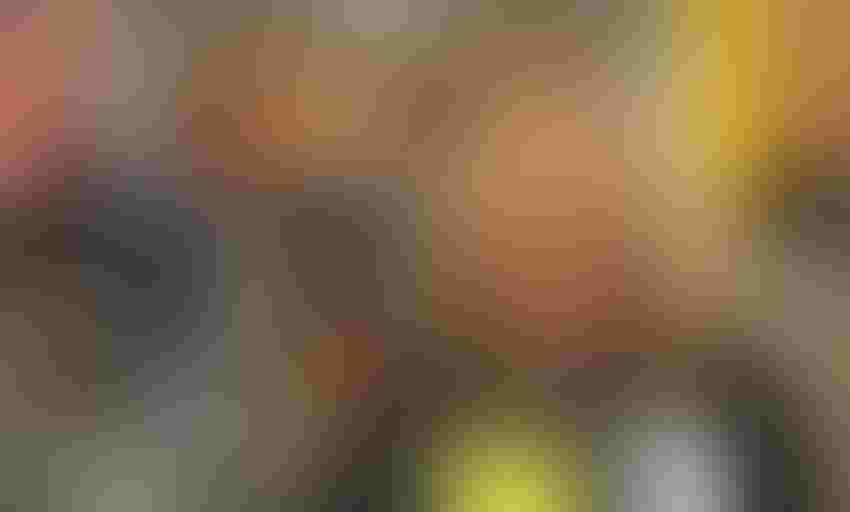 Jamie Scanlon, head of customer experience for Simplot Grower Solutions, greets guests at the 2023 Mid-South Farm and Gin Show in Memphis. She was one of about 50 Simplot officials from across the U.S. to attend the Feb. 24-25 show, including several from the company's headquarters in Boise, Idaho.
Tim Hearden
When the U.S. cotton industry gathered in Memphis for last week's Mid-South Farm and Gin Show, one of the largest delegations was from a company based in the West.
The Boise, Idaho-based J.R. Simplot Co., whose 2020 acquisition of Pinnacle Agriculture gave it a huge presence in cotton country, had more than 50 representatives on hand to greet growers and agriculture-related businesspeople mostly from the South.
"Our two primary objectives are brand awareness for the customers who don't use us now, and seeing our current customers," said Jamie Scanlon, who leads customer experience for Simplot and is based in Boise.
Cosponsored by the Southern Cotton Ginners Association and Foundation and Delta Farm Press, the 71st annual gin show was held Feb. 24-25 in downtown Memphis' Renasant Convention Center.
"Last year was our first year in person as Simplot," Scanlon said. "For everyone down here, this is their favorite event. It's always the kickoff before they get in the field."
The gin show presents a key marketing opportunity for Simplot, a food and ag inputs firm perhaps best known for supplying potatoes for McDonald's French fries.
Started in 1945 as a single retail farm service store and potato plant, Simplot began its ascent into other regions in 2011 with its acquisition of Britz Fertilizers, giving the company more of a presence in California's Central California. By 2014, Simplot Grower Solutions had expanded to 91 locations with 1,700 employees, according to its website.
Simplot became the nation's third largest ag retailer in 2020 with its acquisition of the Loveland, Colo.-based Pinnacle Agriculture Distribution, doubling its footprint to more than 230 stores. The purchase of Pinnacle, which marketed crop protection, fertilizer and seed, gave Simplot market penetration into the cotton-rich U.S. Southeast and Mississippi Delta regions.
Simplot's AgriBusiness Group now has more than 240 crop input locations throughout the U.S. and Canada with more than 4,400 employees and 500 crop advisers, according to the company. In total, the firm now provides products and services to more than 40,000 North American farmers.
Integrated portfolio
Simplot now has an integrated portfolio that includes phosphate mining, fertilizer manufacturing, farming, ranching and cattle production, food processing, food brands, and other enterprises related to agriculture, company officials explain.
The company touts "4R nutrient stewardship," which it describes as using the right source of fertilizer at the right rate at the right time and in the right place.
Among its subsidiaries with representatives at the Memphis show was Innvictis, whose Inntero blend of low-concentration penetrants and surfactants won U.S. Environmental Protection Agency registration in 2019. Inntero technology promises more effective spray droplets by lowering surface tension and increasing cuticle penetration, according to a company brochure.
At the gin show, Innvictis Crop Care director Nick Dame invited customers into a darkened booth to observe Inntero adjuvants in black light. "Every pesticide has a weakness," he explained, adding that the adjuvant mixtures aim to "improve the performance of the pesticide."
Innvictis' proprietary mixtures are sold exclusively through Simplot and cover a wide variety of crops, including corn, soybeans, cotton, rice, sugarcane and virtually all Western specialty crops, Dame said. The company is in the midst of a Great Plains road show to highlight its new products and plans a West Coast rollout in the fall.
"The base technology of Inntero is to improve leaf coverage, cuticle penetration and deposition," Dame said. "It comes down to uniform droplet size, which can help with penetration of the canopy … and improve efficiency."
For Simplot, the Memphis gin show is one of two must-see national ag events; the other is Commodity Classic, which this year is being held March 9-11 in Orlando, Fla. The company also attends various regional events, Scanlon said.
"This one's our favorite," she said, "because there are so many growers at this one."
For more information about Simplot, visit www.simplot.com. For information about Innvictis, visit innvictis.com.
Subscribe to receive top agriculture news
Be informed daily with these free e-newsletters
You May Also Like
---