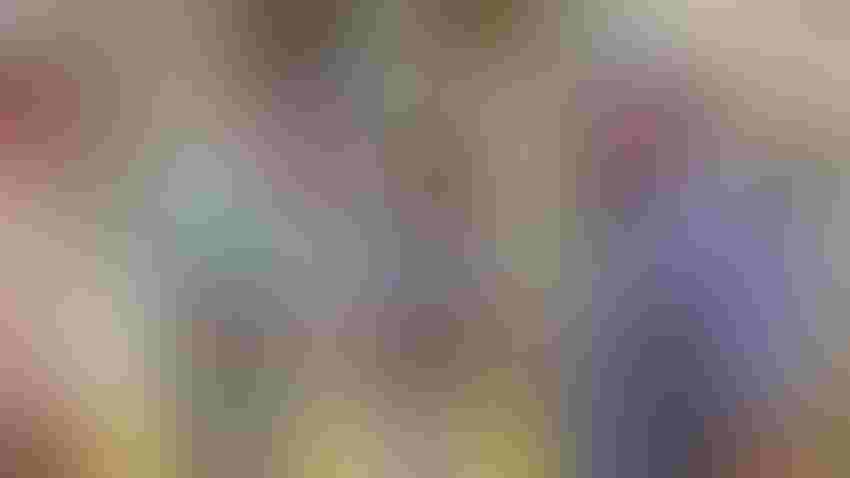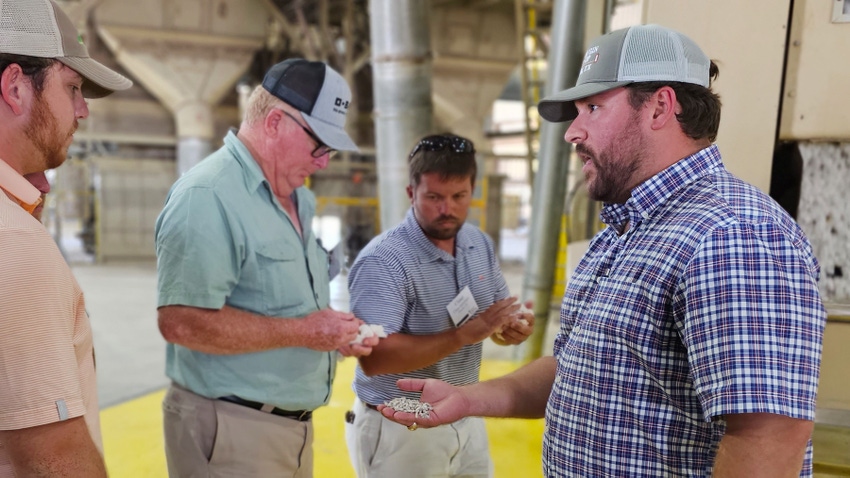 Tyler Cross, Smith Gin manager, right, visits with Shellman, Ga., producer Brett Sauls, left, on a recent Producer Information Exchange Tour. Discussing drought conditions, Cross said, "We did 20,000 last year, 25,000 this year, so it's pretty much been two disaster years back-to-back."
Shelley E. Huguley
Crops in the Lower Rio Grande Valley and Coastal Bend started like they were supposed to with anticipation, promise and hope. But a lack of water availability and rainfall, along with triple-digit temperatures have created a deficit that's being felt across the industry.  
"We started the year off really excited," said Valley Co-op Oil Mill General Manager Jim Massey, Harlingen. "We got some early rainfalls in March and got our crop up and going. Then we got some more rainfall. But about June 1, it started turning hot and it just cooked us."
The LRGV has a "good crop," he said, adding that the mill's service area stretches from the Lower Rio Grande Valley to Houston and includes the coastline. "It's the Coastal Bend, that Corpus Christi area, where it really burned up. They have a lot of cotton turned over to insurance. The yield is just not there."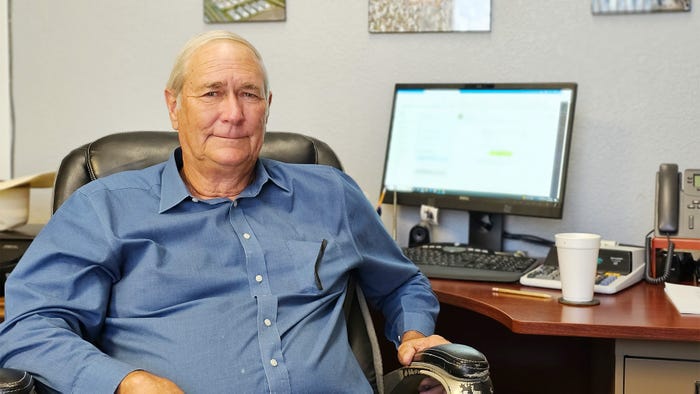 James Massey, Valley Co-op Oil Mill general manager, Harlingen, Texas. "We're just on one knee praying for rain." (Photo by Shelley E. Huguley)
The Upper Coast is the bright spot in the region. "Their crop turned out better than what they thought, so we're excited about that."
Drought in South Texas is not usual. "One time I've seen it where all three areas were in a drought," Massey recalled. "That was back in 2008, 2009." That year, the mill processed 35,000 tons. In a "normal year," it averages about 190,000 tons.
In the last three years, at least one of its service areas has battled drought. "Last year, the Valley and the Upper Coast had a good crop and the Coastal Bend zeroed out, almost and they're doing about the same this year."
Unlike the drought of 2022, which left some Coastal Bend gins idle, this year, those gins are at least running, he said. "But you're 40- or 50- or 60,000-bale gins are ginning 20,000 and 30,000 bales. So, they're going to gin this year, which is good, but it's not going to be a bumper crop."
The oil mill feels the pinch as well, as cotton acres are down as much as 30% to 40% in some areas over last year, Massey added. "We do a lot of business in Mexico with our products. We make four or five different products, but our supply needs to be maintained. If we don't have the volume to do that, then we start losing customers."
The mill produces cottonseed meal, hulls and oil. "About 75% to 80% of our oil goes into Mexico," Massey said, where it's often blended with soybean oil. "When we have a short crop and can't provide the oil they need, then they'll switch and go to canola oil or use all soybean oil. Once they do that, you've got to buy yourself back into the market."
Gin
Sally Ross, Ross Gin Company assistant manager, Mercedes, said she's short on acres. "We're down about a third, acreage-wise, because of lack of water, and then it's two months of over 100-degree weather. It's hurt the dryland," she said.
"If you're irrigated, you have a good crop. If you're not, then you don't."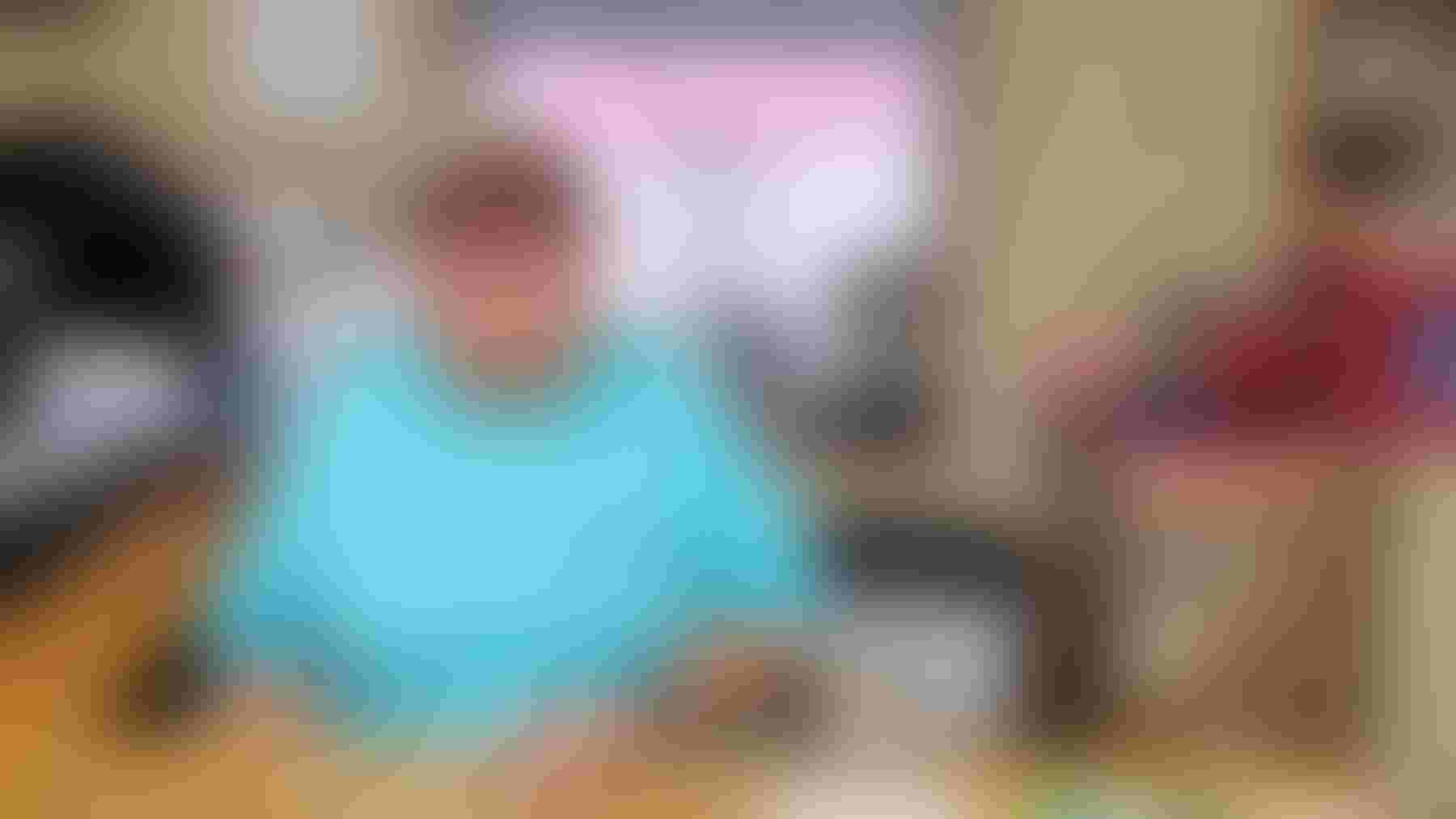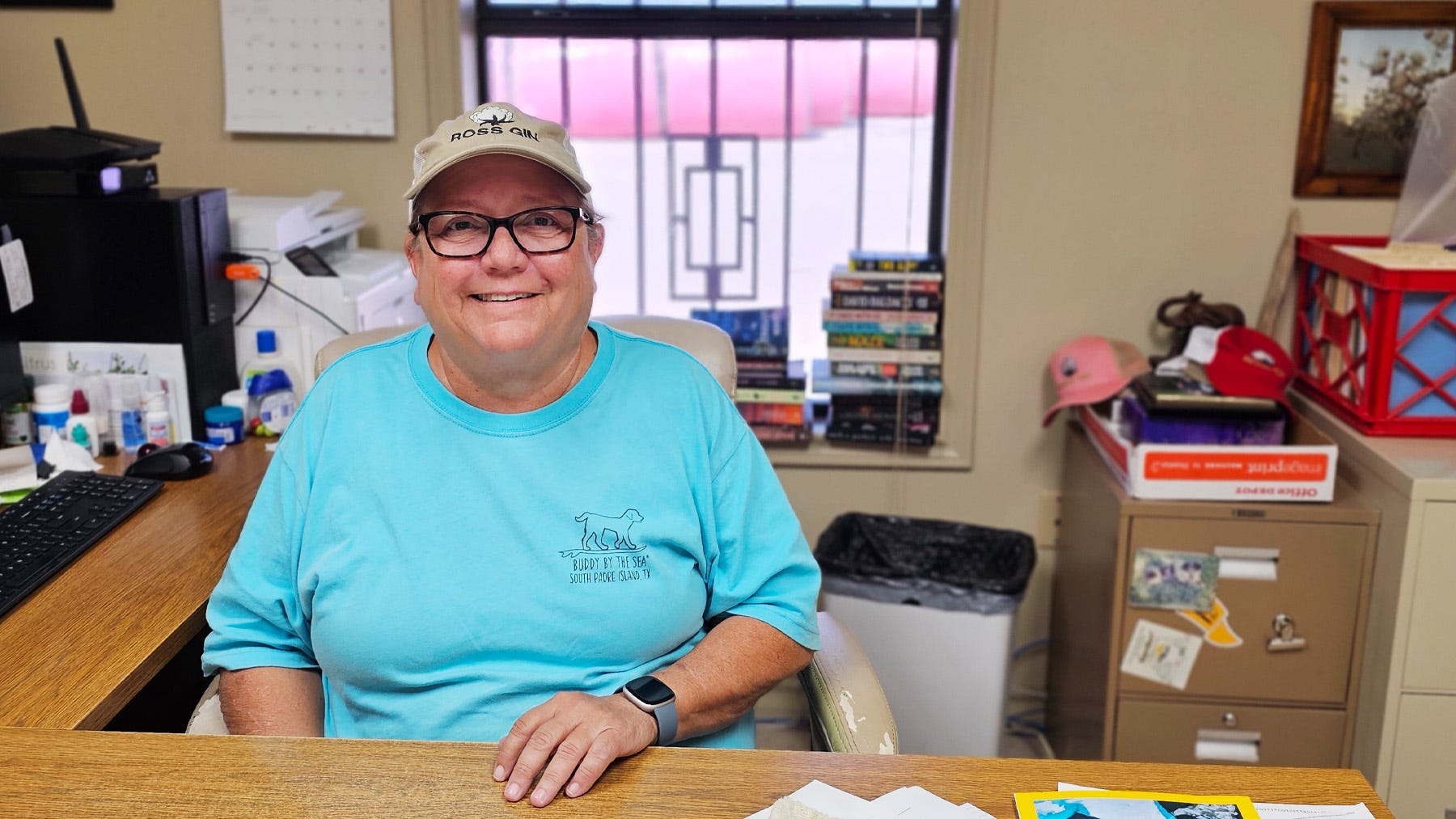 Sally Ross, Ross Gin assistant manager, Mercedes. (Photo by Shelley E. Huguley)
The Mercedes plant receives about 10,000 acres of irrigated cotton and an equal amount of dryland. "Some of our dryland farmers told us today, it's the worst crop they've ever had."
In 2022, the gin processed 74,000 bales, a second-best season since it opened in 1954. This year, Ross anticipates only 34,000 bales. The drought and extreme temperatures are further complicated by a lack of water availability.
"Some people didn't plant any cotton at all this year because they didn't have any water," Ross said.
LRGV producers receive their irrigation water from monitored water sources known as the Rio Grande River Basin Reservoirs, which include lakes Amistad and Falcon. These water sources straddle the Texas-Mexico border. Water released between the two regions is regulated through the Mexican Water Treaty of 1944. According to the Texas Water Development Board website, the Falcon Reservoir is 10.4% full while Amistad is 36.3% full.
"Some were able to buy water (from other water districts) and some were in districts that had water, so it just depends on where you are," Ross said. Others didn't get as much as they needed.
Whether Ross is ginning 74,000 bales or 40,000 less, end-of-season maintenance is an unavoidable expense. "We still have to make gin repairs for next year, even though we didn't have the volume and revenue. We'll just have to wait and see what happens next year. If we don't have water in the lake, I don't know how much cotton we'll have... even less, I'm afraid."
In the meantime, only basic repairs will be made. "We won't do anything major unless we can get some water in the lake."
About 145 miles north of Mercedes, Tyler Cross, Smith Gin manager, Odem, is anticipating only 25,000 bales this season. On a "normal year" his gin averages about 80,000 bales. "We did 20,000 last year, 25,000 this year, so it's pretty much been two disaster years back-to-back," Cross said.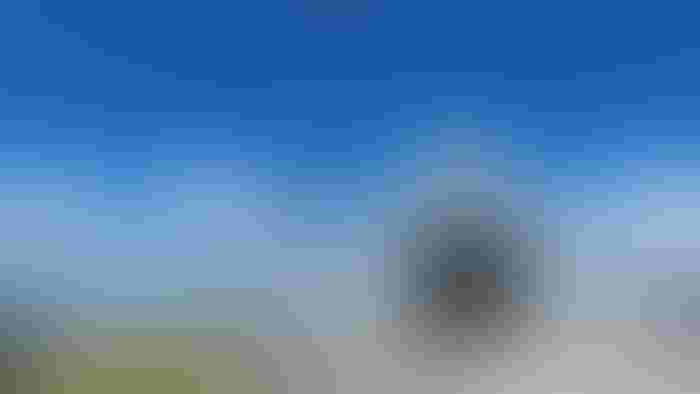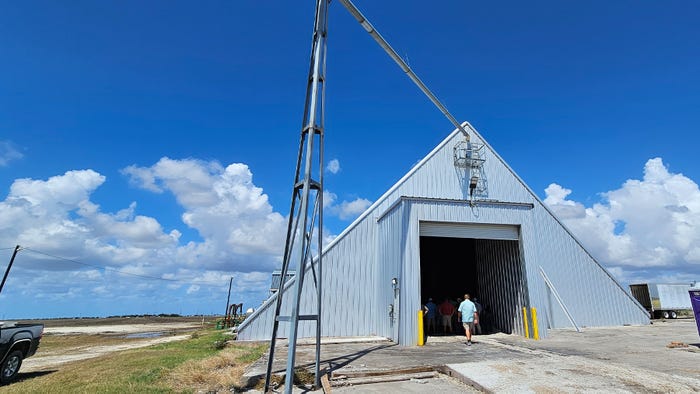 Smith Gin's cottonseed barn, Odem, Texas. Tyler Cross, Smith Gin manager, anticipates they'll gin less than half than they normally do. (Photo by Shelley E. Huguley)
But he's not alone. "It's area-wide. West Texas has had it rough," he added. Cross is reducing expenses where he can. "We're not spending money. We're doing what we have to. No big capital improvement projects."
Rather than running 24 hours a day, seven days a week, he's running two, 8-hour shifts. "We're cutting our overtime significantly. It's hard for our employees but you have to do what you can do. Really, we're just doing anything we can to cut costs."
The region's cotton staple and micronaire are off as well. "We've had a lot of low-mic cotton. Before this rain (August 22), the color's been good, but we'll see what happens after they get the rest of it harvested."
The region's crop has suffered from start to finish, Cross said. "If you look at planting conditions, it was cool, some of it was wet and some of it was dry-planted. Then we got a lot of rain. Some of this has been planted three times. It was cool but when it did come off hot the rain quit. So, from the middle of May until now, we haven't had much rain to talk of.
"It's been about 50 days that we've been over 100 degrees with the heat index in the upper 20s -- that plant has suffered this whole growing season."
As the industry looks ahead, Massey said "We're just on one knee praying for rain. We've got to have a crop in order to maintain our markets. If we start losing our markets it's going to be slow getting back into them.
"But we've been here before. It's not like this is the first drought. We'll have a bumper crop. West Texas will have a bumper crop and the whole attitude will change."
Subscribe to receive top agriculture news
Be informed daily with these free e-newsletters
You May Also Like
---